Description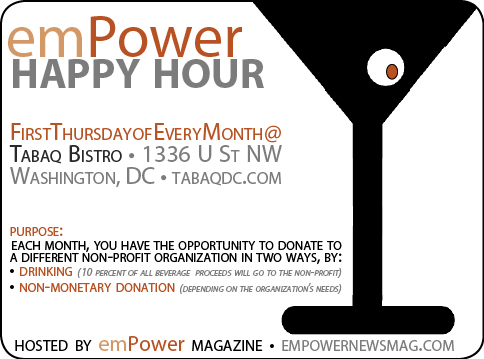 emPower magazine is hosting an emPower HAPPY HOUR at Tabaq Bistro to further our mission, which is to not only discuss social issues, but also challenge our readers to take action.
Each month, you have the opportunity to support a different non-profit organization in the Washington DC Metropolitan Area. Attendees can give in two ways:

• By drinking (10 percent of the beverage proceeds will go to the non-profit)
• By bringing non-monetary donations (depending on the needs of the organization)
October Non-Profit Recipient: Free My City Council

Mission: To enhance the educational experience of youth by creating educational initiatives, aimed toward academic success, which encourage and motivate them to achieve their fullest potential.


Non-Monetary Donations:

The organization is looking for school supplies as the non-monetary donations, such as pens, pencils, binders, notebooks, folders, etc.
Admission is Free