Description
Employee to Entrepreneur: Reducing Risk When Taking the Leap

Jumping into entrepreneurship? It doesn't have to be a leap of faith.
If you're an experienced business professional who's tired of the corporate world, this event is your first step to becoming your own boss. You'll learn how to leverage your expertise and leadership skills to launch your own profitable business.
Have you wanted more autonomy, independence, pride, or meaning in your work?
Business ownership is a great way to reignite your passion for the work that you do, but everyone knows that you can't just dive in. There's a lot of research and learning involved in launching a new business, and most people don't know where to begin. Starting a new business on your own can be daunting—and you will most likely come away with more questions than answers.
You may be wondering:
What are my options for business ownership?

What is the best business or business model for my experience and skill set?

Should I start a business from scratch, buy an existing business, or license a business?

How can I launch a recession-resistant business?

Where do I begin with financing?

How much money do I really need to start a new business?

How can I reduce my risk when starting a new business?

Which business models have been proven to work in my location and this economy?
Are you ready to get started?
If you're ready to take on business ownership but aren't sure where to begin or what the next step may be, this event is the perfect place to start. The speakers presenting at this event will include business, administrative, legal, and financial experts who will educate you on the best practices and approach to de-risking business ownership and becoming an entrepreneur as well as answering any questions you may have. You'll leave this educational session armed with the knowledge to launch your profitable business and a support structure to help you along the way.
After this event, you will:
Reduce the risk of financial loss or failure when starting your new business.

Save time researching business models that do not give you the best odds of success.

Understand the risks and benefits of various business models.

Gain insight into how you can leverage your personal strengths to reduce risk.

Learn various approaches to financing.

Be able to make informed choices as you build a new career—one where you are in charge.

Feel empowered and energized, better educated, and ready to enter the world of entrepreneurship.

Have a support group of business professionals to answer questions and provide trustworthy advice.
Invest In Yourself
Minimize your opportunity cost and de-risk business ownership. This business seminar was created to help you spend less time and money trying to "get it right" and more time focused on utilizing your strengths to ensure success. Space is limited, so register today to secure your place.
Sessions During the Event Include:
1. Registration
Please arrive 15–30 minutes before the start of the event to sign in and grab some refreshments. You'll receive your information packet and the materials you'll use during the event.
2. Business Ownership Frameworks
There are several frameworks to choose from when starting a business. During this presentation, you'll learn what they are as well as the pros and cons of each. You'll gain valuable insight into taking full advantage of your experience and core competencies while learning how to fill in the gaps with the help of third parties.
3. Entrepreneur Panel Discussion

A panel of successful local small business owners will be front-and-center to provide insight into opening a new business and share the struggles and successes they experienced along the way. You'll hear first-hand how these entrepreneurs got started and successfully transitioned from corporate careers to business ownership while keeping risk in check.
4. Using Free Consultants to Reduce Risk & Save Time and Money

This presentation will focus on how to leverage business consultants at no charge. These experts can provide free guidance in navigating the start of a new venture and help you understand your options in choosing a business model that is best suited for your experience and expertise.
5. Networking

Once the presentations and panels conclude, you'll have the chance to connect with the presenters and panel participants, as well as other motivated, like-minded individuals in attendance:
Meet attendees who share your same passion for starting a business (maybe even find that special co-founder you've been looking for).

Chat with the brand representatives and business owners from the day's panel discussions.

Speak with experienced consultants who can help you identify your next steps.
______________________

EVENT PREPARATION
Snacks and non-alchoholic refreshments will be served
Pens & notepads will be provided
Business casual attire recommended, but not required
_______________________
EVENT AGENDA
12:30 p.m. – 1:00 p.m. - Registration
1:00 p.m. – 1:40 p.m. - Business Ownership Frameworks
1:40 p.m. – 1:50 p.m. - Break
1:50 p.m. – 3:00 p.m. - Entrepreneur Panel Discussion
3:00 p.m. – 3:30 p.m. - Using Free Consultants to Reduce Risk & Save Time and Money
3:30 p.m. – 4:00 p.m. - Networking
_______________________
LOCATION INFORMATION
Bentley University - 175 Forest St., Waltham, MA 02452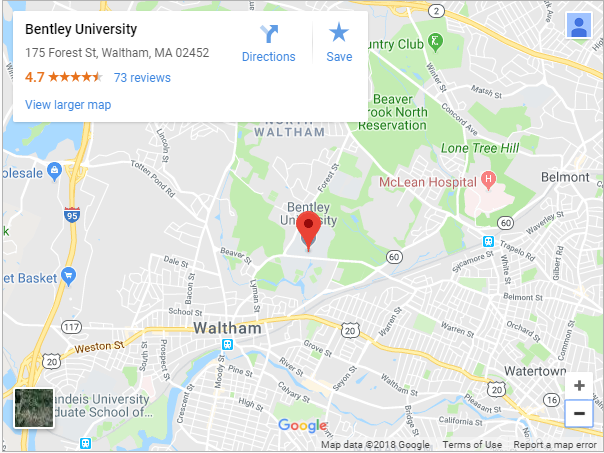 Travel Instructions -
You can travel to Bentley via the Massachusetts Bay Transportation Authority's (MBTA) commuter rail or bus services.
Commuter rail train service:
From Boston: From Boston's North Station, take the outbound Fitchburg/South Acton commuter rail line to either the Waverley or Waltham Center stations.
From the Waverley station, take the inbound 554 bus line to the Forest Street and Pigeon Lane stop in Waltham. It's a short walk to Bentley's main entrance on College Road.
From the Waltham Center station, take the outbound 554 bus line to the Forest Street and Pigeon Lane stop in Waltham. It's a short walk to Bentley's main entrance on College Road.
From points west: From the western suburbs, take the inbound Fitchburg/South Acton line to the Waltham Center or Waverley stations, and follow the 554 bus line directions listed above.
Bus service:
From Boston: From the Federal and Franklin streets bus stop in Downtown Boston, take the outbound 554 bus line to the Forest Street and Pigeon Lane stop in Waltham. It's a short walk to Bentley's main entrance on College Road.
From points west: There is no bus service from the western suburbs to Waltham.
By Amtrak:
From Boston: There are three Amtrak Train stations located in the heart of Boston (Back Bay, North Station, South Station) and within 10 miles from Bentley University. Once you arrive at any of these stations, you can take a bus, a train, or a taxi to campus.