Employee-to-Entrepreneur (E2E) Webinar

Wednesday, April 24, 2013 from 1:00 PM to 2:00 PM (EDT)
Event Details
From Employee-to-Entrepreneur!
Leverage your corporate skills and knowledge to build a successful small business.
 Join us for this FREE webinar which will help you learn more about
1) Exploring business ownership
2) Starting a business
3) Growing a business you've recently started
Small business ownership, in any form, can be a lonely road, filled with many twists and turns. It can also lead you to the fulfillment of your dreams! 
You can change the world! We make sure you're ready!
Wednesday, April 24th at 1:00
Register today (bring a friend too!) and we'll send you a link to the webinar registration prior to the event.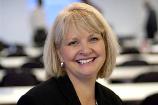 Hi, I'm Peg Stookey, the founder of The Legacy Center and creator of the E2E program.This program was born out of many years of working with people in career transition that were exploring business ownership. I believe that  preparation during this time of exploration is THE most important factor for long-term success.
Decisions are made. Knowledge and skills are gained. Relationships are formed. Habits are established (or broken!). The foundation for lasting success is laid.
Through the E2E program we will become your Entrepreneurial P3AL. (Personalized, Proven Process, Applied Learning). In other words, as you learn you will do!
Build your personalized business model as you learn about business models and tools


Create your startup strategy as you learn strategic thinking and planning (from the small business perspective)

Create relationships while you learn relationship-building

Increase your entrepreneurial aptitude and risk tolerance as you learn about our wonderful world of small business! 
We will guide, teach and mentor you but you will do the constructing!
PLUS: This program should qualify for retraining reimbursement if you have that benefit available to you. We'll help you apply and qualify!
During this webinar you will have the chance to get to know me, the E2E program and perhaps meet some folks that have gone through it and have successfully started businesses
To YOUR success,
Peg Stookey
513-794-0150
P.S. If you're interested in the program but can't attend, please contact us for a free consultation. 
Go here for more information and a wonderful testimonial!
When & Where

Online Event from The Legacy Center
10945 Reed Hartman Hwy
Blue Ash, OH 45242


Wednesday, April 24, 2013 from 1:00 PM to 2:00 PM (EDT)
Add to my calendar
Organizer
Creating the 80% Shift!
When a new business is opened there is an 80+% chance that it will close within 3 years. We feel this is unacceptable AND unnecessary. We're out to shift that risk to an 80+% ensurance of success!!
There is NO ONE SOLUTION to the problem of high failure rates in small business so we take an integrated approach by focusing on the development of the business and, more importantly, the business owner.
The Legacy Center
Where entrepreneurs
Explore...Build...Grow...Exit
Join us as we work to create
The 80% Shift
 in entrepreneurial success!
We invite you to explore the richness of our community!