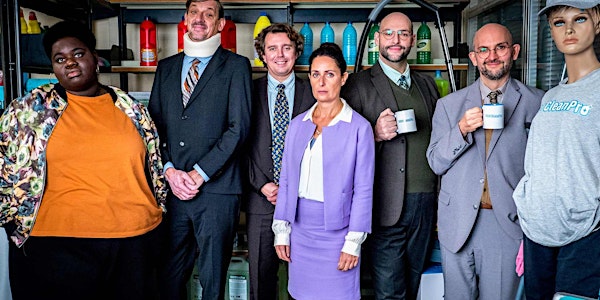 Employee of the Month (w/ short film Whaley House)
Employee of the Month (screens with short film Whaley House) Thursday, October 13⋅9:00 – 11:00pm
When and where
Location
TCL Chinese 6 Theatres 6801 Hollywood Boulevard Los Angeles, CA 90028
About this event
Inès is the mainstay of EcocleanPro, a small wholesale company selling household products. She gives herself body and soul to her boss PATRICK, in the love of a job well done. Although PATRICK is proud of his 1992 Manager of the Year award, the laziness of his employees JEAN-PAUL and JEAN-PIERRE play shoulder to shoulder with the boastfulness of NICO, the tiresome salesman.
Under the blasé gaze of the new trainee MELODY, the marketing phrases of the Benelux manager ANNA NILSSON open up a new mental space for Inès: she is the only one who never gets a raise, even though she works harder than the others. Is it because she is the only woman in this boys' club?
Ines takes her courage in both hands and for the first time insists on being augmented, but Patrick throws her out in two sentences. Ines gets screwed again; her frustration turns to anger. Ingesting Xanax and Viagra won't help. Ines wants her raise and all of EcoClean is going to pay cash for these years of exploitation.
Mélody's internship will finally prove to be very instructive...
Los Angeles Premiere
Runtime: 1h18min
Country: Belgium
Directed by Véronique Jadin
Produced by VELVET FILMS
Written by Véronique Jadin & Nina Vanspranghe
Main Cast: Jasmina Douieb, Laetitia Mampaka, Peter Van Den Begin, Alex Vizorek, Laurence Bibot
_____________________________________________________________________________________________________
WHALEY HOUSE
Directed by Julianna Robinson
Produced by Sean Kohnen, Julianna Robinson
Written by Sean Kohnen and Julianna Robinson
Main Cast: Mia McArthur, Andrew Oswald, Leslie Horan, Ida Clark, Henry Clark, Niko Kohnen
Whaley is inspired by the Whaley House, the most haunted house in America. Thomas Whaley, Sr. had knowingly built on cursed ground, the family home haunted by the ghosts of all who'd been executed there. During the editing of the footage of this short story, the crew discovered a mysterious figure. During one lone take, our camera passed the old courtroom. At one of the benches was a figure whose silhouette you can see. Watch the end credits to see the footage.
This short was made by possible by a grant from the California Arts Council. Alumni from Screamfest wrote, directed and produced this short film.
_____________________________________________________________
$3 VALIDATED PARKING
Additional Screening Info:
Tickets are not refundable
Seating is general admission - first come first served.
Please bring your Eventbrite email confirmation with ticket pdf via your phone or printed to the TCL Chinese 6 Theaters located on the 3rd floor of Hollywood & Highland. Check in at the Screamfest Will Call table located in the lobby beginning thirty minutes prior to the screening, where you will show us your email confirmation e-ticket or printed e-ticket and we will check you in. If you cannot find your email confirmation just enter your email address at http://eventbrite.com/gettickets.
Don't forget to get your parking ticket validated at the Box Office.