About this Event
Employee Experience can be defined as your employee's journey within your company. It includes everything from talent acquisition and retention, physical work environments, social interactions, a sense of belonging, personal development, career growth and much more. So what makes us enjoy the workplaces we evolve in and how can leaders create a work environment that drives engagement, motivate and inspire their employees?
We don't want to talk about best practices and clichés. We want you to be able to take away actionable tips and learnings to bring into your team or organization right away. We have found that the keys for this to happen in an event are passion, discussion, and connection.
In this unique Unconference event format, we are inviting you to discover the different aspects of employee experience through participant-driven group discussions. Our speakers are experts in different people management fields that have been proven to make a difference such as Intrinsic Motivation Drivers, Learning & Development and Diversity & Inclusion.
Each of them will be leading their own group discussions within their areas of expertise during which you will be discussing the latest trends, influential factors and what the future of people management looks like. At the end of the event, we will all reconvene for key takeaways and Q&A.
Agenda:
5:30pm - 6:00pm: Check-In and Networking
6:00pm - 6:15pm: Introduction
6:15pm - 7:15pm: Group Discussions
7:15pm - 7:30pm: Conclusions and Q&A
Thought-leaders:
Jully Kim, San Francisco Chapter Lead of the Culture Collective and Director of Enginerring Programs at Zendesk
Magali Mathieu, CPO and Co-Founder
Andrea Long, Global Diversity Events Manager at Twilio
Luca Rosetti, CEO and Founder of Beaconforce
Join us and let's define together what are the employee experience trends of tomorrow and how to tackle them!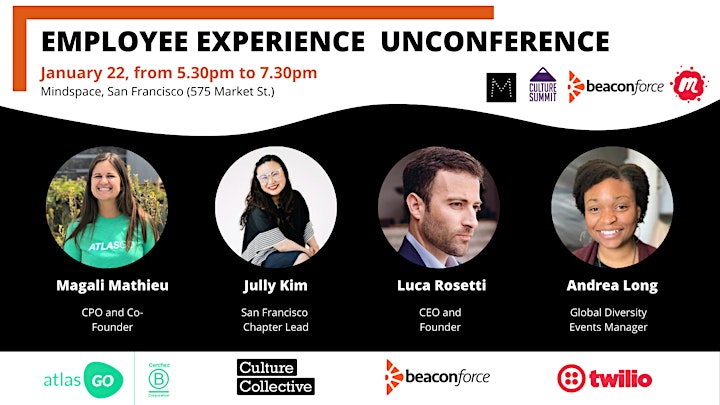 Partners:
Mindspace
Mindspace is a rapidly-growing global provider of stylish and inspiring co-working spaces for teams of all sizes. Founded in 2014 by Dan Zakai and Yotam Alroy, the company operates co-working spaces across London, Berlin, Munich, Hamburg, Tel Aviv, Warsaw and now the U.S. Mindspace prides itself on its prime locations, offering an upscale co-working environment with unique designs that feature local artists and correspond with local culture, an exceptional level of service to its members, and a vibrant real-world community.
Beaconforce
We are a people management solution that monitors the pulse of a workforce in real-time and builds practical recommendations that reduce the guesswork in managing people. Beaconforce's vision is to redefine the meaning of work through creating inspiring environment at work in which individuals can identify what drives them and achieve their full potential
Culture Summit
Culture Summit is a cross-functional, cross-industry conference that brings together founders, thought leaders, and culture champions to share actionable culture solutions for companies from startup to scale. Our speakers and workshops empower you with the data, strategies, and practices that drive actual results. If you are tired of hearing about perks and want to learn how to build strategic initiatives and programs that get results, this is the conference for you.