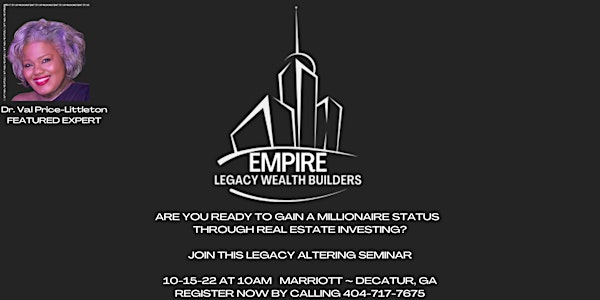 Empire Legacy Wealth Builders
Wealth Building Movement: Anyone who has attended our seminars in the past will tell you that it is a life-changing experience.
When and where
Location
Marriott Courtyard 130 Clairemont Avenue Decatur, GA 30030
About this event
ABOUT THIS EVENT
GAINING MILLIONAIRE STATUS THROUGH REAL ESTATE
$497 for 1 ATTENDEE EARLY BIRD SPECIAL
$797 for 2 ATTENDEES EARLY BIRD SPECIAL
Topics below will be covered during our time together:
Real Estate investing in properties with tax liens.
Learn how to perform an effective title search.
Funding: Acquiring properties for pennies on a dollar.
Understand the benefits of lease purchasing and sub-leasing.
Negotiation strategies so everyone leaves feeling like a winner.
Creative financing options to fund your real estate deals.
Investing in probate properties.
How to make passive income in multi-family investing.
Construction techniques for developing raw land.
Understand economic outlook for real estate investors.
Lingo that attracts private lenders.
Long-distance real estate investing.
Rehab Homes Quick and Flawlessly.
Acquiring properties with OPC (Other Peoples Capital).
Real estate Investment Trusts.
Understand the benefits of investing in foreclosures.
GET ENERGIZED!
One of the things we love most about ELWB is the excitement and passion that fills each and every session.
Throughout ELWB, you'll find the support, guidance, and encouragement to tackle obstacles and get your real estate investment on the right track to success.
You're sure to leave this session with a deep-rooted fire to step up your game and take your investments to A level or to the next level!
TAKE ACTION
It's one thing to want to improve your CASH FLOW... But following through and actually doing it is what separates the successful from the rest.
At ELWB, our speakers focus on providing valuable, actionable content that everyday individuals can transform to real estate professionals and apply in their businesses right away. You'll learn the same time-tested strategies that some of the industry's best use to accelerate their growth.
You'll finish the day not only with the right strategies to drive more business, but more importantly with a plan of action to help you get there
CONNECT. INTERACT. NETWORK.
At ELWB, you'll have the opportunity to form strategic relationships with active investors in every part of the real estate industry, from residential wholesalers and rehabbers to large commercial property owners, and everything in between.
With hundreds of investors joining us each YEAR, you're going to connect with people from all over the country who invest in every aspect of real estate. You're also sure to meet those who have been in your shoes, who have encountered the same growth obstacles and opportunities, and have gone on to create successful real estate legacies of all sizes.
At ELWB, you'll find the key tools your business needs to crush your goals into next year and beyond.