Hear from representatives across multiple industries about how to destigmatize mental health in your organization.
About this event
Even before COVID-19, the focus on mental health among adults was increasing. Numerous studies reveal some populations including working parents, essential workers, and communities of color are reporting higher rates of anxiety, depressive disorders, and even PTSD. Elite athletes are showing us that even our highly skilled and high performing talent can struggle with burnout, depression, and other mental health concerns.
As we continue to focus energy and resources to create an inclusive environment within our organizations, we need to raise the level of our understanding of the impact of mental health in the workplace and increase our commitment to support our employees, address biases, and foster allyship.
Our host, Salvador Vergara, VP & Managing Director/Founder of HrQ will interview our panelists as they share their own experiences with mental health. These include:
Greg Hake, Founder, Fatal Flaw and Former Navy Seal
Dr. Philip Richmond, Veterinarian and Founder, Flourishing Phoenix
Dr. Allessandria Polizzi, Be Verdant podcast host and CEO, Verdant Consulting
Spencer Drango, Former NFL football player
Kim Arnold, CEO, More Than a Strategy
Topics we will cover include:
Why companies need to strengthen their focus on mental health more than ever.
How biases against mental health show up in the workplace and how to bring a more positive lens to addressing Emotional Well Being in the workplace.
What the role of HR, Leadership, and Employees is and is not.
Part of our "Emotional Wellbeing in the Workplace" Series. Future topics include HR Burnout, Ubiquity of Emotions, Leader Burnout & More!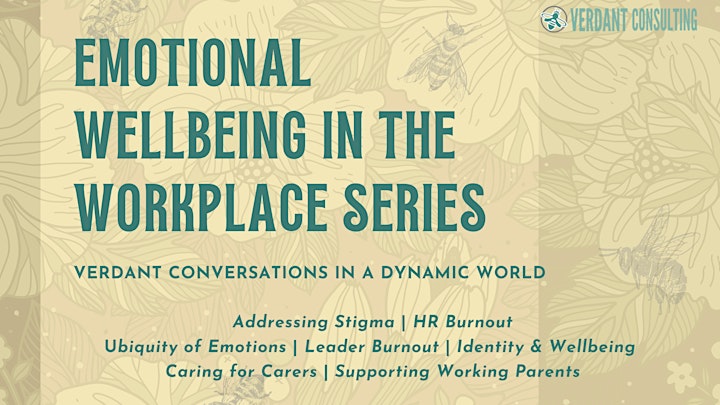 Organizer of Emotional Wellbeing in the Workplace Series: Mental Health in the Workplace