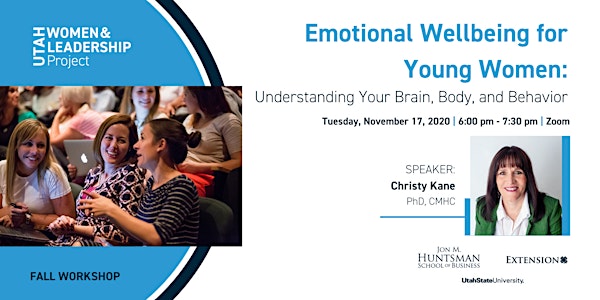 Emotional Wellbeing for Young Women: Understanding Your Brain & Body
This workshop will educate and engage young women in understanding their brains and emotional wellbeing.
About this event
Emotional Wellbeing for Young Women: Understanding Your Brain, Body, and Behavior
The Utah Women & Leadership Project invites you to join us for a special fall workshop specifically designed for high school young women and those who influence them.
Join Dr. Christy Kane for this no-nonsense workshop on mental health for high school aged young women. She will discuss some of the common emotional challenges that teens struggle with today. In today's culture of constant social comparison, becoming more emotionally mature is an especially critical topic. Dr. Kane will discuss this from the perspective of how our brains work and how that impacts our lives. She will help unpack some underlying beliefs and thought processes around body image, anxiety and depression, and other emotional struggles, which will help increase mental health stability. Understanding the science behind why the brain does certain things can help create more effective thinking patterns and results in more positive choices moving forward. She will conclude by sharing strategies and tools that can help young women thrive.
Presenter:
Christy Kane PhD., CMHC, has over 20 years of experience leading and guiding in mental health. Christy Kane is a sought-after presenter and author who focuses her work on neurology, mental health stability, and how electronics are affecting the human brain. She has served in a variety of roles that contribute to her extensive mental health knowledge and expertise in the field of psychology. As a former owner and clinical director of two residential treatment centers, Christy has helped youth learn the skills necessary to effectively contribute to society, manage their mental health and make positive changes in their lives. Christy has also owned an outpatient clinic where she provided counseling services. From parent nights at local schools to TEDx talks, and from national conferences to local intervention with companies, Christy is a coveted advisor in the area of mental health. Christy knows that corporations, schools, and families are facing mental health challenges. Using therapeutic topics, tools, guidance, and solutions, Christy offers information to help protect individuals from mental health crises.
Event Sponsor: Jon M. Huntsman School of Business, Utah State University & Utah Education Network (UEN)