Hear from representatives across multiple industries about the commonality of emotional needs in the workplace.
About this event
As we continue to focus energy and resources to create an inclusive environment within our organizations, it is not only those with a formal diagnosis of Mental Illness that we need to support. 3/4 of US Employees are feeling Burnout, and 80% of employees would leave their companies for one with Burnout Resources.
As part of our Emotional Wellbeing at Work series, we will be discussing the widespread emotional needs of employees across the globe.
Our hosts, Kim Arnold, CEO of More Than a Strategy and Sal Vergara, Vice President & Managing Director, HrQ, will interview our panelists as they share their own experiences with mental health. These include:
Hannah Hardy-Jones, CEO, Kite Program
Dörte Heimbeck, Associate Chief Wellness Officer, Moffitt Cancer Center
Allessandria Polizzi, CEO, Verdant Consulting & host of the Be Verdant podcast
Philip Swayze, Eastern Practice Leader, HUB International
Jae Washington, Senior Community Manager, Headspace
Panelists will share their own experiences with helping organizations support the wellbeing of their employees, covering:
The prevalence of emotional challenges across the labor force
Why companies should care about the emotional health of their teams
How to have conversations about emotional wellbeing without being a therapist
Risks to ignoring the emotional needs of our teams and leaders
Best practices for supporting emotional wellbeing
Part of our "Emotional Wellbeing in the Workplace" Series. Keep a eye out for more sessions on Leader Burnout, Race and Wellbeing, Parenting Burnout, & More!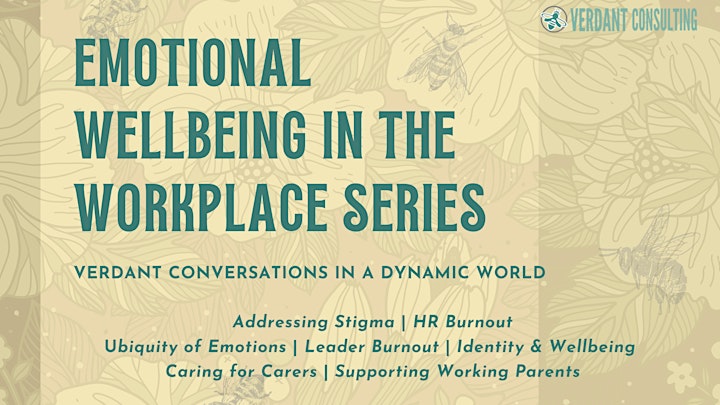 Organizer of Emotional Wellbeing at Work Series: The Ubiquity of Emotional Wellbeing