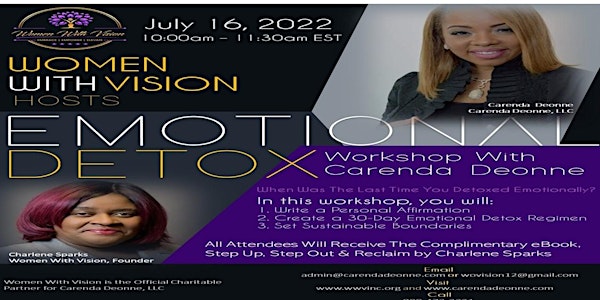 Emotional Detox
WWV Vision-To empower women to live lives that are infused with Virtue, Integrity, Success, Inspiration, Opportunity, and New Beginnings.
About this event
You are cordially invited to join Women with Vision Inc. NC
CARE-SHARE SERIES
EMOTIONAL DETOX WORKSHOP by: Carenda Deonne
Saturday, July 16th, 2022 from 10:00 am-11:30 am
This is a virtual event. Thank you for supporting this event.
As Women with Vision, we place emphasis on the importance of self-care while pursuing your life journey and the importance of being more proactive in taking charge of your health.
The purpose of this event is to embrace, empower, elevate, educate and support our women and caregivers who diligently give so much to families and loved ones without notice. This event is designed to impact your life, spiritually, mentally and physically. We will also recognize and honor frontline and community caregivers for a work well done.
Women with Vision, Inc. (NC) appreciates donations in any amount to support our cause. Thank you so much for your generosity in supporting Women With Vision Inc. (NC) Caregivers Journey!
Women with Vision Inc. NC Support Services include:
1. Quarterly Educational Empowerment Presentations and Events such as self-care for women & caregivers, business development, branding and spiritual support.
2. Caregiver Personal Care Support Services such as: Resources to assist our members with personal care, nutrition and food support, gift cards for personal needs, and other personal health care resources as needed.
3. Caregivers "Winning with Vision" Coaching Session (Free 30- Minute Session)
4. Entrepreneurs "Winning with Vision" Coaching Session (Free 30 min session)
5. Review Women with Vision Inc. NC ELITE Caregivers PLUS Service Plan for those in need of Respite and Personal Care Services.
https://www.wwvinc.org
wwvelitemembership.mystrikingly.com
wwvretreat.mystrikingly.com
Contact Women with Vision Inc (NC) at (336) 365-1457 for more information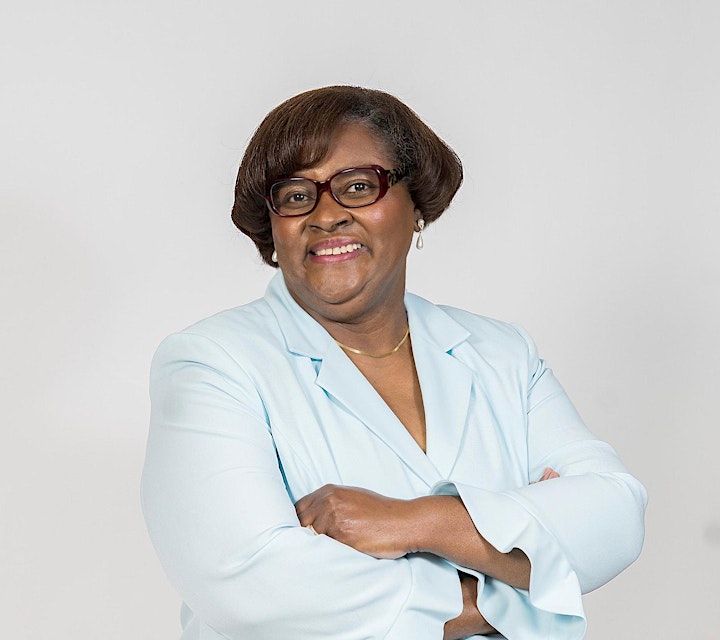 Meet Charlene Sparks, RN, BSN, known as the Resource Navigator, Founder of Women with Vision, Inc. NC (Nonprofit Organization), Co-Owner for Advantage Health Connection, Inc. (Greensboro NC). I embrace, empower, & elevate women, caregivers & families to be the best version of themselves. I utilize and create an educational platform for spiritual and mental wellness. In addition to supporting individuals with health care & business resources. I also support individuals in developing the correct structure for their business, ministry or nonprofit organization. Graduate NC A&T State University (1979), Diabetes Care Manager & Lifestyle Coach, Diabetes Peer Educator, Self-Care & Caregiver Advocate, Spiritual Empowerment Education, Member Women Prosperity Network, Founding Member, Carolina Nursing League, Treasurer, NC A&T, School of Nursing Infinity Group (SONAG), Health Care & Business Resource Navigator, Author of "Step Up, Step Out & Reclaim" and Co-Author of "Rise Above".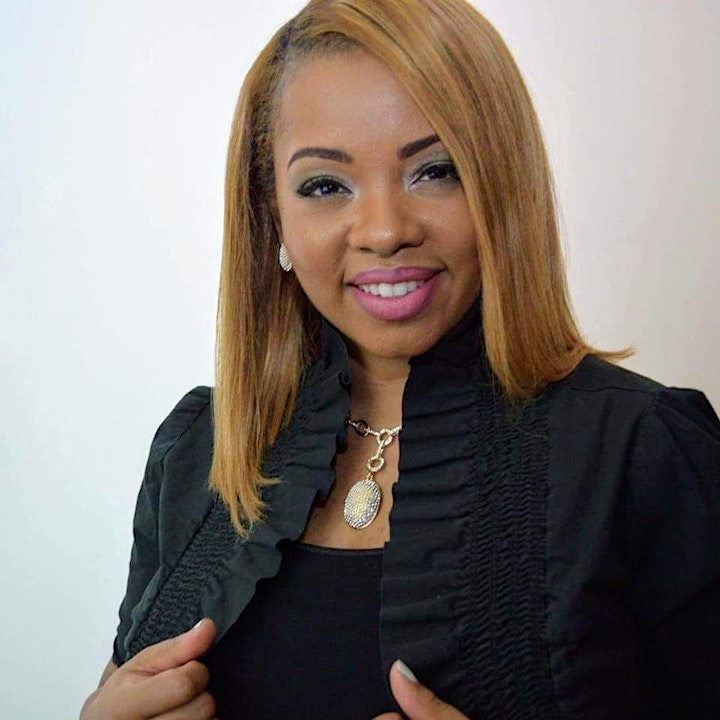 Carenda is a vibrant author and change agent. Carenda's highly dynamic and charismatic personality has made her a highly recommended and sought after Change Agent in business and professional circles for Corporate CEO's, small business owners, nonprofit and community leaders alike. Carenda is a native of Baltimore, MD. She received her BA degree in Business Marketing from the Fashion Insatiate of Technology in Manhattan, New York; and currently is a graduate student at Regent University pursuing a Masters in Law degree.
In addition to being Editor and Chief of Far Above Rubies Magazine, Carenda is also a published author of three books. (Soul of a Poet, The Wait to Success (Contributing Author), and Perfect Patty Messed Up Devotional). In her pursuit that men and women were born to live life on the promise of IMPACT, Carenda Deonne LLC was founded. Carenda Deonne LLC provides motivational speaking, personal coaching and corporate training.
Carenda believes that instead of making lemonade with the lemons life gives you, TAKE AIM. She empowers both men and women to throw those lemons right back at life. She does this by equipping and challenging others to change their thought process, take risks and deliver a new you! Carenda currently spreads her TAKE AIM message by way of weekly podcasts, YouTube, weekly messages and motivational speaking
Carenda currently resides in Chesapeake, VA. She is a licensed minister, contributing writer for Grace and Glory Magazine, and a member of the Alpha Kappa Alpha Sorority Inc. Carenda is taking her message of "IMPACT" all across the world, determined to be an undeniable voice.