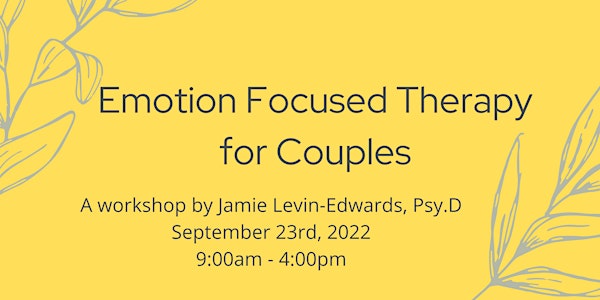 Emotion Focused Therapy for Couples
Emotion Focused Therapy for Couples A workshop by Jamie Levin-Edwards, Psy.D
Refund Policy
Contact the organizer to request a refund.
Eventbrite's fee is nonrefundable.
About this event
Central Oregon Association of Psychologists, Regional affiliate of the Oregon Psychological Association presents:
Emotion Focused Therapy for Couples
Presented by Jamie Levin-Edwards, Psy.D
DATE: Friday, September 23, 2022
9:00 am until 4:00 pm PST
6 hours Continuing Education Credit
Location: As of 8/24/22, this event has moved to an online zoom format. There will be no further changes to the format.
Online Zoom Webinar
*Directions sent post registration and will come from an email titled "COAP Workshop"
Workshop Overview: Emotion-focused therapy for couples (EFT-C) is an empirically validated approach based on an impressive body of research that has accumulated over 40 years. The research has focused both on assessing its efficacy as a treatment approach as well as on investigating the processes of emotional change that underlie the approach. EFT-C views emotion as the central force organizing couple interactions and develops partners' capacity to access and express the more vulnerable, primary adaptive emotions that underlie secondary, defensive emotions. This changes the rigid, repetitive negative patterns of interactions that characterizes most couples' presenting problems. Our approach also focuses on addressing the intrapsychic conflicts of each partner that fuels these defensive emotions and contributes to the couple's distress.
This presentation will provide an overview of EFT-C, including a brief history of the development of the approach, a review of the outcome and process research supporting EFT, and a discussion how EFT conceptualizes and works with emotion. The treatment process and one of the research based "maps" that modern EFT uses to facilitate deeper emotional change will be described. Videos of therapy sessions will be used to illustrate the use of this map within the therapy process.
Learning Objectives: By the end of this course, participants will be able to:
Summarize the evolution of the EFT model.
Explain the difference between basic emotions and emotion schemes.
Name the components of an emotion scheme.
Distinguish between secondary, primary maladaptive and primary adaptive emotion schemes.
Explain the three-step emotional change model.
Describe the three stages of treatment from an EFT-C perspective.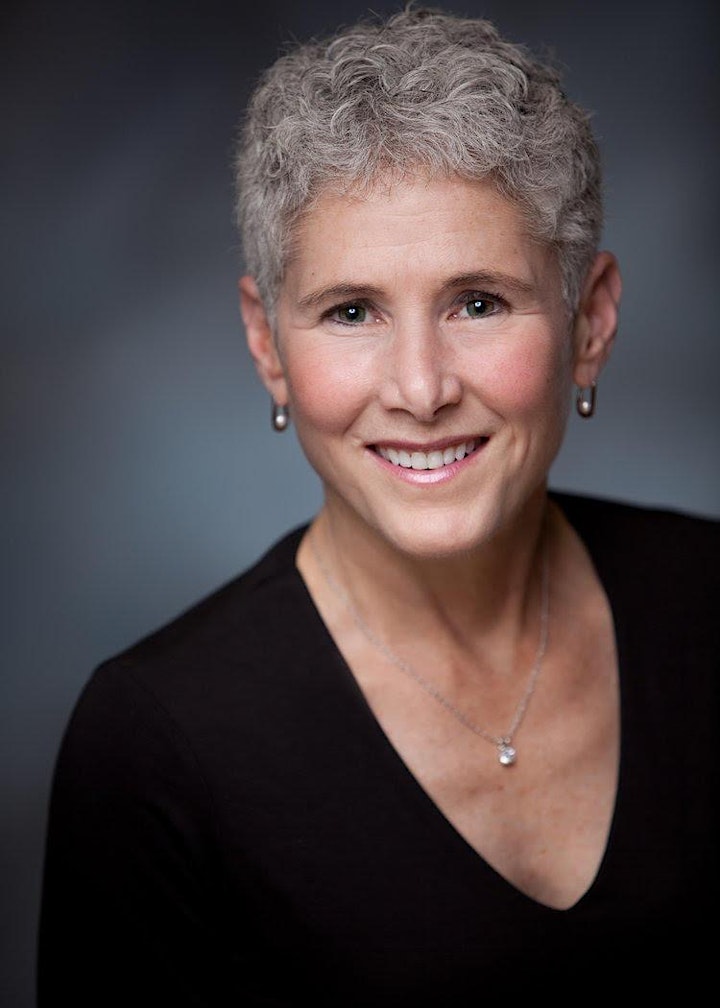 About the Presenter:
Jamie Levin-Edwards, Psy.D. is a licensed psychologist and has been in private practice in Portland, Oregon, for over three decades. Her career reflects a 40 year learning process which has included her own psychoanalytic psychotherapy and psychoanalysis. She has intensely trained in gestalt therapy, psychoanalytic therapy and emotion-focused therapy for both individuals and couples. In addition to practicing individual and couple psychotherapy, Jamie provides individual and small group consultation for therapists. She has offered training seminars and workshops focusing on character issues, modern attachment theory, and emotion-focused therapy for both couples and individuals. Jamie is also a guest lecturer on emotion-focused therapy for the marriage and family graduate program at Portland State University. With her husband Charles Edwards, she has published a chapter entitled "Integrating Individual Tasks into EFT for Couples" in The Clinical Handbook of Emotion-focused Therapy, edited by Leslie Greenberg and Rhonda Goldman.
Costs:
Registered by 9/2/22
COAP Member: $120
Non COAP Member: $135
Registered after 9/2/22
COAP Member: $130
Non COAP Member: $145
Student Rate $65
*Membership in COAP is limited to Central Oregon based active and retired psychologists, residents, and psychologist associates. You must be current with COAP dues to register at the membership rate. Please note that you need to be current with your dues for the 2022-23 year by the time of this conference or else you may be billed for the non-member rate. Yearly COAP dues are $25 and are collected via Cheddar Up website (a small fee will be charged by cheddar up). Please use this link to pay dues: https://coap-membership-2022-23.cheddarup.com/
We welcome all allied mental health practitioners to our workshops (at non-member registration rates); receiving Continuing Education credits from various Licensing Boards has not been problematic, assuming the topic meets your Board's criteria.
**A $25 cancellation fee will be assessed for all cancellations up to one week before the workshop. There are no refunds for cancellations the week of the workshop. Registration fee will not be refunded for dissatisfaction with the training or for no-shows.
Students are invited to attend for $65. Please be prepared to submit a copy of your student identification card as proof of your student status.
Questions can be directed to info@coapworkshops.org
Check out the COAP website for additional information https://www.coapworkshops.org