Description
¿Cómo Lograr nuestros sueños y Metas?
Para lograrlos tenemos que considerar seriamente que son nuestras emociones las que nos permiten realizarlos. Si no tenemos el estado emocional adecuado, podemos perderlos o boicotearlos
Este taller nos permite darnos cuenta que hay herramientas de gestión emocional que son sencillas y que producen resultados poderosos. Nos da la posibilidad de sentirnos con recursos personales para enfrentar diversas situaciones.
Durante este taller vamos a explorar emociones difíciles como el enojo, la frustración, el miedo, la incertidumbre.
Trabajaremos intensamente con herramientas que nos permitirán aprender a resolver éstos y otros estados, prepararnos para lograr metas o resolver conflictos.
Aprenderemos a tomar recursos para empezar a elegir con libertad como nos queremos sentir.
Contenidos del taller
Módulo 1
Inteligencias múltiples.
Los tres cerebros: la química emocional
Competencias de la Inteligencia Emocional.
Módulo 2
Las emociones como impulsos para la acción.
¿Para qué estoy disponible con esta emoción?
Detección del estado emocional.
Adicciones emocionales.
Cómo salir del atractor emocional.
Módulo 3
Detección.
Auto-conocimiento emocional.
La emoción inteligente. ¿Qué mensaje me trae esta emoción?
Emociones difíciles.
Módulo 4
La historia como sostén de recursos presentes.
Equilibrar emociones del pasado.
Diseño de estados emocionales: poder elegir la emoción adecuada para cada situación.
Fechas y lugar de dictado
Este taller consta de 4 encuentros de 3 horas cada uno en las siguientes fechas:
21 de Noviembre
28 de Noviembre
5 de Diciembre
12 de Diciembre
El horario es de 18 a 21 horas en cada una de las fechas indicadas.
El taller se dictará en Escuela de Conversaciones ubicada en Nicolás Berrotarán 1917 PB A de Cordoba, Capital.
Se entrega constancia de participación para las personas que asistan a los 4 encuentros.
Dictado por Alicia Irazusta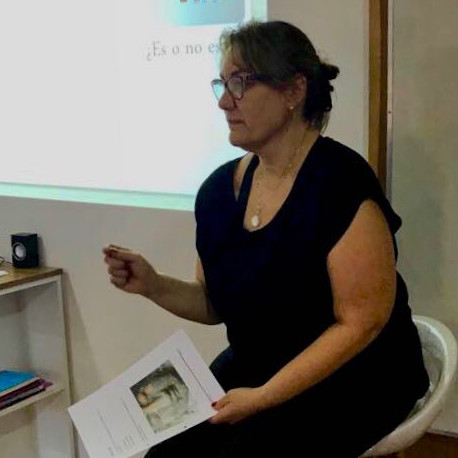 Trainer en Programación Neurolingüístca de La Escuela Argentina de PNL y Coaching.
International Trainer in the Art of NEUROLINGUISTIC PROGRAMMING Southern Institute of NLP.
International Coach – International Coaching Community.
International Business Coach – International Coaching Community.
Certificiada en "Liberando el Poder Generativo de Grupos y Equipos – Los 5 Ritmos y Equipos Dinámicos". Entrenadores: Robert Dilts y Deborah Bacon.
Didacta TAQUION – Juegos y Dinámicas para el desarrollo personal y profesional.
Es directora de Alicia Irazusta, PNL y Coaching. Donde dicta los 3 niveles de PNL (practitoner,master practtoner y trainer), entrenamientos de Coaching y talleres de desarrollo personal.