New Year, Same Tears!! Join us for A Super Sad Emo Night with Sad Boi Chris on 1.15.22!
About this event
NEW YEAR, SAME TEARS!!! We're coming out of our cage, but are we doing just fine...? A Super Sad Emo Night is BACK for the first installment of 2022 on January 15! Our favorite "Sad Boi Chris" is returning to help us scream our hearts out to our favorite emo hits. Even though it's a new year, this just proves that... IT WAS NEVER JUST A PHASE!
COVID-related city, state, and venue regulations/policies are subject to change at any time, so please check back for updates.
COVID-19 POLICY UPDATE
The safety of our fans, staff, artists, and the people of greater New Orleans is our number one priority. As such, effective this Friday August 13th, 2021, we are implementing new safety requirements for all guests.
Prior to entry, all patrons are required to present a valid COVID-19 vaccination card showing that the holder has one shot of the vaccine ---OR--- a negative COVID-19 test performed by a medical professional within 72 hours of the event door time. In either case, the guest's name must match their valid government-issued photo ID. Guests need to provide their proof of vaccination or test as a physical copy or display it on a smartphone. To be clear, at home tests do not meet these qualifications, because they cannot confirm the taker's name and the time of the test.
We will be complying with any and all future COVID-19 regulations issued by the city or state. Please keep an eye on Republic's website and socials for updates, as well as any signage on the front doors, that may further modify or clarify these policies!
Due to the highly contagious nature of COVID and the delta variant, we also ask that patrons do their best to show good judgement - practice social distancing, wash your hands regularly and thoroughly, avoid touching surfaces and your face, avoid licking strangers, don't share drinks (no mind erasers), continue to not smoke or vape in the venue, etc. If you're in an at-risk group - elderly, immunocompromised, underlying conditions, etc. - please strongly consider the risks before attending events. Also note that sanitation stations with CDC-approved sanitizer are available throughout the venue for everyone to use! Ultimately, enter at your own risk. Also, if you're not 100% sure you can comply with all guidelines and procedures, we're just not the place for you right now, so please DO NOT COME TO REPUBLIC. We'll get through this if we work together for the common good, so please do your part! Thank you so much for understanding … and complying! Love y'all!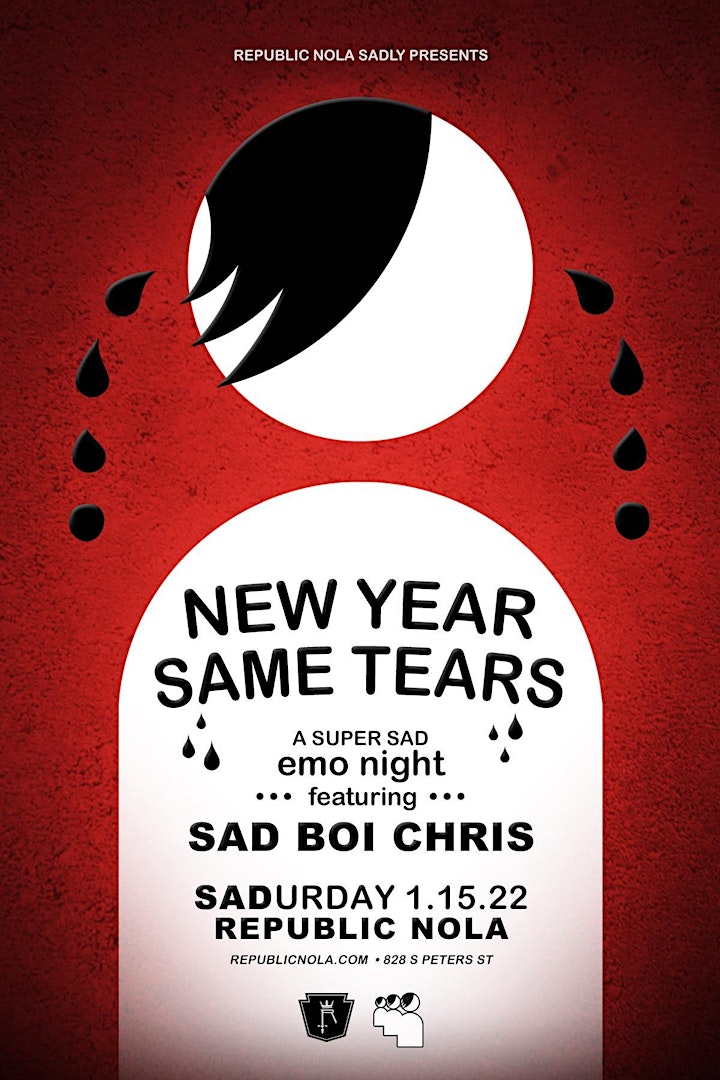 Organizer of Emo Night: NEW YEAR, SAME TEARS!