Emo Night Brooklyn returns to The Orpheum in Tampa! Friday December 10th!
About this event
WELCOME TO THE PARTY
WELCOME TO EMO NIGHT BROOKLYN, A LATE NIGHT DJ BASED DANCE PARTY BLASTING ALL YOUR FAVORITE EMO AND POP PUNK JAMS. WE MAY EVEN INVITE SOME OF YOUR FAVORITE ARTISTS AND BANDS TO SURPRISE YOU AND JOIN THE PARTY. GET READY TO SCREAM YOUR LUNGS OUT, MOSH AND DANCE TO ALL YOUR FAVORITE SONGS WITH ALL OF YOUR FAVORITE PEOPLE AND EXPERIENCE THE AWESOMENESS THAT IS EMO NIGHT BROOKLYN.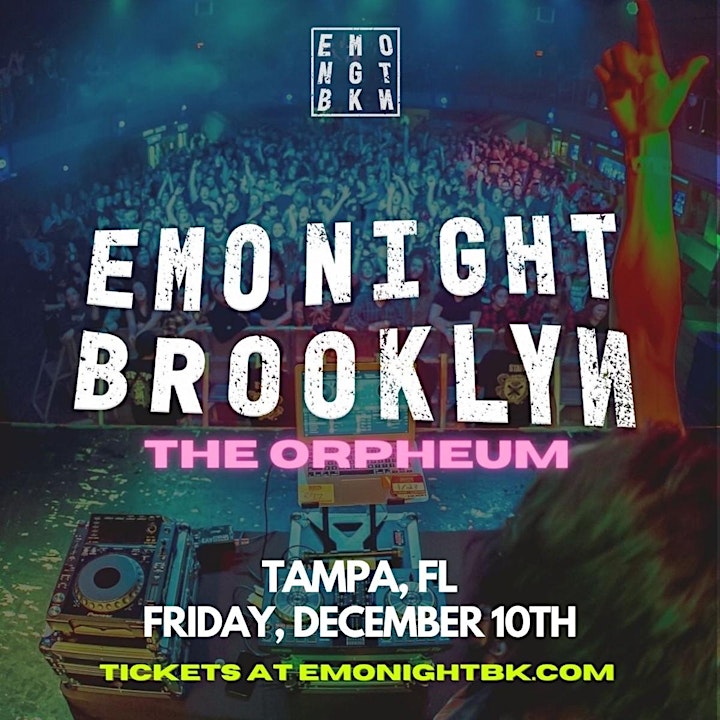 Organizer of Emo Night Brooklyn
Over 20 Years and thousands of shows! Located in the Historic Ybor City entertainment district of Tampa, Florida. The Orpheum has been showcasing live music and events for the better part of two decades. Many of today's best known and emerging artists have graced The Orpheum's stage. Alongside some of the best national and local live music in the market, The Orpheum plays host to professional wrestling, art shows, club events, charity fundraisers, and dance competitions.