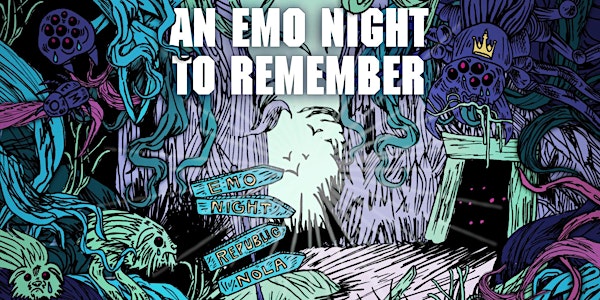 Emo Night: An Emo Night To Remember
Republic NOLA and Emo Night Present...
Location
Republic NOLA
828 S Peters St
New Orleans, LA 70130
Republic NOLA Presents... Emo Night: An Emo Night to Remember on SADurday, June 25th!
About this event
Well, my sad friends, it's time for some HELLOGOODYBEs! As in, please say hello to our BRAND NEW emo night resident, Bemo Rouge, in all his NEW FOUND GLORY and say SO LONG & GOODNIGHT to our long-time resident and now FALLOUT BOY, LaFourche (aka Sad Boi Chris) as he marches in his final BLACK PARADE. On SADurday 6/25/22, grab your date and your top 8 and prepare for one of the biggest emo nights to date. This is no regular day; this is an EMO NIGHT TO REMEMBER!
* ADMIT IT! You liked all these emo puns. Well thanks, CUTE IS WHAT WE AIM FOR. Or, at the very least, CUTE WITHOUT THE "E". *