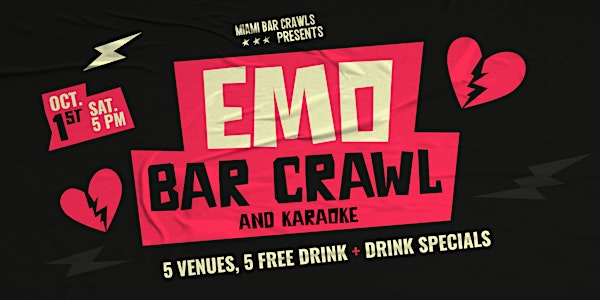 Emo Bar Crawl and Karaoke
Miami Bar Crawls wants you to crawl your heart out at our Emo Bar Crawl! Join us on Saturday, October 1st for cocktails and Emo Karaoke!
When and where
Location
Blackbird Ordinary 729 SW 1st Ave Miami, FL 33130
About this event
Get ready to crawl your heart out. 💔 Join us on Saturday, October 1st, for our first ever Emo Bar Crawl with Emo Karaoke!
Come dressed in your best emo attire and enjoy 5 FREE drinks & ridiculous drink specials at FIVE participating venues in Brickell! What better way to kick off the spooky season?! 👻
We'll have Emo Karaoke at Blackbird Ordinary from 6 PM to 9 PM! We highly encourage you to get to the bar crawl at 5 PM to get the full karaoke and bar crawl experience!
Participating Venues and Drink Specials:
Blackbird Ordinary (Check-in venue 5 PM - 8 PM):1 FREE Drink + Drink Specials + Emo Karaoke
American Social: 1 FREE Drink + Drink Specials
Better Days: 1 FREE Drink + Drink Specials + Emo Playlist
RedBar Brickell: 1 FREE Drink + Drink Specials + Emo Playlist
Batch Miami: 1 FREE Drink + Drink Specials
*Venues are subject to change.
What does my ticket get me?
5 FREE drinks
Ridiculous drink specials at all participating bars
Themed swag (while supplies last)
Questions? Please contact us by email or call/text us at (305) 713-7839.
Frequently Asked Questions
- Where do I check in? Check-in is at Blackbird Ordinary located at 729 SW 1st Ave, Miami, FL 33130 from ONLY 5 PM - 8 PM
- What time is Check-in? Check-in time is from 5 PM - 8 PM ONLY. Free drinks and drink specials are up to 11 PM.
- Is there a dress code? Each venue determines the dress code. Examples of this include no shorts (men), no flip-flops, etc. It's your responsibility to reach out to the participating venues directly to ask about the dress code.
- Will there be a guide? Nope! This is a free-roam bar crawl allowing you the freedom to go from bar to bar as you please.
- How old do I have to be? You MUST be 21 to attend this event.
- Is there transportation between venues? No, but all venues are within walking distance. We remind you to not drink & drive. Always have a designated driver or use transportation services such as UBER, Lyft, Taxis, or FREEBEE.
- What kind of drinks can I get with my free drink ticket? You can get well rum, tequila, whiskey, gin, or vodka with your drink tickets. (Example: rum & coke, vodka & cranberry, etc.)
- Are there refunds for this event? Unfortunately, there are no refunds for our events. The event will go on rain or shine.