Join Emma and her guests Rumaan Alam, Carla Lalli Music, Jasmine Guillory and Helen Rosner, with a special appearance by chef Evan Hanczor!
About this Event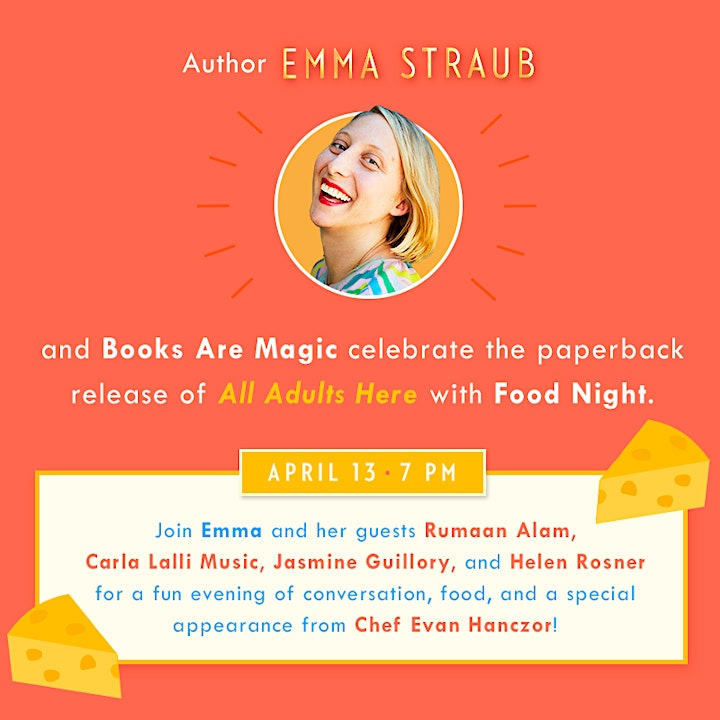 Community Guidelines:
By registering for this event, you agree to be respectful towards authors and other audience members and to refrain from inappropriate or disruptive behavior and/or harassment of any kind including, but not limited to: hate speech, spam comments, slurs, obscenities, etc. Any attendees who violate these community guidelines will be immediately ejected from this event and barred from attending all future Books Are Magic events.
To request accessibility accommodations, please contact assistant@booksaremagic.net.
Donation funds will be split between FIG and First Presbyterian Church Brooklyn's Food Pantry.
"Brimming with kindness, forgiveness, humor and love and yet (magically) also a page turner that held me captive until it was finished. This is Emma Straub's absolute best and the world will love it. I love it."—Ann Patchett
This instant New York Times bestseller is "literary sunshine" (NYT) from the beloved "queen of the summer novel" (Entertainment Weekly): a warm, funny story about the life cycle of one family.
When Astrid Strick witnesses a school bus accident in the center of town, it jostles loose a repressed memory from her young parenting days decades earlier. Suddenly, Astrid realizes she was not quite the parent she thought she'd been to her three, now-grown children. But to what consequence?
Astrid's youngest son is drifting and unfocused, making parenting mistakes of his own. Her daughter is pregnant yet struggling to give up her own adolescence. And her eldest seems to measure his adult life according to standards no one else shares. But who gets to decide, so many years later, which long-ago lapses were the ones that mattered? Who decides which apologies really count? It might be that only Astrid's thirteen-year-old granddaughter and her new friend really understand the courage it takes to tell the truth to the people you love the most.
In All Adults Here, Emma Straub's unique alchemy of wisdom, humor, and insight come together in a deeply satisfying story about adult siblings, aging parents, high school boyfriends, middle school mean girls, the lifelong effects of birth order, and all the other things that follow us into adulthood, whether we like them to or not.
Emma Straub is the New York Times bestselling author of the novels All Adults Here, The Vacationers, Modern Lovers, Laura Lamont's Life in Pictures, and the short story collection Other People We Married. Her books have been published in twenty countries. She and her husband own Books Are Magic, this very bookstore.
Rumaan Alam is the author of the novels Rich and Pretty, That Kind of Mother, and Leave the World Behind. His writing has appeared in The New York Times, New York Magazine, The New Yorker, The New York Review of Books, Bookforum, and the New Republic, where he is a contributing editor. He studied writing at Oberlin College and lives in New York with his family.
Carla Lalli Music is the James Beard Award-winning author of Where Cooking Begins (a national bestseller) and the host of Carla's Cooking Show on Patreon. The former food director at Bon Appétit, Carla is known for anchoring the hit YouTube series, "Back to Back Chef." Her second cookbook, That Sounds So Good, will be published in October. Find her on Instagram and Twitter, and on her YouTube channel.
Jasmine Guillory is the New York Times bestselling author of six romance novels, including The Wedding Date, The Proposal, and the upcoming While We Were Dating. Her work has appeared in O, The Oprah Magazine, Cosmopolitan, Bon Appetit, and Time. She lives in Oakland, California.
Helen Rosner is a staff writer at The New Yorker. She has been an editor at Saveur and New York Magazine, launched the seminal food site Eat Me Daily, and was for a time a book editor. In 2016 she won the James Beard Award for her ode to chicken tenders, published in Guernica. Before joining The New Yorker, she was the executive editor of Eater, where she founded the publication's James Beard- and National Magazine Award-winning features department.
Evan Hanczor is a chef, writer, and activist whose work focuses on food and storytelling. He has been the longtime chef at Egg restaurant in Brooklyn (with an outpost in Tokyo) and is the founder of Tables of Contents, which uses food as a lens for exploring literature, arts, and culture.
Evan is a co-director of FIG NYC; a Glynwood ambassador; a Star Chefs Rising Star; and a member of the Chef Action Network. He has worked on food and climate advocacy with OXFAM, the SDG2 Advocacy Hub, ReFED, and One Fair Wage. He has collaborated with the O Miami Poetry Festival, the MIT Media Lab, the James Beard Foundation, SFMOMA, and was a guest chef at the 2015 EXPO Milano.
Evan is the co-author of Breakfast: Recipes to Wake Up For with Egg founder George Weld, and is the creator and editor of the Tables of Contents Community Cookbook, published this year. He has written for or been featured in The New York Times, LitHub, Edible Brooklyn, Epicurious, and Life & Thyme, and remains in search of new collaborations and exciting snacks.