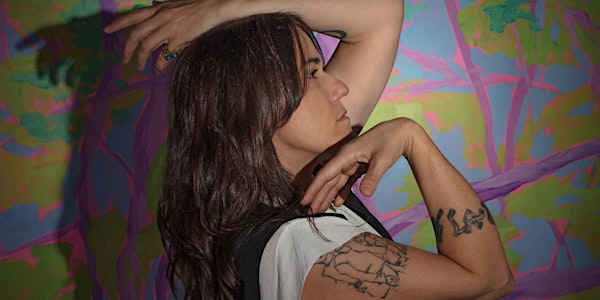 Emily Wells
Visionary composer Emily Wells combines electronica, classical, pop, and video performance for a transfixing concert
When and where
Location
ArtYard 13 Front Street Frenchtown, NJ 08825
About this event
ArtYard and the Frenchtown Bookshop are excited to announce that Emily Wells, an award-winning composer, producer, multi-instrumentalist, and video artist, will be appearing in concert on Friday, September 30, 2022, at ArtYard's McDonnell Theater.
Emily Wells' multimedia performances are "quietly transfixing" (NY Times). She meticulously loops and layers real-time tracks of violin, synth, percussion, wind instruments, and vocals, creating what she calls "a new instrument." Those instruments create an evocative and ethereal soundscape, reminiscent of the music of Bjork. Her songs will be accompanied by video projections on ArtYard's two-story-tall screen.
NPR calls Wells' music "breathtaking," "mind-blowing," and "visionary." The New York Times describes her music as "dramatic, meticulous, and gothic." In her words, it "bridges pop and chamber music," and her video projections "intersect imagery of contemporary dance, extreme weather and effects of climate crisis, and protest footage."
Wells' sixth album, "Regards to the End" (2022) pays tribute to the visual artists and choreographers who were at the front lines of the early AIDS epidemic. Her message is that "collective action is power, and making art is an act of hope and a belief in the future." She lists music theorist John Cage, minimalist composer Philip Glass, and the hip-hop group Wu-Tang Clan as her influences.
Masks are required for this performance.
About Emily Wells
"Quietly transfixing" composer and producer Emily Wells is known for her varied use of classical and modern instrumentation, "a master of blending the worlds of classical and electronics" (NPR) and "dramatic, meticulous and gothic songs" (New York Times).
On stage Wells builds a "new instrument" out of acoustic and electronic drums, synth, violin, and her evocative performances leave audiences equal parts dancing and grieving. Wells' latest work, This World is Too _____ For You released in March has been hailed by NPR as "breathtaking," "mind-blowing," and "visionary." The 10-song album, arranged for chamber ensemble by composer Michi Wiancko, was commissioned by Saint Paul Chamber Orchestra's Liquid Music Series and Metropolis Ensemble who performs on the album along with drummer and composer Shayna Dunkelman (Du Yun, Xiu Xiu).
Concerts at ArtYard
The concert is part of the opening season of programming at the McDonnell Theater, the heart of ArtYard's new building at 13 Front St., a welcoming communal resource and vessel channeling the power of art to unsettle, engage, bridge divides, and spark moments of arresting beauty. The 162-seat theater has state-of-the-art projection, lighting, and surround sound and will be the site of music, film screenings, dance, theatre, artist talks, and more.
Music at ArtYard is curated by Scott Sheldon, co-owner of the Frenchtown Bookshop and the former presenter of The Sanctuary Concerts in Chatham. Over 15 years, Scott presented more than 300 concerts, including Judy Collins, Suzanne Vega, Marc Cohn, Rosanne Cash, Jimmy Webb, the Roches, Janis Ian, Josh Ritter, and Nick Lowe.
The bluegrass/Americana band Nefesh Mountain is among the other upcoming performers set to take the McDonnell stage as part of the partnership.
For more information and tickets, please visit www.artyard.org.