About this Event
DOORS: 6:30 PM, SHOW: 7:30 PM
AGE RESTRICTIONS: 21+
GENERAL ADMISSION, LIMITED SEATING
Important Notice: All tickets are nonrefundable and nontransferable with the exception of event cancellation. Support acts are subject to change
----------------------------
About Emily Morrone:
A soulful 22 year old singer/songwriter, Indianapolis based artist Emily Morrone creates intricately looped pop music as a self-proclaimed one-woman band. Her debut EP, "Blooming," comprised of 7 songs she released as singles since 2015, featured a sound heavily influenced by acoustic pop and soul.
Over the years and through much experimentation, Morrone's musical direction took a few turns as she discovered loop-based live performance which utilizes a MIDI keyboard, Logic software, layered vocals, and live guitar, quickly taking the spotlight in her one-woman-band live performances.
Her latest EP, "My Way," demonstrates her passion of this unique feature, this time incorporating prominent elements of dance-pop and contemporary R&B. Also an LGBTQ+ advocate, Morrone infuses themes of searching and growth into her musical creations, allowing her to connect to new audiences in a way that defies her youth. The strategy is as follows: take catchy yet thoughtful pop songs, confidently sung, and generational appeal, and penetrate deep into pop's hinterland: this is Emily Morrone.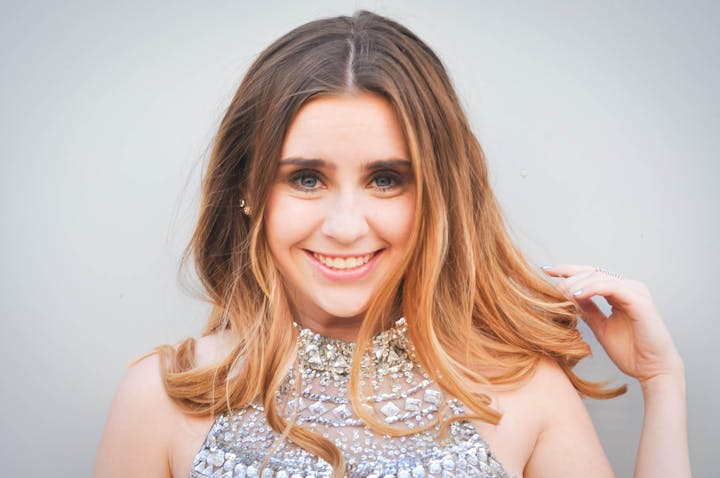 About Maria Diebolt:
Award winning singer and songwriter Maria Diebolt is already making an impact on the music industry with her insightful lyrics and a vocal maturity beyond her years. Maria has been singing since the age of eight and started songwriting at 10 and has captivated audiences big and small. Her largest crowd was the Circle of Lights Christmas tree lighting celebration in Indianapolis, performing for over 100,000 people as well as a live TV audience.
Maria is an "in demand" National Anthem singer, having performed extensively for sports teams and organizations, including the Indiana Pacers, Chicago White Sox, the PGA, Indiana Fever, Indiana Ice, Indy Fuel, Indy Eleven, Indianapolis Tornadoes, and more. She was honored to sing for America Remembers 9/11 for two years and has over 50 National Anthems under her belt to date.
As a songwriter, Maria has been recognized in several national and international songwriting competitions. Her single "Shake Up The World". was named a semi-finalist in the internationally acclaimed Unsigned Only Music Competition in both the Top 40/Pop and Teen categories. She was also presented with the Award of Honor in the Paramount International Song and Lyric Writing Contest for her heartfelt ballad "Before You Fly Away". She collaborated and recorded with LA producer Alex Cantrall (JoJo - Get Out, Leave) and Rhett Fisher on "Shake Up The World", "Meant To Be", and "Happily Ever After". Maria is a member of the International Singer Songwriters Association.
Maria has a strong social conscience and enjoys donating her time and performances to help those in need. She participated for several years in An Evening of Holiday Joy, a fundraiser for several local charities and has also joined a group of Blonde Entertainment performers who sang at local hospitals, shelters, and nursing homes at Christmas. One of Maria's passions is to spread positivity in the world and try to overcome negativity - because of this she was chosen as a Dove #SpeakBeautiful Ambassador, using social media to promote positivity in the world.
Maria has enjoyed great success in her young career at regional and national dance and vocal competitions, winning numerous awards. She has also won several vocal competitions, including St. Simon Idol, CarmelFest Has Talent, and the Hamilton County Fair Talent Contest, where she was crowned Junior Grand Champion. Maria was named Outstanding Performer for three consecutive years at the Catholic Youth Organization's Music Contest in Indianapolis. Her largest live audience was at the Circle of Lights Christmas Tree Lighting in downtown Indianapolis. Maria was the youngest soloist chosen to perform in front of a crowed of over 100,000 people. The event was also televised live on WRTV, the local ABC affiliate. She has also appeared on the local CBS affiliate morning talk show "Indy Style" and local radio station 99.5 WZPL's morning show "The Smiley Show" as well as being interviewed on local radio station 100.9 RadioNow.
In 2013 Maria was a member of two anti-bullying tours, the Teen Nation Tour and the Stop Think Feel Tour, which traveled to elementary and junior high schools in several states on the East Coast of the United States. She and her tourmates performed and spoke out against bullying. Maria has also performed locally at several events, including "A Night To Unite" campaign against hate and bullying, Rock The Arts Park, Classic Movie Events at Forest Park, Circle City Voice Showcase, Second Saturday Gallery Walk, Midwest School of Voice Showcase, Art In The Park, Carmel Community Players Haunted Cabaret, Cookies 'n Santa at Fishers Town Hall, The Fishers Freedom Festival, The Indiana State Fair, and school talent shows. Maria is also proud to be part of the music liturgy group at her church.