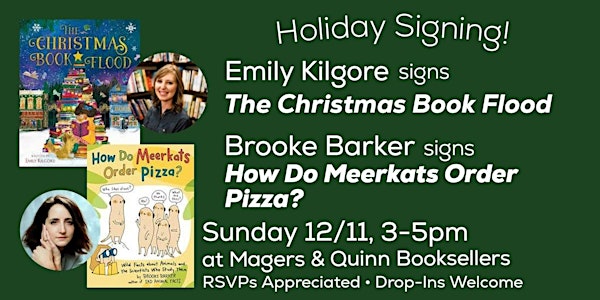 Emily Kilgore and Brooke Barker Holiday Signing
Emily Kilgore and Brooke Barker Holiday Signing
When and where
Location
Magers & Quinn Booksellers 3038 Hennepin Avenue Minneapolis, MN 55408
About this event
Pick up a signed copy of The Christmas Book Flood and How Do Meercats Order Pizza?, great gifts for the children or grandchildren on your list, and meet Emily Kilgore and Brooke Barker.
For this special signing event, we appreciate RSVPs to help us gauge interest and estimate book quantity needs, but anyone is welcome to swing by! Click the register button to help us out.
A note about in person events:
We are very excited to bring authors and readers back together in our space, and we know you are too!
As we all navigate the transition back to congregating in person, we ask that you use honesty, care, and understanding in interacting with fellow event-goers, staff, and authors.
About the authors:
Emily Kilgore is an educator and the author of the picture books The Whatifs and The Iheards. She wrote The Christmas Book Flood by candlelight while in Sweden. She lives in Minnesota. Learn more about her at emilykilgore.com.
Brooke Barker is a writer and illustrator who lives in Pittsburgh, Pennsylvania. Her successful Instagram account became the basis for her book, Sad Animal Facts. Brooke is also the author of How Do Meerkats Order Pizza?. Her favorite animal is the Malayan tapir.
About the book:
Christmas Book Flood: This lovely and lyrical picture book, based on a real Icelandic tradition, brings all the sparkle and anticipation of Christmas—and of the joys of reading—to the page. With gorgeous artwork and a diverse cast of characters, Emily Kilgore and Kitty Moss's The Christmas Book Flood is a surefire holiday classic.
How Do Meerkats Order Pizza?: In this uproariously funny and charmingly illustrated nonfiction book for middle grade readers, Brooke Barker of Sad Animal Facts introduces readers to incredible animals and the bizarre things human scientists do to understand them. Did you know that crows never forget a face? Or that jaguars have a favorite cologne? Have you ever wondered how to pet a yeti crab? Or whether dogs can tell if you're smiling? And just what is a burrowing bettong? Meet these weird, wonderful animals and the equally weird and wonderful scientists who study them. From crafting fake poop to slurping up bugs with a straw, there's nothing these amazing humans won't do to help us learn more about the animals around us. Packed with fascinating facts, this hilarious book from the bestselling creator of Sad Animal Facts reveals secrets like why roosters crow and how meerkats make decisions as a group—and how humans can better understand the wild creatures we share the planet with.
A note about in person events:
Please note that Magers & Quinn will always comply with current city and state regulations, and reserves the right to change the below policies at any time. These are guidelines only, and if you have questions about the most up to date information, you can always call us at 612-822-4611.
For information about how our in-person events will work over the coming months, please read on:
Q: Are masks required?
A: Masks are not currently required in our building, but are highly recommended.
For the health and safety of others, we strongly encourage you to wear a mask, especially if not fully vaccinated for COVID-19.
Q: Are in store events free?
A: Yes, Magers & Quinn events are free and open to the public unless otherwise noted.
Q: Do I need to RSVP?
A: For this special event, we appreciate RSVPs to help us gauge interest and estimate book quantity needs, but anyone is welcome to swing by!