Emerging Women Power Party Seattle
When and where
Location
Impact Hub Seattle 220 2nd Ave S Seattle, WA 98104
Refund Policy
Contact the organizer to request a refund.
Description
Brilliant Women Igniting Change in the World
~ Networking, Speakers, Book Signing, Live Performance, Food & Beverages ~
Are you on fire with desire to create a life of alignment, authenticity and powerful self-expression through the work that you do? If so, join us as we celebrate the rise of women leaders and entrepreneurs, and the movement towards a more integrated approach to success.

This is an inspirational networking event that will bring together brilliant women ready to influence real change in the world through "the how" of what we do. Women do things differently, and we aim to harness the power of the feminine, rock our businesses, and create a new paradigm for success.
Please note that tickets must be purchased in advance.
~ Join the party early on Twitter using #PowerPartySeattle ~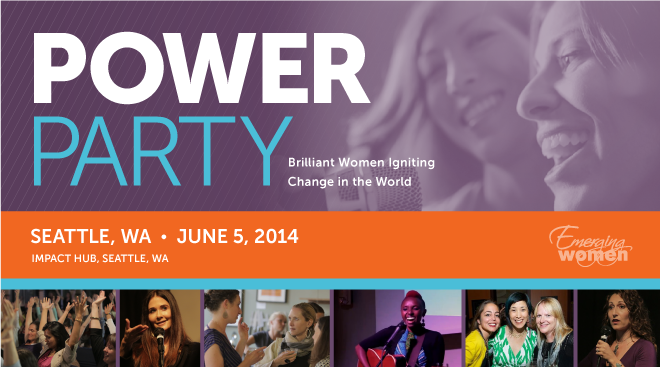 Agenda:
6:00-6:30 Registration & Connect
6:30-7:00 Power Circles
7:00-7:15 Intro, Chantal Pierrat, Founder and CEO of Emerging Women
7:10-7:25 Short Keynote, Stacey Sargent
7:25-7:40 Short Keynote, Sara Yao
7:40-8:15 Keynote, Jen Louden
8:15-8:30 Break - Drinks & Power Circles
8:30-8:45 Entertainment, Camille Bloom
8:45-9:00 Short Keynote, Jensine Larson
9:00-9:25 Keynote, Shasta Nelson
9:25-9:35 Closing Speech, Chantal Pierrat
(For more information or if you have questions feel free to contact
Karna: karna@emergingwomen.com)
Speakers:
Jennifer Louden is both a personal coach and social commentator, who has taken the concept of "comfort" and self-care, and made these essential concepts irresistible and essential to women around the world. Jennifer is a cultural visionary, harnessing her extraordinary ability to recognize women's comfort as both a fundamental need and an innate desire.
Jennifer is an established media favorite, known for her humor, honesty, and ability to deliver tangible tips and heart-expanding insight with grace and passion. As a best-selling author of The Woman's Comfort Book and 5 other titles, she draws on a wealth of stories and experience to regularly enliven blogs, radio, TV & magazines like Woman First, Self, Woman's Day, Health, Yoga Journal, Whole Living, Good Housekeeping, Shape, and Ladies Home Journal.
Jennifer Louden's media appearances have included Oprah, MSNBC, CNN, and close to a hundred news shows in most major markets. She's hosted her own radio show on Sirius, been a monthly columnist for Body+Soul (now Whole Living), enjoyed numerous satellite radio and TV media tours, and has been a major presence on the web since 2000. She is a leading spokeswoman for finding your center and creating a healthy life in the midst of the busiest life, and then extending that healthy living to your world through social change. She believes: Self love+world love = wholeness for all. Learn More>>>
---
Shasta Nelson, a female friendship expert, is the Founder and C.E.O. of GirlFriendCircles.com--the female friendship matching site in 35 cities across the U.S. and Canada where women of all ages go to make local friends, and is the author of Friendships Don't Just Happen! The Guide to Creating a Meaningful Circle of GirlFriends.
She is regularly appearing in the media offering her expertise on such subjects as creating new friends, learning how to to forgive our friends, social media's impact on our friendships, and the characteristics of healthy friendships. A few of the TV shows she's been on include The Today Show, Katie Couric's Show, The Early Show, and Fox Business. She's relied upon by writers and reporters from such magazines as Cosmopolitan, Essence, Parents, More, Redbook, Good Housekeeping, and Glamour, and for such newspapers as The New York Times, Chicago Tribune, the San Francisco Chronicle.
Her spirited and soulful voice can also be found at ShastasFriendshipBlog.com and in her Huffington Post column where she regularly contributes on relationship health. She also teaches, lectures, and hosts Friendship Accelerator events in her hometown of San Francisco and throughout the U.S. Learn More>>>
---
Jensine (Yen-See Nah) Larsen is an award-winning social media entrepreneur, international journalist, and speaker. At age 28 she founded World Pulse – a digital media network connecting women worldwide and bringing them a global voice – after working as a freelance journalist covering indigenous movements and ethnic cleansing in South America and Southeast Asia. Today World Pulse is powered by 60,000 women from 200 countries, many who are using internet cafes and cell phones from rural villages and conflict zones, collectively improving the lives of 2.2 million people.
After successfully launching a print version of World Pulse magazine, in 2007 Larsen turned her eyes to the future of communications technology in the developing world. She pioneered an interactive global women's newswire where women worldwide – including those using internet cafes and cell phones from rural villages and conflict zones– can speak for themselves to the world and solve global problems. Most recently, Larsen has launched a new program that is training women in digital empowerment and citizen journalism that is fostering a network of vocal women leaders from some of the most forgotten regions of the world.
Today women from virtually every country in the world are connecting through World Pulse and producing a multiplier effect of change. Women previously unknown by the global public are having their stories picked up from World Pulse by the BBC, CNN, the UN, and the Huffington Post and beyond. Learn More>>>
---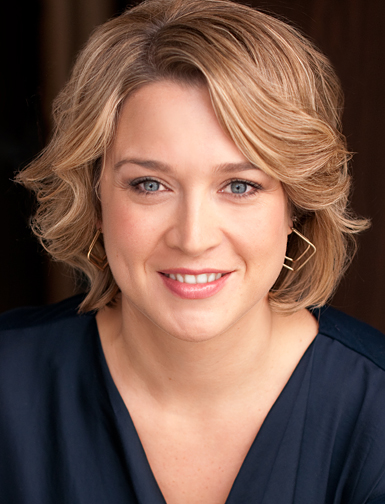 Having coached and developed more than 3,500 leaders in six countries since 1998, Sara Harvey Yao specializes in the area of Executive Leadership and Ego. Sara's clients refer to her as the "Ego Whisperer" and appreciate her precise ability to hone in on the root cause of leadership challenges and quickly resolve them.
Companies know any leader working with Sara will gain immense self-awareness, expand their influence and create a more consistent and compelling presence. In fact, Sara's coaching skills are favored by countless executives from leading companies – among them Microsoft, T-Mobile and Outerwall (formerly Coinstar/Redbox).
Whether working one-on-one with clients, as a team facilitator or as an inspiring speaker, Sara is deeply committed to guiding clients to clarity about behaviors, ego tactics and communication styles that hamper conscious leadership. Learn More>>>
---
Stacey is an inspiring, energetic and authentic facilitator, coach, speaker and author – and the CEO of Connect Growth and Development. She is an advocate of bringing humanity back into the workplace. She has held positions over the last 20 years in evolutionary industries performing leadership, strategic and design vision roles in business, accounting and finance, consulting, client relations, software design and development. Stacey paired her degree in Business with a Masters in Applied Behavioral Science to create the "work love of her life".
Her approach is about whole-person intelligence – partnering the logical with the creative, the rational with the emotional, our brain and our body. She helps people make the connection between their inner and outer selves so they can bring all their superpowers to any endeavor, in work and life.
Stacey is the author of Inner Critic, Inner Success: Claiming Your Own Success While Taming the Critic. She aspires to do more of the work she loves with more fantastic organizations, helping them discussWhat Really Matters. Learn More>>>
---
Seattle-based, Gibson endorsed musician Camille Bloom has performed at premiere venues in nine different countries including Canada, the US., Germany, Netherlands, England, Denmark, Belgium and Ireland. Combining percussive guitar and a voice that can "purr and wail" (Victory Review), "Camille's music can make even the rain dance." (Mike Galaxy – Indy Hits promotion). The powerhouse singer/songwriter has been said to sound "like Ani Difranco dipped in maple syrup". (Spokane Inlander).
In the last nine years, Camille has had songs licensed for use in twenty one shows on a variety of channels including MTV, E! and Oxygen. Additionally, she has completed over 30 national / international tours and has had her music played on over 400 major and college radio stations throughout the U.S. and Western Europe. She also charted on the European FAR (Freeform American Roots) Charts in 2009 with other music greats Bob Dylan, Steve Earle and Iron & Wine. She won the "Best Female Indie Artist" at the Ladylake Music Awards in 2010 - and was listed in the top 100 Indie Artists by Music Connection Magazine.
In addition to touring full time with club dates and festival appearances, Camille takes time out of her schedule to direct a Rock N Roll camp for kids in Seattle – and she also makes regular stops at youth centers – performing and talking to kids about using positive outlets such as music to cope with life's struggles. Learn More>>>
Sponsors: