Emerging Women Power Party New York
When and where
Location
The Lounge at WeWork 173 Lafayette St New York, NY 10013
Refund Policy
Contact the organizer to request a refund.
Description

*Advanced Purchase Only* (Private Party- Tickets will not be sold at the door)

Are you on fire with desire to create a life of alignment, authenticity and powerful self-expression through the work that you do? If so, join us as we celebrate the rise of women leaders and entrepreneurs, and the movement towards a more integrated approach to success.

Emerging Women is hosting another fabulous Power Party, on on September 10th, this time in New York City at The Lounge at WeWork. Power Parties are authentic networking events that aim to bring together brilliant women ready to influence real change in the world through "the how" of what we do.
The line up for this Power Party New York is crazy inspiring - featuring keynote Mama Gena. Four speakers, including Kate Northrup, Robyn Hatcher, and Amy Ferris, all successful visionary leaders, entrepreneurs, and creatives who are trailblazing a new way of influencing positive change in the world. Expect authentic sharing of what makes these women tick and how they were capable to achieve uncompromising success by living the truth of who they are.
Join us for a night of drinks, authentic networking, real connection and FIRE!

Agenda:

6:30-7:00 Drinks & Connect
7:00-7:30 Power Circles
7:30-8:30 Speakers
8:30-9:00 Book Signing and Raffle
Speakers:
Regena Thomashauer (Mama Gena) is a revolution: an icon, teacher, author, mother and one of a handful of pioneers on the planet researching the nature of pleasure and dedicating her life to the discipline of pleasure and fun.
Creatrix and CEO of both the School of Womanly Arts and Relationship Technologies, Regena created the sassy and sexy TV series, Mama Gena's School of Womanly Arts, in partnership with Mag Rack, based on her bestselling book and school of the same name.
Regena is also the bestselling author of three books published by Simon & Schuster—Mama Gena's School of Womanly Arts: Using the Power of Pleasure to Have Your Way with the World (2002), Mama Gena's Owner's & Operator's Guide To Men (2003) and Mama Gena's Marriage Manual (2004). She has been a guest on NBC-TV's Today show and has appeared on 20/20 (where one of her segments garnered a 20/20 record of more than one million website hits), and has been interviewed on a multitude of national and regional broadcasts including NPR's The Next Big Thing.
Regena's programs at the School of Womanly Arts have been profiled in The New York Times, Elle and New York Magazine. Her views on personal development and the power of women have been featured and quoted in several national publications including Glamour, Newsweek, Marie Claire, Allure, Self, InStyle and The Washington Post.

Kate Northrup is a professional freedom seeker and creative entrepreneur. She created financial freedom for herself at the age of 28 through building a team of more than 1,000 wellness entrepreneurs in the network marketing industry.
Her philosophy is that if you free yourself financially you can be fully present to your purpose on the planet. She's writing her first book (Hay House, Spring 2013) and she continues to mentor entrepreneurs in creating financial freedom. Find out more and download her free guide, The 5 Things You Gotta Do to Create Financial Freedom.
Robyn Hatcher is an author and communication skills expert and Founder of SpeakEtc., a boutique communication and presentation-skills training company. Once an extremely shy child, Robyn is now passionate about helping individuals express themselves effectively and powerfully.
Robyn has helped thousands of business professionals improve their presentations and interpersonal communication. Prior to founding SpeakEtc. Robyn worked as a professional actress, appearing on stage in New York and surrounding region, as well as in television commercials and dramas.Robyn served as a writer for two daytime dramas and has frequently appeared as an expert guest on HuffPost Live, was a contributing media expert in PRNEWS 2013 Media Relations Guidebook, and wrote a personal essay that became a part of the published anthology Dancing at the Shame Prom (Seal Press, 2012) Her first book, Standing Ovation Presentations (Motivational Press, 2013), is a complete presentations skills guide that contains a unique communication-style system called ActorTypes.
Amy Ferris is an author, screenwriter, playwright, and editor.
She has written everything from YA novels - a greater goode (Houghton Mifflin, 2001) to memoir, Marrying George Clooney, Confessions From A Midlife Crisis (Seal Press, 2010). Her memoir, Marrying George Clooney was produced and performed as an Off-Broadway play (CAP21 Theater Company) in 2012. She co-edited the anthology Dancing at the Shame Prom: Sharing the Stories That Kept Us Small (Seal Press, 2012), and has contributed to numerous anthologies: He Said What? Exit Laughing,The Drinking Diaries, and The Buddha Next Door to name a few. She was Editor-in-Chief at Milford magazine, and a contributing editor and monthly columnist at Urban Refugee magazine. Her blog Marrying George Clooney was named one of the best blogs for women over 40 by More magazine. Amy co-wrote the films Funny Valentines (Julie Dash, Director; Starring Alfre Woodard, Loretta Devine - BET Networks, Starz Networks) and Mr. Wonderful, (Anthony Minghella, Director; Matt Dillon, James Gandolfini, Mary Louise Parker and Annabella Sciorra - Warner Bros, The Samuel Goldwyn Co.) Amy serves on the Board of Directors at Peters Valley Art and Education Center, and the Advisory Board of The Women's Media Center. She is on faculty at the San Miguel Literary Festival. Amy lives in Pennsylvania with her patient and loving husband, Ken, and their two cats, Bella and Lotus.
Don't miss this authentic networking experience!

Power Party New York is an event in support of Emerging Women Live, October 10-13, 2013, a national event at the St. Julien Hotel which will feature the following speakers: Brené Brown, Elizabeth Gilbert, Eve Ensler, Alanis Morissette, Sobonfu Somé, Ani DiFranco, Kelly McGonigal, Tara Mohr, Tami Simon, Kristin Neff, Jennifer Lee, Sera Beak and many more!
Check out the Emerging Women Power Party in action: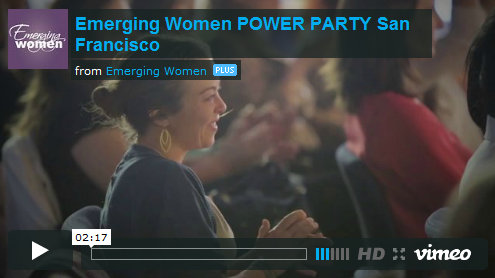 Partners

Sponsors