Emerging Women Power Party New York

Thursday, May 22, 2014 from 6:00 PM to 10:00 PM (EDT)
Event Details
Brilliant Women Igniting Change in the World
~ Networking, Speakers, Book Signing, Live Performance, Food & Beverages ~
Are you on fire with desire to create a life of alignment, authenticity and powerful self-expression through the work that you do? If so, join us as we celebrate the rise of women leaders and entrepreneurs, and the movement towards a more integrated approach to success.

This is an inspirational networking event that will bring together brilliant women ready to influence real change in the world through "the how" of what we do. Women do things differently, and we aim to harness the power of the feminine, rock our businesses, and create a new paradigm for success.
Please note that tickets must be purchased in advance. 
~ Join the party early on Twitter using #PowerPartyNYC ~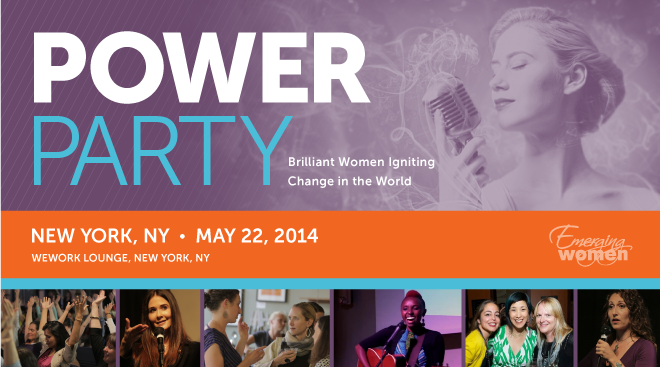 Agenda:
6:00-6:30 Connect, Drinks & Food
6:30-7:00 Power Circles
7:10-7:25 Intro, Chantal Pierrat, Founder and CEO of Emerging Women
7:25-7:40 Short Keynote, Wokie Nwabueze
7:40-7:55 Keynote, Meggan Waterson
7:55-8:15 Break/Power Circles
8:15-8:30 Entertainment, Mahogany Browne
8:30-8:45 Short Keynote, Rose Caiola
8:45-9:00 Short Keynote, Jenny Blake
9:00-9:30 Keynote, Rha Goddess
9:30-9:40 Closing Speech, Chantal Pierrat
(For more information or if you have questions feel free to contact
Karna: karna@emergingwomen.com)
 Speakers: 
Rha Goddess is a world renowned performance artist, activist and social entrepreneur who uses her artistic and motivational talents to heal, transform and inspire. Goddess' work has been featured in international compilations, forums, and festivals and she has received rave industry reviews from Time Magazine, Essence and The Source, among others. 
In her 30+ year tenure as a creative organizer Goddess has worked on issues of racial justice and equality, electoral politics, offender aid and restoration, mental health and youth & young women's empowerment. Honors and awards include, Meet the Composer, Essence Magazine's Top 30 Women to Watch, the National Museum of Voting Rights Freedom Flame Award, the Herb Alpert Hedgebrook Prize and being a US Cultural Envoy to Rwanda. 
In her newest venture, Goddess combines her hard earned business savvy with her longstanding passion for social change to create Move The Crowd, LLC a professional development and entrepreneurial training company dedicated to teaching Conscious Urban Entrepreneurs how to "Stay True, Get Paid and Do Good." 
---
Meggan Watterson is the founder of REVEAL, an organization that spiritually empowers women to connect to the love within them, reclaim their bodies as sacred, and become soul-led agents of change in the world. She facilitates The REDLADIES- a women's spirituality group in NYC where women come together to encourage each other to find, hear, and to follow the courageous and audacious voice of their soul. (Some break bread together, REDLADIES break dark chocolate. Smile.)
 To Meggan, being spiritual is less about learning something new and more about remembering what we have always known. She believes that getting spiritually naked is about having the courage to be radically open about the truth of who we are with no exceptions and no apologies, to reveal ourselves without judgment or shame. 
She has her Masters of Theological Studies from Harvard Divinity School and a Masters of Divinity from Columbia University. Her work has been featured in media outlets such as The New York Times, Women's Radio, Feminist.com, Feministing.com and StyleSubstanceSoul.com.  
---
Wokie Nwabueze is a communication strategist and conflict resolution expert who teaches professionals how to develop the interpersonal communication skills, confidence and presence necessary for success and organizational health in business.
Wokie's dynamic approach to communication blends her 20 years of experience as an executive coach, attorney, organizational ombudsman, mediator and communication strategist. She sits on the Board of the Scheinman Institute for Conflict Resolution at Cornell University and has taught conflict resolution, communication and negotiation courses and workshops for Columbia Law School, Princeton University, various fortune 500 companies, academic institutions and small businesses.
Wokie received her BA in International Relations from Wellesley College and her JD from Columbia University School of Law. She is a certified mediator, transformational life and executive coach, NLP practitioner and conflict dynamic trainer. 
---
Jenny Blake is a bestselling author, career and business strategist and international speaker who helps smart people organize their brain, move beyond burnout, and build sustainable, dynamic careers they love.
With two years at a technology start-up as the first employee, over five years at Google on the Training and Career Development teams, and three years of running her own business, Jenny combines her love of technology with her superpower of simplifying complexity to help clients through big transitions — often to pivot in their career or launch a book, blog or business. Jenny is an active member of the Young Entrepreneur Council, and is based in New York City. 
Jenny created her first website, Life After College, in 2005, then released a book of the same name in 2011. She has been featured on Forbes.com, US News & World Report, Real Simple magazine, and has spoken at major universities and top companies such as Columbia, TEDxCMU, Yale, Parsons, UCLA, Google, Intuit, KPMG and Best Buy.
---
Rose Caiola could have easily been defined by her success in the highly competitive world of New York City real estate, but she has ventured far beyond the boundaries of the business world. As well as being a real estate developer/property manager, Rose is a teacher, speaker, and expert practitioner of a number of disciplines that promote wellness—both those derived from ancient wellness wisdom as well as cutting-edge neuroscience.

In exploring the roots of well-being, she has become a Reiki master and an experienced practitioner of various yoga disciplines and mantra meditation. Rose has studied neuroscience, Tibetan Buddhism, and Chinese herbal medicine and received extensive training in neurofeedback, kinesiology, hypnosis, and Holographic Memory Resolution.

Along her path of discovery, Rose learned that people are often unaware of the many routes to optimum wellness. Her mission was accomplished when she launched Rewire Me in the spring of 2013, an instantly successful website community of seekers looking to heighten their mental, physical, and spiritual self-awareness.

Rose also works with Congressman Tim Ryan on initiatives involving mindfulness as a tool for helping children learn, war veterans heal from trauma, and corporate executives become more effective leaders.
---
The Cave Canem Fellow is the Editor of the women's anthology His Rib: Stories, Poems & Essays by HER and author of several books including her latest book of poems: Swag. She has released five LPs including the live album Sheroshima.
As co-founder of the Off Broadway poetry production, Jam On It, and co-producer of NYC's 1st Performance Poetry Festival: SoundBites Poetry Festival, Mahogany bridges the gap between lyrical poets and literary emcee.
Her freelance journalism can be found in magazines Uptown, KING, XXL, The Source, Canada's The Word and UK's MOBO. She facilitates performance poetry and writing workshops throughout the country, focusing on women empowerment and youth mentoring.
She is the publisher of Penmanship Books, a small press for performance artists and owns PoetCD.Com, an on-line marketing and distribution company for poets. Mahogany is currently the slam host & curator of the Friday Night Slam Series at the Nuyorican Poets Cafe.
Sponsors:   

When & Where

WeWork Lounge
73 Lafayette St.
New York, NY 10013


Thursday, May 22, 2014 from 6:00 PM to 10:00 PM (EDT)
Add to my calendar
Organizer
Organizer: 

Chantal Pierrat
Founder of Emerging Women
For over ten years, Chantal served as the VP of Sales and Marketing for Sounds True, a multimedia publishing company focused on spirituality, personal growth, and holistic living.  In her last year at Sounds True, Chantal spearheaded the successful launch of the Wake Up Festival, Sounds True's first annual national event with over 25 speakers and 800 attendees.  Shortly after, in September 2012, she founded Emerging Women and Emerging Women Live.  In 2002, after graduating with an MBA from the University of Colorado, Chantal left a 4-year career in the medical devices  industry in search of work that would amplify her dedication to inner transformation and her passion for ideas.  She continues to support the integration of consciousness and business through Emerging Women.  Chantal's ultimate vision is to weave feminine leadership and authenticity into businesses, and to create a world where women have a strong voice in the shaping of our future.