Event Information
Location
TechNexus
20 N Wacker Dr
Chicago, IL 60606
Description
Brilliant Women Igniting Change in the World
~ Networking, Speakers, Book Signing, Live Performance, Food & Beverages ~
Are you on fire with desire to create a life of alignment, authenticity and powerful self-expression through the work that you do? If so, join us as we celebrate the rise of women leaders and entrepreneurs, and the movement towards a more integrated approach to success.

This is an inspirational networking event that will bring together brilliant women ready to influence real change in the world through "the how" of what we do. Women do things differently, and we aim to harness the power of the feminine, rock our businesses, and create a new paradigm for success.
~ Join the party early on Twitter using #PowerPartyChicago ~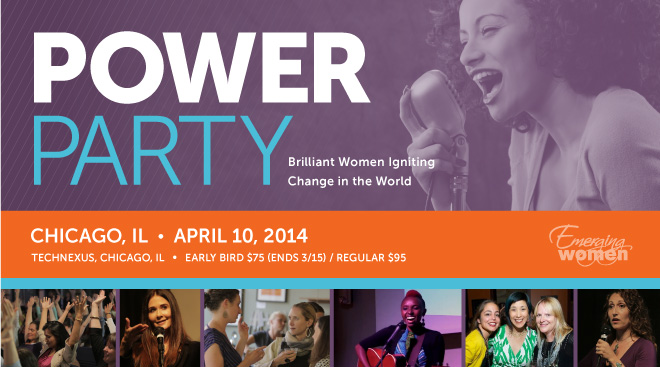 Agenda:
4:30-5:00 Connect, Drinks & Food
5:00-5:30 Power Circles
5:30-5:45 Intro, Chantal Pierrat, Founder and CEO of Emerging Women
5:45-6:00 Short Keynote, Sara Connell
6:00 -6:15 Short Keynote, Betsy Sobiech
6:15 - 6:45 Keynote, Christine Arylo
6:45 - 7:15 Break/Power Circles
7:15-7:35 Entertainment, Dawn Bless
7:35-7:55 Short Keynote, Julie Murphy Casserly
7:55-8:15 Keynote, Sonia Choquette
8:15-9:00 Closing Speech, Chantal Pierrat
(For more information or if you have questions feel free to contact
Karna: karna@emergingwomen.com)
Speakers:
Sonia Choquette is a globally celebrated and dynamic spiritual teacher, six-sensory consultant, enchanting storyteller, and transformational visionary guide, known for her delightful humor and skill in quickly shifting people out of difficulty and into flow.
Her work has been published in over 40 countries and in 37 languages, making her one of the most widely read authors and experts in her field in the world.
---
Christine is a transformational teacher, internationally recognized speaker and best-selling author of the official self-love guidebook, Madly in Love with ME, the Daring Adventure to Becoming Your Own Best Friend. After earning her MBA from Kellogg and climbing the corporate ladder for fifteen years, she chose to devote her life to creating a new reality for women and girls, one based on self-love and true feminine power instead of the relentless pursuit of having to do, be and have it all.
---
Sara Connell is an author, speaker and life coach with a private practice specializing in Women's health & empowerment in Chicago. She has been featured on The Oprah Winfrey Show, Good Morning America, The View, Rickie Lake, FOX Chicago, NPR, and Katie Couric. Her first book Bringing In Finn was nominated for ELLE magazine 2012 Book of the Year and is in bookstores now.
---
Betsy is part of the global team that launched Tiara International LLC, a company that is redefining women's leadership to include all women. As the Chief Operating Officer, her mission is to make the power and peace of true leadership accessible to everyone. She considers herself a practical philosopher and has a gift for simplifying the complex.
---


Julie is a 17-year veteran of the financial services industry and has often been referred to as a financial healer and visionary. As seen on CNBC-TV, Lifetime TV, Oprah & Friends Radio, The Wall Street Journal, Associated Press and more, Julie is author of the award-winning book, "The Emotion Behind Money: Building Wealth from the Inside Out," founder of JMC Wealth Management in Chicago, motivational speaker and media expert on the topic of emotions and money.
---


While singing and visual arts were her earliest blooming talents, Dawn has continued to develop into and experienced Spoken Word Artist, Actress, and Playwright. She is currently writing a stageplay about the gospel group The Clark Sisters, as well as songwriting for a project with Grammy nominated singer Vashawn Mitchell.
---

Learn more about EW Power Party Chicago HERE
Date and time
Location
TechNexus
20 N Wacker Dr
Chicago, IL 60606