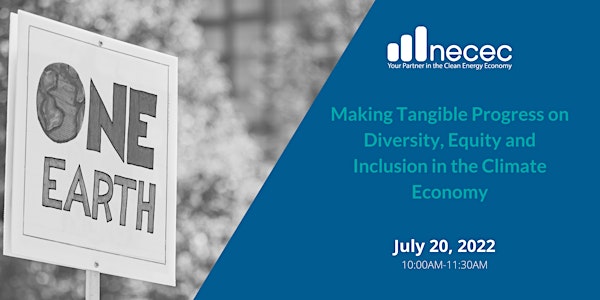 Emerging Trends Series: DEI in the Climate Economy
NECEC speaks with companies who are making tangible progress on diversity, equity and inclusion in the climate economy.
About this event
Decarbonizing our world will require a whole-of-society effort. Everyone has to be part of the endeavor or we will fail in our climate response. However, the clean energy industry is predominately white and male and the technology to decarbonize our lives, such as heat pumps and electric vehicles, is primarily being purchased by people who are wealthy and white. We need a fundamental change how we approach our work, both in our organizations and in who we view customers. This is a tall order. It is also essential to righting the wrongs of the past and ensuring everyone benefits from our decarbonized society, especially those who have borne the worst impacts of our current fossil fuel driven economy. At this event we will learn from organizations who have taken initiative on diversity, equity and inclusion. They will share their ideas about how organizations can expand their workforce and customer base along with the organizational benefits they've realized by embracing DEI.
Event Agenda:
10:00 - Welcome address: NECEC President Joe Curtatone
10:10 - Keynote address: Jennie Stephens , Director of the School of Public Policy and Urban Affairs and the Dean's Professor of Sustainability Science & Policy at Northeastern University
10:25 - Take Action Today with Browning the Green Space: Alisha Harrington, Deputy Director, and Sonali Anderson, Intern
10:35 - Presentations: Examples of Making Tangible Progress on DEI (6 min each)
Schneider Electric: Candace Bridges, Global Director Diversity, Equity and Inclusion
BlueWave: Rachel Clogston, Associate for People and Civic Engagement; Kimberly Kuhn, Analyst, Storage Development; Alex Fukuchi, Analyst, Storage Development
Nexamp: Kamran Idrees, General Council
Clean Energy Ventures: Ted Dillon, Director of Marketing
Eversource: Penni McLean-Conner, Executive Vice President Customer
11:05 - Panel Discussion with presenters, moderated by NECEC Board Member Greg King.
11:25 - Closing: NECEC Vice President for Operations Kristen Stelljes