About this Event
This event is now booked out! If you'd like to follow along online, sign up for the webinar.
Details for those attending:
The game-changing impact of climate change is highlighting the need for innovative conservation methods to help our most threatened species back from the brink.
This full day event hosted by the DELWP Threatened Species Policy Team will feature talks from leading experts in the field and facilitate discussions about what has been done, what is being done, and what we can do better.
Date: Thursday 6th of June
Time: 9am - 4pm (lunch, morning and afternoon tea included)
Location: Arthur Rylah Institute; 123 Brown Street, Heidelberg
The venue will be open from 8.30 onwards, please be sure you have arrived and are seated by 9.00am to ensure we can commence on time.
Program
Please find below the program for the day. To limit the use of paper, only a limited number of hardcopies of the program will be available at the venue and we ask that if possible you refer to the program on your phone or laptop.
Webinar
We have set up a webinar (live online viewing) for the event. Please share with colleagues who can't attend in person - they can register here to follow along remotely. A recording of the forum will be made available following the event.
Dietary requirements
Morning tea, lunch and afternoon tea will be provided. There will be vegetarian, vegan and gluten free options available. If you have any other specific dietary requirements please contact Ella Kelly (ella.kelly@delwp.vic.gov.au) ASAP.
Bringing a keep cup and water bottle ARI is hosting two massive events this week. If you can bring both it would be greatly appreciated.
Transport to the venue
Parking – There are very limited spaces available onsite at ARI and the surrounding areas have restricted 2hr parking. If you can take public transport or car pool, it will be greatly appreciated. If you have mobility difficulties, please contact ARI, research.ari@delwp.vic.gov.au and we can try to accommodate parking. See attached more details regarding surrounding parking.
Public transport – ARI is located ~ 10 minute walk (uphill) from Heidelberg Station (Hurstbridge line). There are also a number of bus services nearby, including 546, 903 and 551.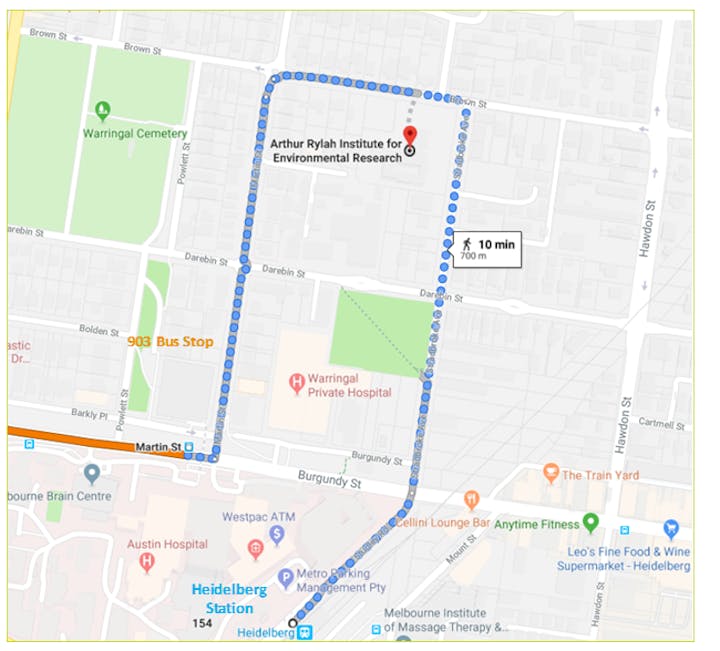 If you have any questions please contact threatenedspecies.framework@delwp.vic.gov.au.
Program: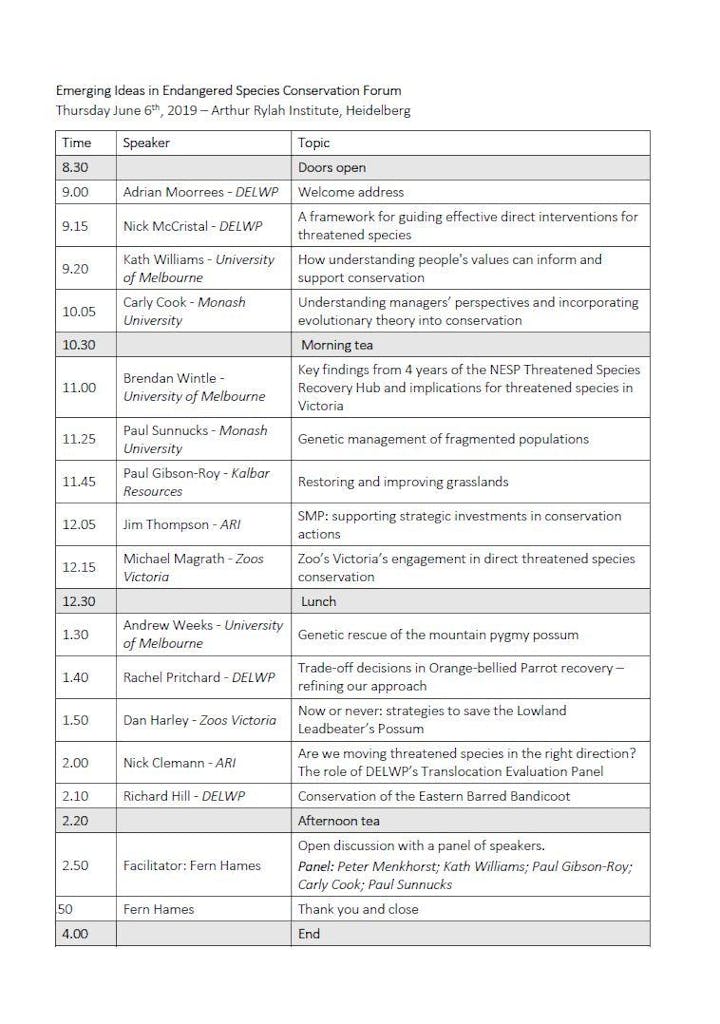 * banner photo by Rowan Mott