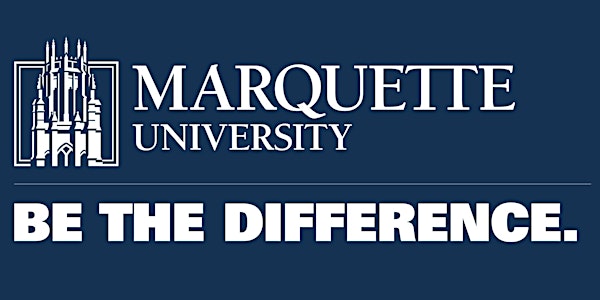 Emerging Hispanic-Serving Institution (eHSI) Day of Dialogue
Emerging Hispanic-Serving Institution (eHSI) Day of Dialogue
When and where
Location
Marquette University - Alumni Memorial Union Monaghan Ballroom, 3rd Floor 1442 W. Wisconsin Ave. Milwaukee, WI 53233
About this event
In spring of 2016, Marquette University announced that we would begin actively striving to become a Hispanic-Serving Institution (HSI), a federal designation requiring an undergraduate population that is at least 25% Latinx, with at least half of those students qualifying as low-income. This initiative speaks to the very heart of our values as a Catholic, Jesuit institution: to serve the historically underserved, to provide care for each of our students and to strive for inclusive excellence.
This year marks an important milestone for Marquette as more than 15% of the undergraduate student body is Latinx, allowing us to join the ranks of hundreds of "emerging HSIs" (eHSIs) across the country. But while recruiting and retaining underrepresented students is a key part of this effort, Marquette seeks to embody an ethos of "servingness" that will require a dramatic response across our campus, from community engagement to culturally-affirming campus practices and beyond.
Learn more about the vision of Marquette as an aspiring Hispanic-Serving Institution and the work that is being done to get us there, and engage in conversation about our goals and strategies at this Emerging HSI Day of Dialogue.
Schedule*:
8:00am-8:30am – Check-in and light refreshments, Sponsored by HPGM
8:30am-9:30am – Introductory presentation
• Achieving "Servingness": A Roadmap to HSI: Learn more about the federal designation of "Hispanic Serving Institution" and how Marquette is not only working to achieve this status, but also reimagining what education can look like for underrepresented students. This reimagining has its foundation in the framework of "servingness", which goes beyond enrollment numbers to touch all aspects of campus life.
9:45am-10:45am – Breakout Session I
• Opportunities and Challenges for Underrepresented Graduate Students: In addition to enrolling 2/3 of all Latinx undergraduates, HSIs also enroll 41% of all Latinx graduate students in the nation and significant numbers of other underrepresented students. Engage in dialogue with current grad students to highlight where they have found community at Marquette and to co-create a vision for sustainable spaces of inclusivity.
• Supporting Underrepresented Employees: Faculty and staff of color play a pivotal role in creating a welcoming and supportive environment for underrepresented students, yet these employees often don't feel supported themselves. Learn from leaders of Employee Resource Groups around the ways that these affinity-based groups foster a sense of community and enhance employee support and retention.
• Building an Inclusive Classroom: Come to this session to learn foundational principles of equity and inclusion in the classroom. Topics include stereotype threat, implicit bias, transparent design, cultural validation, and utilizing the Ignatian Pedagogical paradigm for equity
• The Big Picture: Milwaukee's Hispanic Community: So Marquette's an "emerging HSI"…why does this matter? Engage in dialogue with community leaders from HPGM and the Hispanic Collaborative of Milwaukee to understand the larger scope of these efforts, and what impact this and other community initiatives have in redefining Greater Milwaukee as a region where Hispanics can thrive.
11:00am-12:00pm – Breakout Session II
• Co-Creating Community: The Power of Student Leaders: Undergraduate students have great power and agency when it comes to building community. Speak with these student-leaders about their role in creating inclusive spaces for underrepresented students on campus through living learning communities, student organizations, and other programming.
• Lessons Learned(ing) from Local HSIs: Hear from campus leaders at Wisconsin's only two Hispanic-Serving Institutions, Alverno College and Mount Mary University, about how their campuses are transforming to better serve their diverse student populations.
• A Time To Rise: Securing Resources for Equity Initiatives and Beyond: Fundraising and alumni engagement are of central importance to the HSI initiative. Learn how University Advancement prioritizes these initiatives through the Time to Rise comprehensive campaign.
• Becoming Bilingual: Lessons from the Haggerty Museum of Art. Bi-directional partnerships with community organizations on Milwaukee's South Side--along with a commitment to Marquette's HSI initiative--compelled the Haggerty Museum of Art to launch a fully Spanish-English bilingual web site, and to evolve all orientation, wayfinding, and interpretive signage inside the Museum to Spanish-English bilingual. Join this facilitated discussion focused on suggestions--and pitfalls to avoid--for units, departments, and organizations interested in making this significant institutional change.
12:00pm-1:00pm - Lunch and community-building activities
1:00pm-2:00pm – Breakout Session III
• Best Practices and Pipelines for Recruiting Underrepresented Students and Supporting their Success: The work of supporting students to and through college is not one person – or department's – responsibility; to the contrary, it is through collaborative, student-centered partnerships and the implementation of best practices and supports that we can best support our increasingly diverse student population. Using the Cristo Rey-Marquette partnership as one example, the presenters will highlight best practices, lessons learned, and calls to action in the hopes of engaging even more community members in this important and fulfilling work.
• Marquette and the Milwaukee Latinx Community: Engaging, Collaborating, and Building Connections Through Teaching, Research, and More: In this panel, faculty, staff and students will discuss how community engagement in relation to teaching, research, outreach, and service fits into the goals and trajectory of Marquette as an aspiring HSI. Participants will offer critical reflections on their own work, as well as offer suggestions for how individuals and the institution can thoughtfully build these connections.
• Student Support Programs for Success: Marquette has many programs that foster a sense of belonging for underrepresented students and support academic success. Leaders from just a few of these programs will share their recipes for success.
• A Faith-Based Perspective on HSI. How does HSI connect to our identity as a catholic, Jesuit institution? Join a panel of Jesuits for a conversation about HSI and our mission.
2:15pm-3:00pm – Closing Reflection
*Participate in as many of the discussions as your schedule permits!
Please register by Thursday, November 11
Complimentary parking is available in the 16th Street structure located at 749 N. 16th St. or the Wells St. structure located at 1240 W. Wells St.
Please note Marquette University's COVID protocol when visiting campus https://www.marquette.edu/coronavirus/covid-screening-questions.php
For questions or special needs, please contact University Special Events at universityspecialevents@marquette.edu or 414-288-7431.