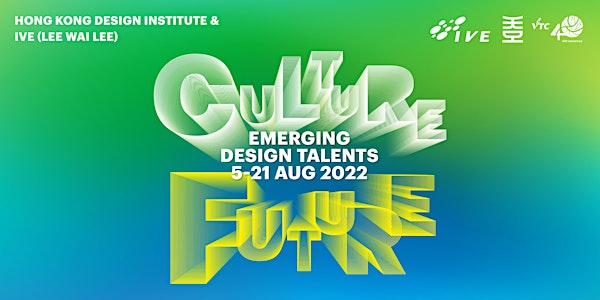 Emerging Design Talents 年度設計展 2022:Culture Future 文化未來
Emerging Design Talents 年度設計展 2022:Culture Future 文化未來
When and where
Location
香港新界將軍澳景嶺路 3 號 3 King Ling Road, Tseung Kwan O, NT Hong Kong, NT Hong Kong
About this event
About 關於 - Emerging Design Talents 2022 年度設計展
Hong Kong Design Institute (HKDI) and the Hong Kong Institute of Vocational Education (IVE) (Lee Wai Lee) proudly presents our annual design show – Emerging Design Talents (EDT) 2022: Culture Future in this August. EDT is a platform for young and talented designers to showcase their innovative thinking and creative flair. In this annual design show, we will showcase and celebrate the achievements of our graduates across 40 Higher Diploma, Bachelor's degree, Diploma of Vocational Education, Diploma of Vocational Baccalaureate, and Diploma of Foundation Studies programmes covering areas of Architecture, Interior and Product Design, Communication Design, Digital Media, Fashion and Image Design, Information Technology, and Jewellery Arts and Design. In addition, the show will feature activities about Global Partnership, Industry Collaboration and Advanced Design Studio projects. If you are an employer looking for design talents, please visit our exhibition in person or website for the Graduate Directory.
香港知專設計學院(HKDI)及香港專業教育學院(IVE)(李惠利) 八月舉行2022年度設計展: 文化未來(Emerging Design Talents 2022: Culture Future) ,為我們的年輕設計師提供一個平台,展示他們的創新思維和創意。本年度設計展展出了包括來自建築、室內及產品設計、傳意設計、數碼媒體、時裝及形象設計、資訊科技、及珠寶設計與工藝等共四十個高級文憑、學士學位、職專文憑、職專國際文憑及基礎課程文憑課程畢業生的卓越成就。此外還展示了我們的環球合作項目、業界合作項目和資優設計工作室項目。如僱主欲尋找設計人才,歡迎親身蒞臨本年度設計展或到訪展覽網頁瀏覽畢業生名錄。
Theme of 2022 主題 - Culture Future 文化未來
Culture is in our everyday life. It shapes our group identity and connects people together. Design is the manifestation of Culture. Not only rooting their design in the traditional culture, the new generation of designers also push the boundary of design and establish themselves as the key power of the future of the culture. This year's EDT will showcase young designers' creation and let us glimpse the culture's future.
文化是日常生活一部份,構成了我們群體的身份認同,讓人與人連成一起。設計是文化的呈現,新一代設計師創作時,既要回顧歷史,傳承文化,亦需同時探索設計的可能性,成為改變文化未來的關鍵力量。今年的設計展將會讓大眾一 窺年輕設計師如何以設計思考未來,塑造文化。
Free Admission 免費入場
05 - 21.08.2022 | 10:00am - 8:00pm
Hong Kong Design Institute (HKDI) & the Hong Kong Institute of Vocational Education (Lee Wai Lee)
香港知專設計學院(HKDI)及香港專業教育學院(IVE)(李惠利)
Shows & Workshops 演出活動及工作坊: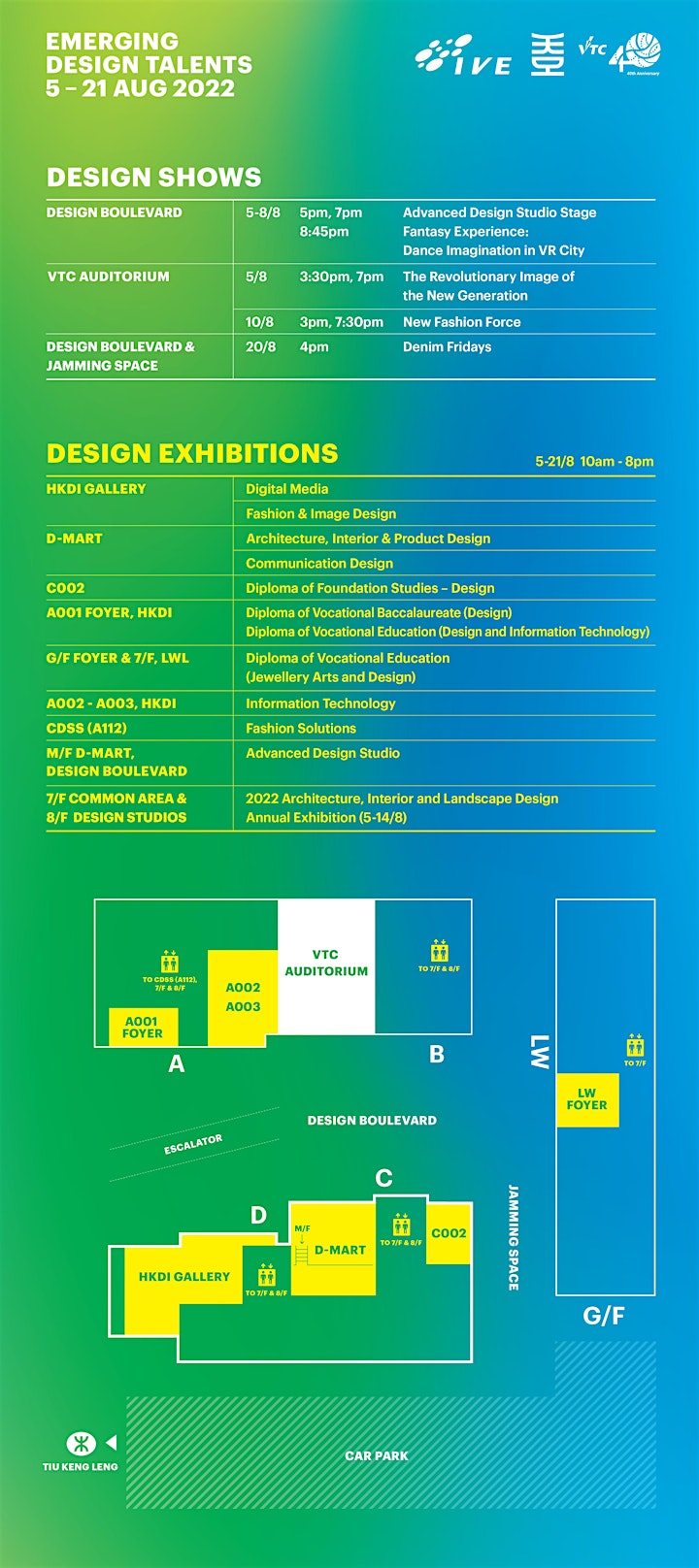 Special Precautionary Measures 入場注意事項
Except for exempted persons, all visitors entering the campus are required to wear masks at all times, use the 'LeaveHomeSafe' mobile application to scan the venue QR code and comply with the 'Vaccine Pass' arrangements as well as other requirements under Cap.599F.
All visitors are required to fill out a health declaration form onsite, or you may fill out the e-form within 24 hours before visiting campus and present the confirmation email upon arrival.
Visitors are subject to a temperature check before admission. Visitors with fever symptoms will not be admitted.
The hygiene of the facilities will be strengthened. Regular disinfection of toilets, lifts, escalators, railings, buttons, and all public areas of the exhibition venues and campus will be arranged. Sanitising mats and alcohol hand sanitisers will be provided. Enhanced cleansing in between sessions will be conducted.
For everyone's health and safety, capacity is limited, and an advance ticket is required for visitors. Reserve online and present your e-ticket at the entrance of the HKDI & IVE(LWL). Maximum four tickets per registration.
Use our free hand sanitiser before admission, wash your hands frequently, and avoid touching your face.
Enjoy the exhibition and maintain social distancing throughout the gallery.
Children aged under 12 must be accompanied by an adult.
HKDI & IVE(LWL) will review the situation and adjust relevant preventive measures as and when necessary. For more updated information, please go to https://edt2022.hkdi.edu.hk/.
除豁免人士外,進入校園所有場所的訪客須全程佩戴口罩、使用「安心出行」流動應用程式掃瞄場所二維碼,並符合「疫苗通行證」及法例第 599F 章的其他要求。
進入HKDI 及 IVE(LWL)校園所有其他場所的訪客請於接待處填寫健康申報表,或到訪前24小時內預先填寫網上健康申報表並於接待處出示確認電郵。
參觀人士須接受測量體溫,若有發燒徵狀(等如或高於37.5°C),請勿進入校園。
我們將加強HKDI 及 IVE(LWL)設施清潔,並為洗手間、升降機、扶手電梯、樓梯扶手、按鍵及公用區域作定時消毒,展覽館將提供消毒地墊及酒精搓手液,並於每節參觀時段之間閉館進行清潔。
為保障每個人的健康,我們限制每日入場人次,如參觀展覽,請先預約,入場請於HKDI 及 IVE(LWL)閘口出示電子登記紀錄。 每次交易可登記最多四張門票。
進入本校園人士須使用酒精搓手液。常洗手,避免觸摸面部。
欣賞展覽同時請保持社交距離。
十二歲以下之小童須由成人陪同入場。
HKDI 及 IVE(LWL)會檢視情況,需要時將調整有關預防措施。如有查詢,請瀏覽網頁 https://edt2022.hkdi.edu.hk/