Event Information
Location
Donnelley Biological Sciences Learning Center (BSLC) Room 008
924 E. 57th Street
Chicago, IL 60637
Description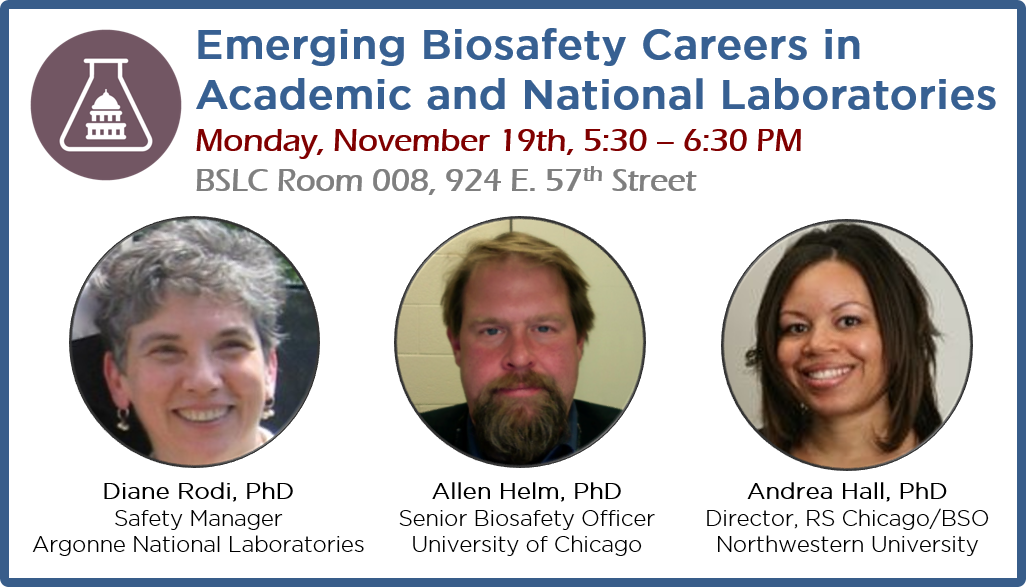 myCHOICE is delighted to welcome Drs. Diane Rodi, Allen Helm, and Andrea Hall for a discussion on emerging careers in biosafety. From the bench, to fellowships, to certification, each panelist will share the unique paths they have taken throughout their careers and how they leveraged their strong research background to break through in this exciting new field.
Dr. Diane J. Rodi (OHST™, CFSM™) currently serves as a Safety Manager at Argonne National Laboratory where she has served as a safety professional and biosafety SME since 2013. She is a molecular virologist and cancer biologist by training, with over 20 years of research bench experience, has served as a safety professional for over 13 years and has published many journal articles in both her basic research and biosafety roles. She has overseen numerous types of facilities and activities including supercomputing data centers, clinical operations, BSL3/ABSL3 labs, Select Agent programs and hospital-based human gene transfer protocols, attended many IBC meetings as both a voting and community member, and has completed numerous OSHA, EPA and emergency response training courses.
Dr. Allen Helm is a senior biosafety officer at the University of Chicago. He received a BA in Biology/Biotechnology at the University of Louisville and PhD in Microbiology from the University of Illinois at Urbana-Champaign. He trained as a postdoctoral fellow in Microbiology-Immunology at Northwestern University. In 2009, he joined a one-year postdoctoral biosafety fellowship at the University of Chicago, which was supported by NIAID via the Great Lakes Regional Centers of Excellence. The fellowship was initiated with the goal of recruiting more scientists into the field of biological safety. Allen is a member of the American Chemical Society, the American Society for Microbiology, and ABSA International (formerly American Biological Safety Association) where he has earned certifications as a Registered Biosafety Professional (RBP) and a Certified Biological Safety Professional (CBSP).
Dr. Andrea D. Hall earned her doctorate in Microbiology and Immunology at the University of Illinois at Chicago in the Department of Microbiology and Immunology, studying the cellular biology of HIV infection. Upon completion of her doctorate, Andrea became the Biological Safety Professional and Alternate Responsible Official in the Office for Research Safety at Northwestern University (NU). Andrea now serves as the Director for the Office for Research Safety's Chicago Office as well as the Biosafety Officer and Responsible Official. She continues to serve as the coordinator for the Institutional Biosafety Committee which oversees all recombinant DNA and Nonexempt Select Agent research performed at the University. She has a particular interest in, and commitment to, forming collaborations between the main compliance committees which oversee research at NU. As the coordinator for the IBC, she has expanded the scope of their oversight to include various other important aspects of biological research in addition to recombinant DNA. She is a member of both the IBC and the Institutional Animal Care and Use Committee and has used this dual membership to bridge the oversight gap between the two committees. Andrea is an active member of the American Biological Safety Association, the American Society for Microbiology and the Midwest Area Biosafety Network.
Date and Time
Location
Donnelley Biological Sciences Learning Center (BSLC) Room 008
924 E. 57th Street
Chicago, IL 60637