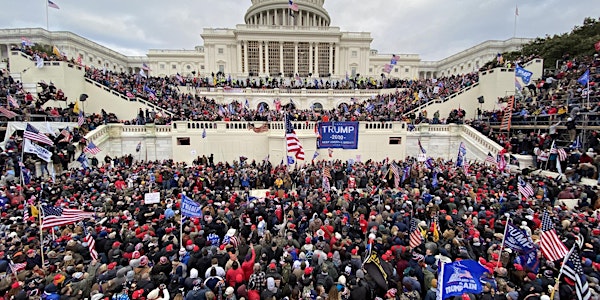 EMERGENCY TOWN HALL ABOUT DONALD TRUMP
URGENT EMERGENCY TOWN HALL - Thursday 7 January 7pm
Refund Policy
Contact the organizer to request a refund.
Eventbrite's fee is nonrefundable.
About this event
EMERGENCY TOWN HALL - Thursday 7 January 7pm
THE EXTREMELY DANGEROUS DONALD TRUMP MUST BE STOPPED AND HELD ACCOUNTABLE
A line was crossed when Donald Trump incited his followers to storm the Capitol building. Unless limits are set, this will only be the beginning. We warned from the start four years ago how extraordinarily dangerous Donald Trump would be in the office of the presidency.
We created the World Mental Health Coalition to warn the country against his psychological dangers and his mental unfitness, which could bring about national even world catastrophe because of his presidential powers.
On January 6, 2021, he encouraged his armed, violence-prone followers to come to DC because it was "going to be wild." Now, a woman has died and the Capitol building stormed in ways not even done during the Civil War. In view of these events, we are having an EMERGENCY TOWN HALL to deal urgently with:
What urgent interventions are necessary to contain the dangers?
What steps do we urge the Congress, government officials, and the major media to take at this unprecedented time of national crisis?
Why is it imperative that Donald Trump be removed and contained?
Why is it critical that Donald Trump and his top enablers be held responsible and accountable for what they have done?
At this Emergency Town Hall we will have the panel of experts who spoke on our Panel on the coronavirus last March: Richard Painter, former chief White House counsel, as moderator; Dr. John Zinner, Dr. Ellyn Kaschak, Dr. Edwin Fisher, Dr. Susan Vaughan, and Dr. Kevin Washington.
Please note: All speakers are donating their time and expertise, and revenues are used only for the promotion of educational events such as this. Donations directly to the World Mental Health Coalition, a 501(c)(3), can be made here: https://worldmhc.org/donation/