12 Annual Fire Island EMS Lecture (Virtual) -"Emergency Response to Electric Vehicle & Charging Station Emergencies"
About this event
"Emergency Response to Electric Vehicle & Charging Station Emergencies"
Tesla, Community Ambulance Company, Suffolk County EMS, Suffolk FRES, Suffolk County Fire Districts are proud to announce the 12th Annual Fire Island EMS Lecture - Dedicated to Suffolk County EMS Chief Thomas Lateulere who passed away on 6/27/2016. Tom was a Loving son, faithful companion, dedicated public servant, respected colleague, friend and mentor to many. He is truly missed every day and will never be forgotten.
Date: Tuesday July 27,2021
Time: 6:30pm-10:00pm
Instructor: Michael McConnell (Tesla - Technical Emergency Response)
In this course we will be covering the following:
- Tesla Model S 2012-Present
- Tesla Model X 2016-2020
- Tesla Model 3 2017-Present
- Tesla Model Y 2020-Present
- Vehicle extrication
- Vehicle firefighting / EMS considerations
- Vehicle Supercharging
- Breaks, Questions & Answers
- Registration is required by 7/22/2021 at noon. A Microsoft Teams link will then be sent by Tesla to access the lecture.
- If your agency or Department would like to host a viewing area at your department facility with multiple members in attendance, please only register once and email SuffolkFC60@outlook.com
- Distance education technology has given us a unique opportunity to continue this tradition virtually. Next year we will resume the training lectures in person on Fire Island.
- This 3 1/2 hour training is accredited by Suffolk County EMS for CME under Non-Core Operations and is open to all Police, Fire, EMS & First Responders. In order to receive CME credit you must remain on the Microsoft Teams for the entire lecture which is monitored.
- Any questions please contact Jamie Atkinson at SuffolkFC60@Outlook.com.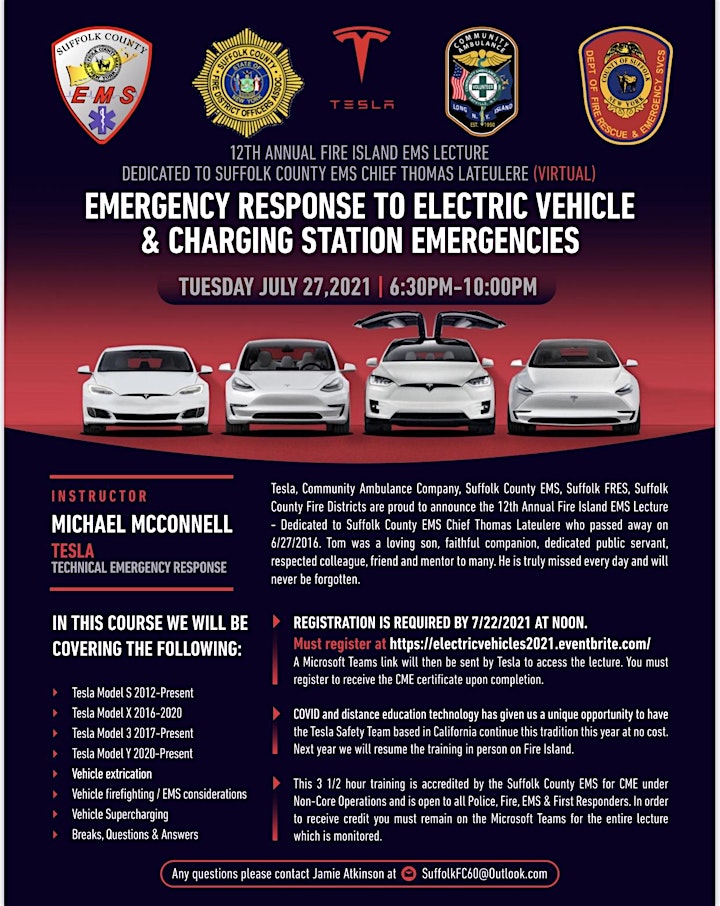 Organizer of Emergency Response to Electric Vehicle & Charging Station Emergencies