Description
REGISTRATION WITHIN 30 DAYS OF CLASS IS CONSIDERED LATE. BY DOING SO, YOU ARE ACCEPTING RESPONSIBILTY FOR OBTAINING MATERIAL, STUDYING AND COMING TO CLASS PREPARED.
In accordance with the Americans with Disabilities Act, please advise Christi Reeves if you have any disability that requires special materials and/or services so that appropriate personnel can be advised.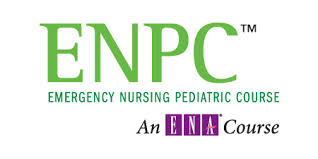 Price includes Breakfast & Lunch both days. Parking is free.
Refunds accepted up to 14 days prior to the first day of class, less $60 for the book and a $50 service charge. Registration transfers within 48 hours of class are subject to $100 fee.
------------------------------------------------------------------------------------------------------------------------
Accurate assessment of a child with an acute illness or injury requires special knowledge and skills. ENPC gives nurses the tools to provide expert care for patients from birth to adolescence.
Pediatric Assessment Triangle

Early Intervention

Family Presence
ENA developed the Emergency Nursing Pediatric Course to establish a standardized body of pediatric emergency nursing knowledge and to improve the care of all pediatric patients. This fourth edition course combines interactive learning with scenario-based assessments to give nurses a comprehensive learning experience. The course includes:

A Systematic Approach to the Initial Assessment
The first few minutes of medical and trauma care for a young person are critical to achieve better patient outcomes. The A-I mnemonic and the Pediatric Assessment Triangle will assist nurses in providing appropriate and early intervention.
Hands-on Training Using both an Individual and Team Approach
Six teaching scenarios offer nurses the opportunity to practice the systematic approach of the initial assessment in real life situations.
2 Day Intensive Course with Expert Instructors
ENPC is a 2 day intensive course that is taught by expert instructors. There is a faculty ratio of approximately one faculty per four learners.
Evidence-based Content Developed by Pediatric Emergency Experts
23 chapter comprehensive manual includes special emphasis on age and developmental stages.
Chapter Titles
Introduction: Preparing for Pediatric Emergencies The Adolescent Epidemiology Shock From the Start Rhythm Disturbances Prioritization: Focused Assessment, Triage, and Decision Making Trauma Initial Assessment Toxicological Emergencies Pain Behavioral Emergencies Common Procedures and Sedation Environmental Emergencies Medication Administration Child Maltreatment Vascular Access Crisis Respiratory Emergencies Disaster Childhood Illness Stabilization and Transport The Neonate
5 Online Modules
Online learning allows nurses to learn at their own pace and refer back to information at any time.
Evaluation, Verification, and Contact Hours Successful completion of the course requires 80% or greater on the multiple choice exam and 70% or greater on the skill station evaluation. RN Candidates with successful completion will receive the ENA ENPC 4 year provider verification card.
All attendees will be awarded a contact hour certificate with appropriate contact hours.
15.58 contact hours are awarded based on the hours attended, regardless of evaluation.
The ENPC Fourth Edition represents ENA's continued commitment to uphold its belief statements and provide quality, evidence-based pediatric education for nurses worldwide.
The Emergency Nurses Association is accredited as a provider of continuing nursing education by the American Nurses Credentialing Center's Commission on Accreditation