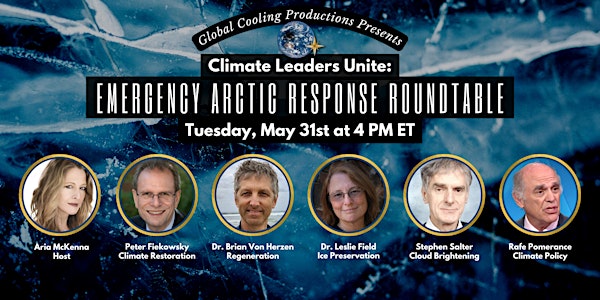 Emergency Arctic Response Leadership Roundtable
Net zero isn't enough. Join us as we discuss three urgent holistic strategies to restore a safe climate and minimize polar feedback loops.
About this event
Beyond Paris - It's Time to Restore the Climate: But How?
In collaboration with GreenTV, Aria Mckenna hosts Stephen Salter, Leslie Fields, Brian Von Herzen, Peter Fiekowsky and Rafe Pomerance to discuss the urgent need for a climate restoration strategy that responds to new information about the rate of permafrost and ice melt and their amplifying effect on climate. The uncertainty behind these unstable risk factors are effectively the elephant in the room, which has been largely ignored by international agreements.
In recent years, polar temperatures have risen three times faster than the global average. Additionally, warming oceans are amplifying sea-level rise and sea ice and permafrost melt. In addition to major weather pattern disruption, these systems are exacerbating methane and thermal feedback loops that could quickly take us beyond the point of no return if we do not develop an emergency response strategy as soon as possible. In fact, the quickly melting Thwaites Glacier - an ice sheet the size of Florida - could disappear in just 5-10 years, exposing the world to an additional loss of the entire West Antarctic Ice Sheet. This alone would open up over 10 feet of sea level rise if we fail to respond swiftly and appropriately enough.
Small islands and coastal communities are already feeling the impacts of sea level rise, which in addition to rising temperatures exacerbates war, poverty, migration issues, homelessness, disease, food shortages, inflation, health crises, injustice, and natural disasters to name a few. While the world is focused on multiple international emergencies and global unrest, there is one issue that amplifies all the rest, which, if collectively understood, could potentially unify the world through a global plan of action.
Creating an action plan that integrates and respects environmental justice and climate justice issues simultaneously should be of utmost importance.
The Paris Climate Accord goal of Net Zero by 2050 is a good start, but many scientists are skeptical that we can stabilize the climate with this strategy to limit temperatures to1.5 to 2 degrees warming.
In fact, NASA modeling has determined that carbon levels above 350 ppm are incompatible with sustaining a planet similar to that on which civilization has developed and to which life on Earth is adapted (James Hansen). In May, 2022, the world exceeded 421 ppm for the first time in recorded history.
Greenhouse gases must be dramatically reduced as soon as possible, which means that if we want to create a real strategy that gives the world a real chance at reducing feedback loops before they are out of our control, we must go beyond mitigation and create a holistic plan that helps regenerate our natural systems, while minimizing feedback loops, reducing sea level rise, and restoring a healthy climate. This requires a more thorough examination of all draw down and planetary brightening techniques at at our disposal.
Please join us to learn more about the collaborations and strategies that are being developed by scientists and policy makers around the world to expand our response to the escalating crisis which has been depleting ecosystems, disrupting weather patterns and amplifying global unrest.
There are safe, regenerative solutions that must not be left in the dark. We welcome collaboration and discussion to learn more.
About the Panelists:
Peter Fiekowsky
Peter, author of Climate Restoration: The Only Future That Will Sustain the Human Race (2022), is an MIT-educated physicist and Silicon Valley entrepreneur and philanthropist with 27 patents. He has 30 years' experience as a citizen lobbyist for poverty and climate issues, and over the past decade has been working to build the organizations required to ensure the survival and flourishing of humanity. His mission is to leave a world we're proud of to our children. He founded the Foundation for Climate Restoration, Methane Action and the Stable Planet Alliance which is working to restore a sustainable population.
Brian Von Herzen
Brian Von Herzen Ph.D. is the founder and executive director of the Climate Foundation, which upholds the vision and the mission to regenerate life in the ocean using Marine Permaculture technology. As Executive Director, Brian leads Climate Foundation's large-scale seaweed mariculture programs to develop sustainable food, feed and fertilizer value chains, provide ecosystem life support, and sustain blue carbon sinks. Brian's team is honored to have won the X prize for Carbon removal, and is so grateful for this recognition of the work over the past decade to regenerate life in the ocean while ensuring food security and measuring the carbon export of these regenerative interventions.
Brian is leading a successful Marine Permaculture seaforestation demonstration project in the Philippines. Marine Permaculture uses marine solar and wave-driven pumps in the ocean to restore natural upwelling and primary production to grow seaweed ecosystems. Once deployed at scale Marine Permaculture can regenerate life in seas and soils and restore a healthy climate while building a multi-billion dollar seaweed export market over the next decade.
LINK https://www.climatefoundation.org/
Dr. Leslie Field
Dr. Leslie Field's current work focuses primarily on solving some of the world's most urgent problems in climate. She earned degrees in Engineering from MIT (BS & MS) and UC Berkeley (MS & PhD), has taught for years at Stanford University, and mentors students in Clinic Programs at Harvey Mudd College and UC Berkeley.
Dr. Field has 15+ years of experience in large-company central R&D labs, has founded 2 successful consulting companies and 2 climate-focused non-profits, including the new Bright Ice Initiative. Leslie is an inventor on 61 issued US patents.
Her commercial work led to 3 different billion-dollar commercial impacts, and her non-profit work has created a promising approach, guided by a "First Do No Harm" ethos, to locally preserve and restore ice in order to slow the pace of climate change.
Bright Ice Initiative seeks to work together with local and indigenous communities to co-create and evaluate the safety and effectiveness of localized approaches to slow the melt of glacial ice in regions such as the Himalayas, and wherever communities could benefit most from preserving and restoring ice.
Dr. Field's Linkedin profile: https://www.linkedin.com/in/lesliefield/.
Her Google Scholar profile:125 papers, patents, presentations. 2277 citations.
Stephen Salter
Stephen Salter is Emeritus Professor of Engineering Design at Edinburgh University. After an apprenticeship in the aircraft industry as fitter and toolmaker on hovercraft and the Black Knight rocket he did a Natural Sciences degree at Cambridge. He has worked on noise recording from bird's eggs, astronomical instruments, robots, energy from wind, waves and tidal streams, desalination, voter-friendly traffic congestion, computer-controlled hydraulics, enhanced rainfall, flood prevention, mine clearance, wave tanks, suppressing explosions, reducing food-waste and increasing the capacity of road bridges. He has founded a new company Ocean Cooling Technology for the design of seagoing hardware for Latham's proposal to reverse global warming by making clouds whiter using the Twomey effect. Reports of his retirement are exaggerated.
Rafe Pomerance
Rafe is Distinguished Senior Arctic Policy Fellow with Woodwell Climate Research Center. He is former Chairman of Arctic 21, a network of organizations focused on communicating the unraveling of the Arctic as a result of climate change to policy makers and the public. He is also a consultant to the nonprofit ReThink Energy Florida raising awareness on the impact of sea level rise in the state.
His work plays a central role in Nathaniel Rich's New York Times magazine article and subsequent book, Losing Earth.
He has previously served as President of Friends of the Earth, senior associate for climate change and ozone depletion policy at the World Resources Institute, Deputy Assistant Secretary of State for Environment and Development (1993-99) and climate negotiator, and President of the Climate Policy Center. He was a founder and Chairman of the Board of American Rivers, as well as Chairman of the Board both of the League of Conservation Voters and of the Potomac Conservancy.