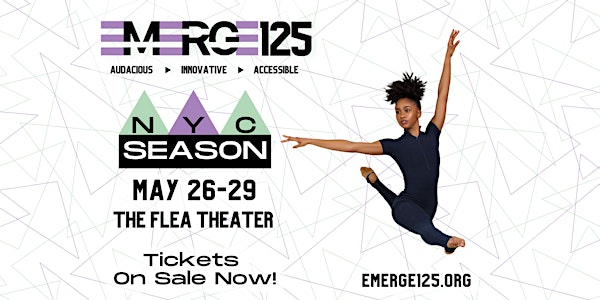 EMERGE125 NYC Season
EMERGE125 returns to The Flea Theater and presents its inaugural season as a Resident Company of The Flea.
When and where
Location
The Flea Theater 20 Thomas Street New York, NY 10007
Refund Policy
Refunds up to 7 days before event
About this event
EMERGE125 NYC Season
May 26-29, 2022 at The Flea Theater
The upcoming season will be the company's first season after announcing its name change in June 2021.
For the EMERGE125's May 26-29, 2022 NYC Season, Executive Artistic Director Tiffany Rea-Fisher will present the world premieres of Behavioral Synchrony and Poly String Theory as well as two works-in-progress and a revival with a new opening. Both Behavioral Synchrony and Poly String Theory began when the company was relocated to Lake Placid, NY during the 2020 pandemic so they could continue making work while the city was shut down. Rea-Fisher started creating with only two things in mind; no full company pieces and pairing dancers in her company together who typically do not share the stage. From that, two world premieres were born.
Coming back home to The Flea as a resident company and performing under our new name just feels right. Like many companies, it has been a long time since being able to share our work. The dance field is different, the world is different and we are different. Exploring and celebrating those differences with our NYC audiences is a special gift that I do not take lightly.
~ Tiffany Rea-Fisher, Executive Artistic Director EMERGE125
--
Performances will take place:
Thursday, May 26th at 7:30PM
Friday, May 27th at 7:30PM
Saturday, May 28th at 2:30PM & 7:30PM
Sunday, May 29th at 2:30PM
For the most up-to-date schedule for all EMERGE125 programming, visit http://emerge125.org/
--
EMERGE125 Company Members:
Katherine Files, Alisa Gregory, Dennzyl Green, Hannah Gross, Mikayla Klein, Sarah Kleinke, Madelyn LaLonde, Caitlyn Morgan, Erik Osterkil, Tiffany Terry, Nikaio Thomashow
Understudy: Alyssa Manginaro
--
About EMERGE125
EMERGE125 is a Black female-led hub for dance performance, creation, and education. The organization operates dual homes in Harlem and Lake Placid, New York, while serving audiences both locally and around the world. EMERGE125 has established itself as a leader by setting new standards for dancer care; creating innovative, cross-disciplinary collaborations with leading artists; and using movement as a catalyst for community building: expanding the reach, purpose, and impact of the art of dance. The company has expanded its scope and vision to become a truly 21st Century organization; flourishing, growing, and expanding its network and reach outside of the traditional modern dance sphere. From community dance classes to stadiums filled with thousands of spectators, EMERGE125 demonstrates that modern dance can be accessible and relatable to people of all ages and socioeconomic backgrounds.
About the Executive Artistic Director
TIFFANY REA-FISHER is a 2022 Toulmin Fellow, an NDP Award winner, a 2021 Toulmin Creator, a John Brown Spirit award recipient, and was awarded a citation from the City of New York for her cultural contributions. She subscribes to the servant leadership model and uses disruption through inclusion as a way to influence her company's culture. She has extensive experience in choreographing and curating concert dance. As a choreographer, Tiffany has had the pleasure of creating numerous pieces for her company as well as being commissioned by Dance Theatre of Harlem, Dallas Black Dance Theatre, NYC Department of Transportation, Utah Repertory Theater, The National Gallery of Art in D.C., and having her work performed for the Duke and Duchess of Luxembourg. Her works have been seen on many stages including the Joyce, the Apollo, Joe's Pub, Aaron Davis Hall, and New York Live Arts. Tiffany was the first Dance Curator at the interdisciplinary arts organization The Tank where she now sits on their Board of Trustees. She also curates the Bryant Park Dance Summer Series providing free art access to thousands while exposing upcoming and established artists to a wider audience.