EMERGE! Virtual Fashion Show - New York Fashion Week 2021
THE SHOW IS LIVE ON WWW.GFNTV.COM
About this Event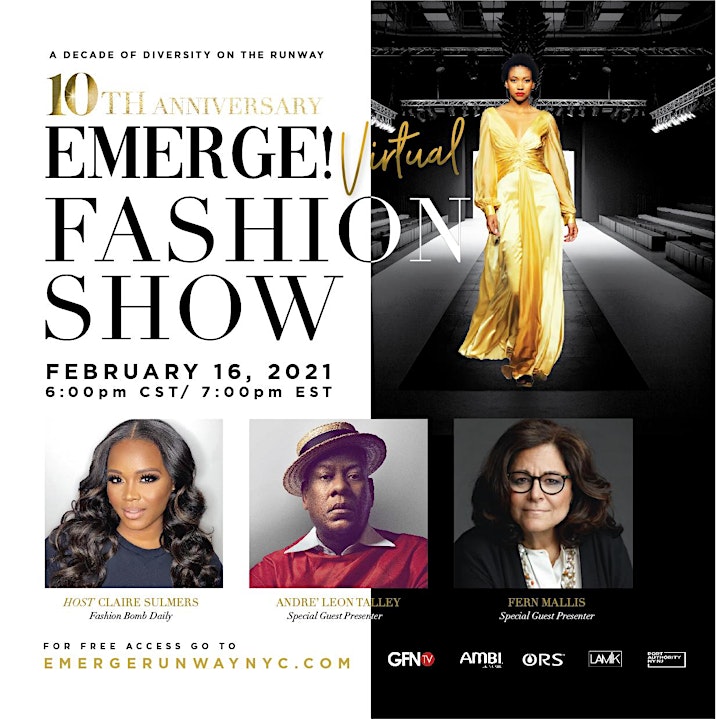 EMERGE! - A Decade of Fashion
2021 New York Fashion Week
THE SHOW IS LIVE NOW! VISIT WWW.GFNTV.COM TO WATCH THE SHOW!
The best in the fashion industry will virtually align this February for the 10th anniversary of the EMERGE! Fashion show!
Top emerging designers from across the nation will showcase their newest collections to guests which include media, retail buyers, celebrities, and top fashion influencers from around the world. EMERGE! is a phenomenal way for designers to showcase their newest line on a world stage and national platform.
2021 Featured Designers
Terri Stevens -Funkin' Beautiful Designs
Jésù Ségun London
Scalo clothing Brand
Haus of L.A.
Our 2021 Host
Claire Sulmers - Founder of fashionbombdaily.com
2021 Global Style Icons
These three global icons will join forces for this spectacular event to introduce the segments of the show and give their insights on what's HOT in fashion.
André Leon Talley - American fashion journalist, the former American editor-at-large of Vogue magazine
Fern Mallis - Creator of New York Fashion Week & President of Fern Mallis LLC
In addition to our ICONS, there will be special presenters giving their take on the runway fashions. Kenny Burns, Ozwald Boateng
The 2021 Fashion Innovator Award
The coveted Fashion Innovator Award 2021 honoree will be presented to
Law Roach - Celebrity Stylists to the stars, including Celine Dion, Ariana Grande, Zendaya, Monica Brown, Brandy and Jessie J.
THE SHOW IS ON GFNTV.COM
VISIT WWW.GFNTV.COM TO WATCH THE SHOW!!
Thank you to our show sponsors: AMBI, LAMIK Cosmetics, PORT AUTHORITY NYNJ, ORS Haircare and our streaming partner GFNTV.
www.EmergeRunwayNYC.com