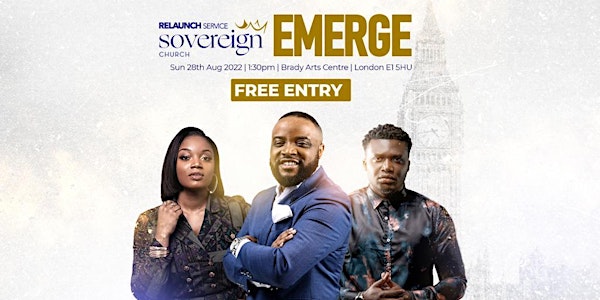 E.M.E.R.G.E - Sovereign Church Launch Service
An amazing afternoon for the whole family filled with the Word, Praise, Worship, Dancing & Refreshments. An event you do not want to miss!
When and where
Location
Brady Arts Centre Hanbury Street London E1 5JD United Kingdom
About this event
Sovereign Church was Founded in 1995, formally known as International Sovereign Pentecostal Church (ISPC).
Since 2018 ISPC was inactive - however, it is now being relaunched as: ' SOVEREIGN CHURCH' with new Leadership.
Our VISION is to :
❖ Build a church that is diverse, vibrant, open, and influential. A multi-cultural, multi-lingual (English and French) multi-generational church that reaches and embraces new people for growth and impact generations.
❖ Build a church that Generation Z led and focused where they can;
→Belong
→ Believe
→ Become
❖ Build a church of people from neglected backgrounds; the judged, and forgotten. The rich and famous - we are all one in Christ and we can all be changed by the love of Jesus.
❖ Raise a generation that can stand on the gap through prayer and intercession
JOIN US ON THE 28TH OF AUGUST AS WE EMERGE & RELAUNCH SOVEREIGN CHURCH IN THE HEART OF THE UK, LONDON CITY.
BE PREPARED FOR AN AFTERNOON FILLED WITH BLESSINGS, AND SPECIAL PERFORMANCES BY :
❖ LYDIA KABBS
❖ JONATHAN C. GAMBELA
REFRESHMENTS WILL BE PROVIDED AS WELL AS A CHANCE TO WIN A SPECIAL GIFT!
TICKETS ARE LIMITED.