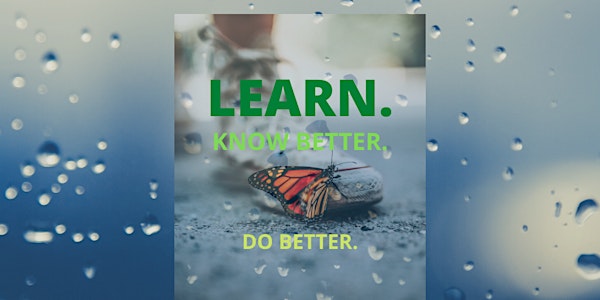 Emerge from COVID Better Than Before
Donna Marie @leadlikeaqueen supports leaders to keep learning so they know better & do better in personal growth & professional development.
About this event

COVIDE EMERGE EVENT SERIES UPDATES
UPCOMING SUNDAY WEBINAR DATES:
FINAL EVENT IN THIS SERIES: 6/7 SUNDAY @ 2PM (REPLACES 5/24)
WHAT TO EXPECT IF YOU REGISTER FOR AT LEAST ONE OF THE JUNE EVENTS:
We will keep you updated about all future events in this series
We will let you know when we can start meeting in person again
We will provide you with complimentary access to all of the May webinar replays
If you register at least one day before an event, we'll add you to the Early Bird Gift List
------
[INTRO] What is the main thing that you absolutely MUST realize and do to emerge from COVID-19 and keep moving forward in your life and in your small or micro business/ministry/non-profit? Watch the video and share with family and friends who need this same encouragement.
Note that "small" and "micro" is a misnomer because, when you understand your leadership role better, it can make a big impact.
How can small business make big impact? These videos are designed to inspire and empower small business leaders in their journey to do better and get better results, despite global crisis or any personal crisis either.
_______________
EARLY BIRD REGISTRATION: If you register at least 24 hours before the event , you will have access to receive an early bird gift provided by a donor.
________________
Donna Marie Johnson is the author of "Small Biz Big Impact But How?: How Conscious Selfless Servants Impact the World". She has founded the Lead Like A Queen movement and continues to host local and virtual events to support small business leaders so they continue growing as they seek to change the world.
From 2014 to 2019, she has hosted several local events within the Atlanta Metro community in northern Georgia, USA. In past years, these events were co-sponsored by a local business incubator and local public libraries. For 2020, the webinar production costs and expertise are being provided mostly by Donna Marie Johnson. If you'd like to help us keep these virtual events going and to keep improving them, consider helping and/or donating.