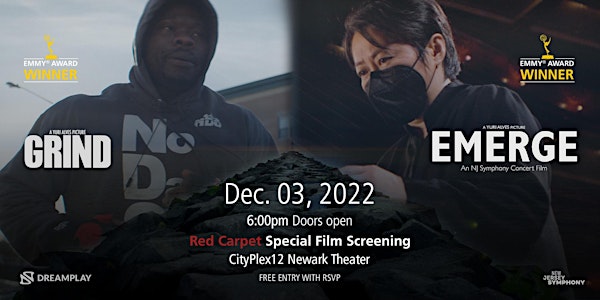 EMERGE and GRIND Film Screening + Emmy® Celebration
Red Carpet Premiere of our Emmy® winning films EMERGE: An NJ Symphony Concert Film + GRIND feat Robert "NDO Champ" Wilmote (dir. Yuri Alves)
When and where
Location
CityPlex12 Newark Cinemas 360-364 Springfield Avenue Newark, NJ 07102
About this event
DreamPlay Media, in association with Plusable and the NJ Symphony, presents the EMERGE + GRIND Red Carpet Live Film Premiere and Emmy® Celebration of our Emmy® winning films, EMERGE: An NJ Symphony Concert Film, starring Xian Zhang, and GRIND, starring Robert "NDO Champ" Wilmote, directed by Yuri Alves.
The EMERGE + GRIND Red Carpet Live Premiere and Emmy® Celebration will take place at the CityPlex12 Newark Theater's SHAQ-DX, the theatre's premier auditorium featuring 4K digital projection, Dolby 7.1 audio, a 47 foot-wide screen, and luxurious high-back leather rockers. The Shaquille O'Neal co-owned theater has been home to several special Hollywood film premieres, including "Creed", Creed II", "Black Panther", and "Just Mercy."
The EMERGE Premiere After-Party will be held at Allegro Grill & Lounge in the Ironbound / Newark. Music by DJ Jon Canoo (Peter Morris) and DJ Miguel Casimiro, with special live musical performances by performer and violinist J Read, saxophonist Raphael Sax, and percussionist Carlos Ferreira - plus food and drink specials all night.
FREE ADMISSION WITH CONFIRMED RSVP (space is limited)
PROGRAM SCHEDULE
6:00pm Doors open / Red Carpet Reception
7:00pm Filmmaker Panel plus Emmy® Award Celebration
7:30pm Film Screening: GRIND and EMERGE
9:00pm After-Party at Allegro Grill & Lounge
Directions / Parking
CityPlex12 Newark Theater (360-394 Springfield Avenue, Newark, NJ 07103)
FREE parking at main parking lot (enter via 16th Avenue)
Allegro Grill & Lounge (58 Kossuth Street, Newark, NJ 07105)
FREE parking at Allegro lot (enter via Kossuth Street) [space is limited]
PRESENTED BY
DreamPlay Media
Plusable
New Jersey Symphony
SUPPORTED BY
Newark Happening / Greater Newark Convention & Visitors Bureau
The City of Newark, New Jersey*
Newark Arts*
Allegro Grill & Lounge
* Made possible, in part, by The City of Newark Creative Catalyst Fund in partnership with Newark Arts.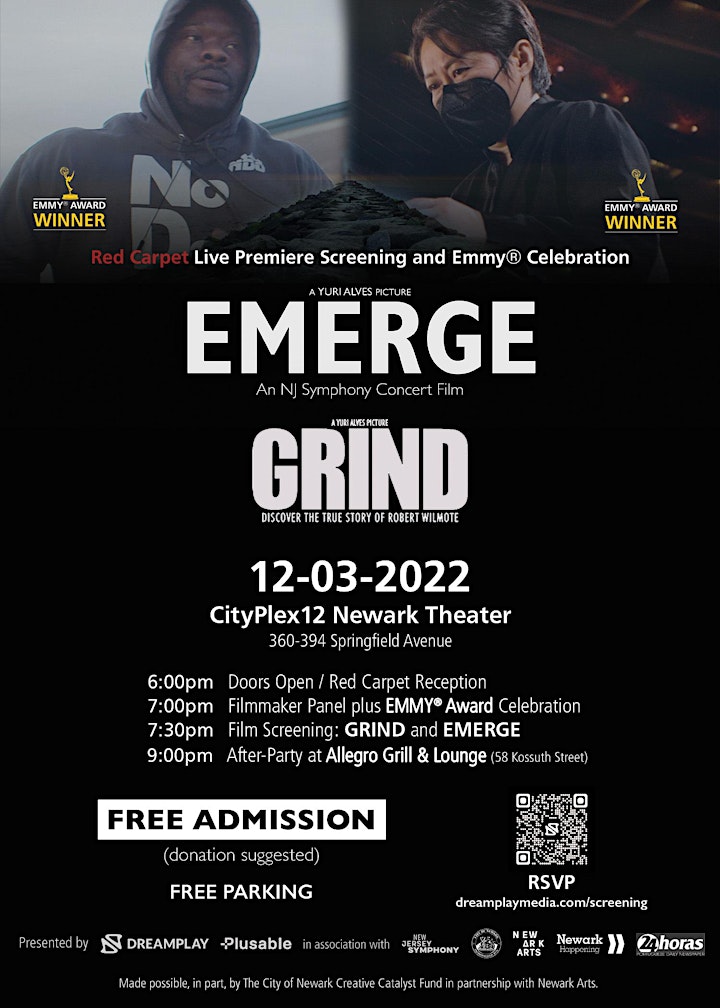 EMMY® AWARD RECOGNITION
DreamPlay Films and Yuri Alves earned two Emmy® Awards this year, and a total of four Emmy® nominations in the Mid-Atlantic Region. EMERGE Part 1 was honored with the Emmy® in the "Long-Form Content" category, and Yuri Alves won an Emmy® Award in the Editing category, for his work on GRIND and EMERGE Part 3.
DreamPlay Films and Yuri Alves also earned Emmy® nominations for TRANSCEND, in the Documentary" category, and EMERGE Part 2, in the "Long Form Program" category. All nominated films were broadcast by NJPBS and PBS online, where they remain available to watch.
The Emmy® Awards recognize excellence within various areas of television and emerging media, and are voted on by members of the National Academy of Television of Arts and Sciences. The NATAS Mid-Atlantic Region is a non-profit, professional association with 700+ members in PA, NJ & DE representing the broadcasting industry.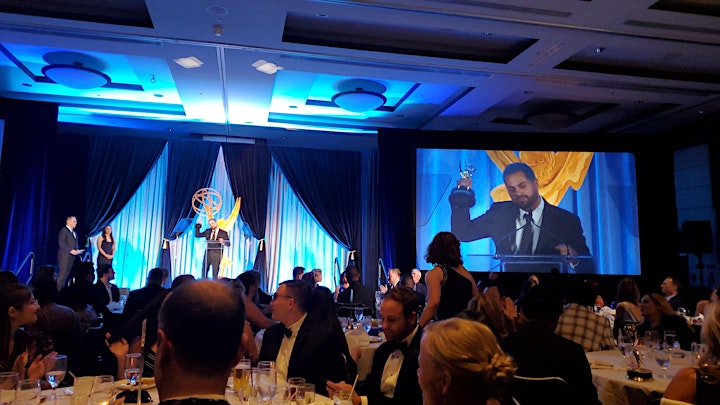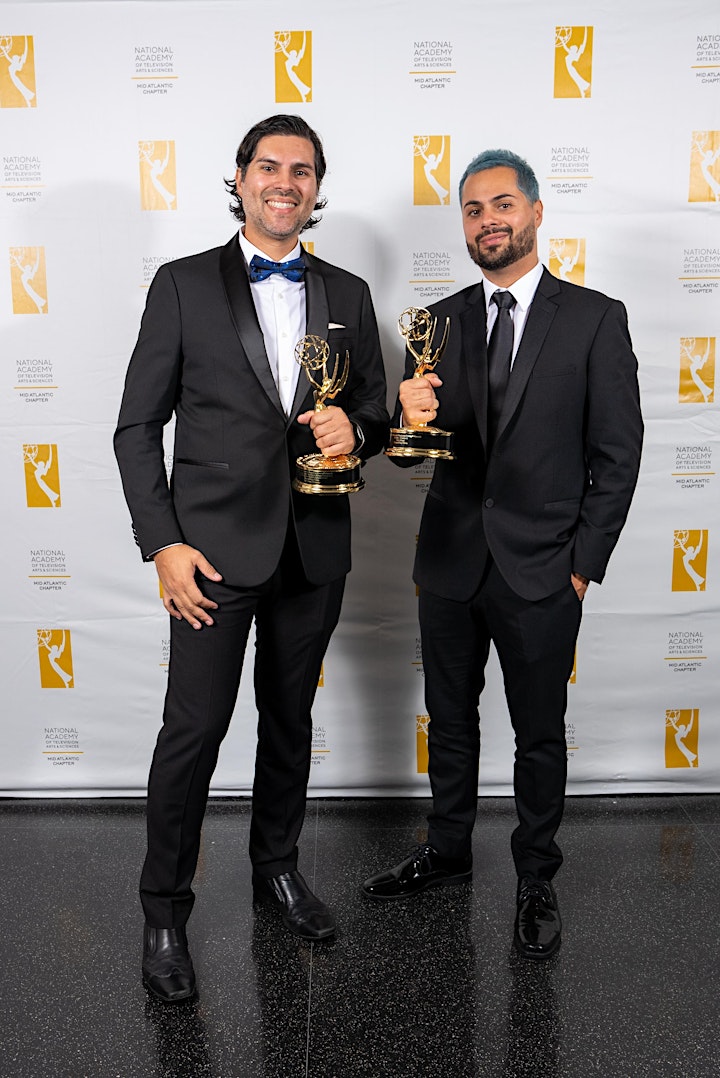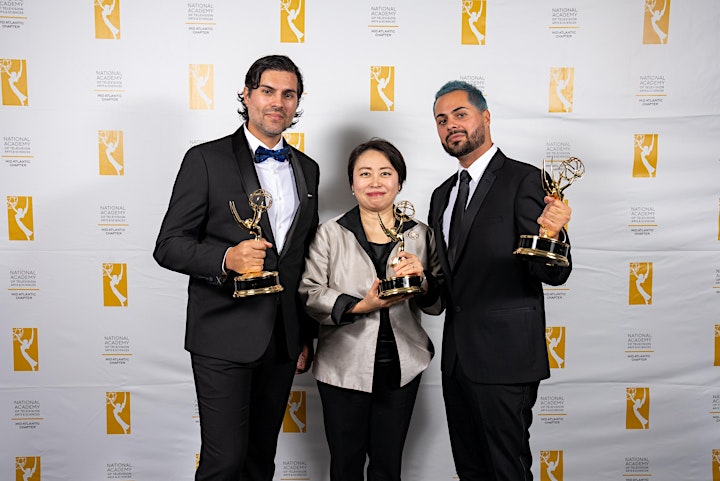 YURI ALVES
Yuri Alves is a multiple award-winning filmmaker who has written and directed original films, primetime television programs and commercial projects in both the U.S. and Europe. His most renowned films include the "EMERGE" trilogy, "TRANSCEND" "GRIND" "On the Cusp" "Broken Clouds" "Exit Road" "Echoes of Fado". Alves directed two critically acclaimed, primetime television series in Portugal: "Tempo Final" and "Filha da Lei". In 2022, Alves won two Emmy® Awards (News and Documentary), adding to 20+ film festival awards. Alves was born in Rio de Janeiro, Brazil, to Portuguese parents, and grew up in Newark, New Jersey, where he has set many of his films. Alves is the Co-Founder and Creative Director at DreamPlay Media, and formerly head of production at Fox Digital Studios. Yuri received a Bachelor's degree in Media Arts from New Jersey City University. yurialves.com | Instagram: @yurialvescinema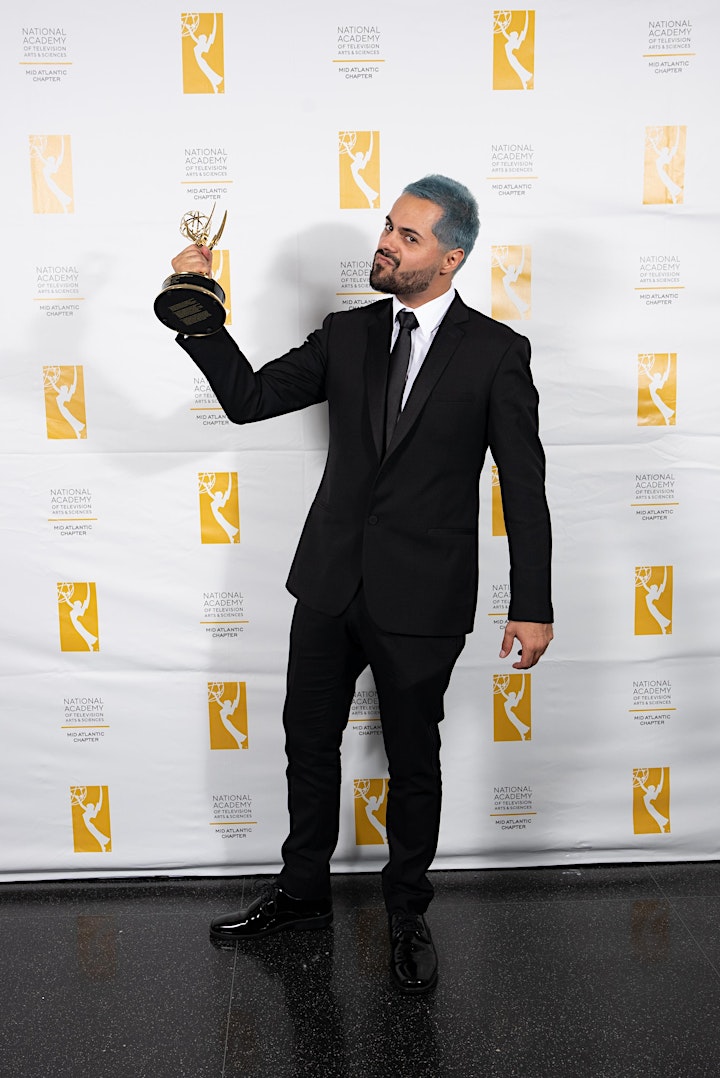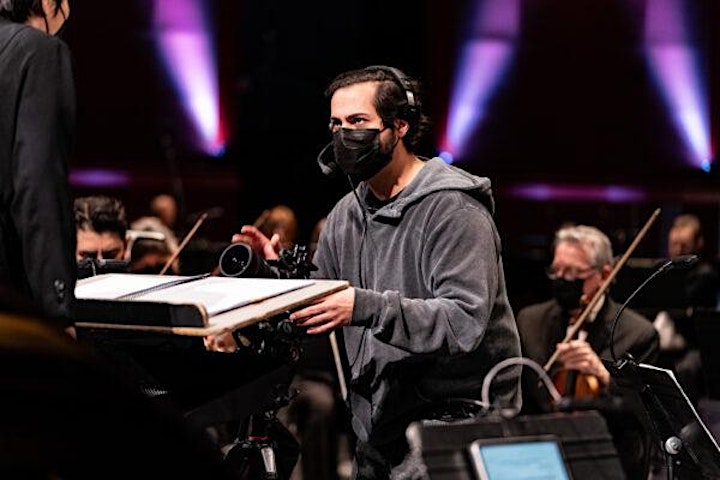 EMERGE: An NJ Symphony Concert Film
Music Director Xian Zhang leads the New Jersey Symphony back on the main stage to masterfully conduct a striking selection of orchestral works, showcased in a uniquely intimate style by maverick filmmaker Yuri Alves, who complements the live performances with mesmerizing visuals beyond the stage. The program features Bach's Keyboard Concerto No. 5, with Simone Dinnerstein on piano, as well as the East Coast Premiere of Nokuthula Ngwenyama's Primal Message, and Schumann's Symphony No. 4.
The concert film was recorded live on RED cinema cameras at the New Jersey Performing Arts Center (NJPAC) in Newark, New Jersey, on February 11, 2021. Presented in 4K Anamorphic format. Runtime: 45 min.
Produced by DreamPlay Films in association with the New Jersey Symphony.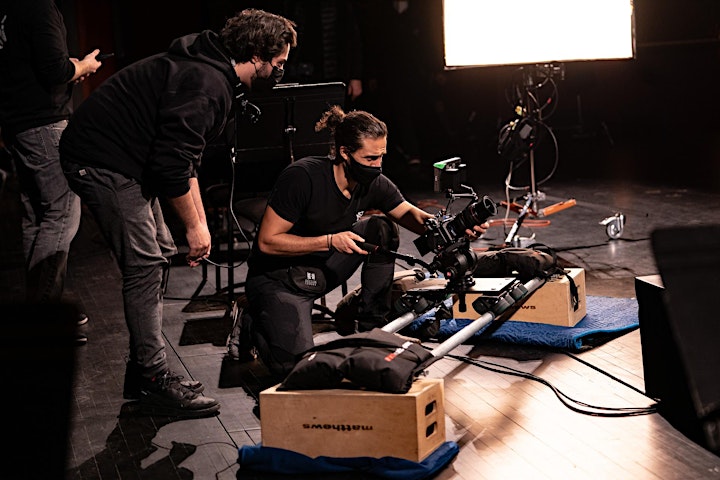 GRIND: The True Story of Robert Wilmote
This format-bending profile of Robert Black Wilmote (NDO Champ), directed by Yuri Alves, reveals the story of a Liberian refugee forced to flee the most drastic and terrible circumstances imaginable. Having narrowly escaped the ravages of war in Africa, Robert's struggles continue in the U.S. when he succumbs to the gangster lifestyle, only to become a convicted felon in Newark, New Jersey. At his absolute bottom, Robert knew he was meant for greater good. Through dramatic reenactments, featuring Robert Wilmote himself, we discover how Robert's passion for fitness and helping others empowered him to transcend a life of violence and become a legend. Runtime: 10 min
Produced by DreamPlay Films.
DREAMPLAY FILMS
DreamPlay Films, part of DreamPlay Media, is an award-winning independent film production company, producers of narrative and documentary films. dreamplayfilms.com
DreamPlay Media is an award-winning creative media company, based in Newark, New Jersey. (Immigrant-owned, SBE and MBE certified) dreamplaymedia.com | @dreamplaymedia
For more information, contact Carlos Ferreira, Director of Public Relations and Communications, Plusable PR, at cf@plusable.us or 973.392.0889.
NJ SYMPHONY
The New Jersey Symphony connects with the people and diverse communities of New Jersey through the power of live symphonic music to inspire, entertain and educate. Internationally renowned Music Director Xian Zhang has garnered critical acclaim on the podium and has deepened the NJ Symphony's commitment to presenting diverse voices that reflect the communities we serve.
Since the start of the COVID-19 pandemic, the New Jersey Symphony has made virtual performances and educational online programs available for free, reaching more than 10 million people. NJSO Concert Films pair world-class performances with stunning imagery of the people and cityscapes of New Jersey. The NJ Symphony has presented innovative programs with fellow arts organizations, community ensembles and statewide partners. Musicians perform solo and chamber works from iconic New Jersey locations in NJSO Everywhere.
The New Jersey Symphony will redefine what it means to be a nationally leading, relevant orchestra in the 21st century. Through adventurous performances, hands-on educational experiences, and robust community programming, we encourage everyone to enjoy the power and creativity of orchestral music in all its forms. njsymphony.org | @njsymphony
For more information, contact Geoffrey Anderson, Vice President of Marketing & External Affairs, at ganderson@njsymphony.org or 973.735.1713