Description
PLEASE NOTE
Due to global precautions for the COVID-19 Coronavirus, the state of Florida's public health emergency declaration, and building upon recommendations from the World Health Organization, eMerge Americas Hackathon and Conference are being postponed to November 1 and November 4-5, 2020, respectively.
We're committed to the health and wellbeing of our attendees, partners, and the community as a whole. This decision follows careful consideration, and this postponement will enable us to provide the experience that our clients, partners, and employees expect and deserve in a safe environment.
Please note that specific dates and times currently listed about this event may be adjusted.
---
About the Hackathon:
Mobilizing Miami for Social Impact
This Hackathon is powered by Wyncode and supported by Ford, Ultimate Software and GE.
Over 100 elite developers will be tasked to use mobility to create a unique and innovative solution for a local non-profit (TBA) to better connect our community.
The winning team will be awarded $10,000 cash in prize money. Furthermore, the designated non-profit will be awarded a $25K grant toward the purchase of a vehicle in order to implement the mobility solution created at the Hackathon on behalf of Ford Motor Company.
Please arrive at 7:00AM; opening remarks and Hackathon walkthrough begin at 7:30am!
*Breakfast, Lunch, Dinner and Snacks will be served along with swag for all!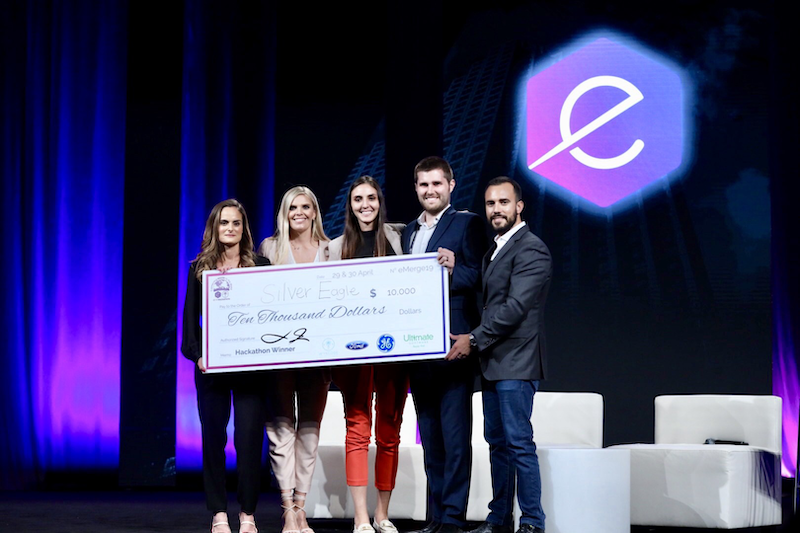 What is the eMerge Americas Hackathon in partnership with Wyncode?
The eMerge Americas Hackathon in partnership with Wyncode is the official hackathon of the eMerge Americas Conference. Teams will have 12 hours to build their project and present their demos to a panel of judges to compete for thousands in prizes. This Hackathon is supported by the amazing teams of Ford, Ultimate Software and GE.
What is eMerge Americas?
eMerge Americas is the premier technology event connecting the Americas held annually at the Miami Beach Convention Center. By connecting global industry leaders and investors with America's top business executives, technology decision-makers, and entrepreneurs, eMerge Americas is transforming Miami into the tech hub of the Americas. In 2019, eMerge Americas attracted more than 16,000 attendees and 4000 participating companies from more than 40 countries. eMerge Americas serves as a catalyst in order to propel innovation and investment in South Florida and Latin America. To learn more about eMerge Americas click here.
What is Wyncode?
Wyncode Academy is the premier accelerated learning destination in South Florida. Wyncode currently offers in-person courses for Full Stack Web Development, User Experience & User Interface (UX/UI) Design, Front End Web Development, and Digital Marketing in Wynwood, Miami, Florida. Wyncode also has the ability to create custom cohorts and corporate training programs in addition to our newest venture Wyntalent, a consulting service for mid and senior-level dev talent. Wyncode is proud to be licensed by the Florida Department of Education, for more information visit their website.
Who can register?
We strongly encourage company team registrations as we compete to see who is the best tech team in South Florida! Free Agent Product Designers will be able to join company teams as well, instructions on how to do so below.
How can I register?
Each team must register their team members with the name of every participant before the registration deadline of March 23rd.
Groups of a minimum of two (2) employees and up to five (5) current employees of a single company can form a team for the hackathon.
All group members must use their company emails in order to register for a Company Team.
Free Agent Product Designers
Great digital product creation involves great end-to-end design which means both software development and product design. Since this is a technical hackathon in which teams are judged on software development, we are happy to facilitate putting product design on development teams.
As a free agent product designer, signup on Eventbrite as a Free Agent and we will contact you when we have added you to a team. Please confirm your spot on the team within 24 hours.
Although prompted, you do not need to use your company information or email to register as a Free Agent.
Please keep in mind that hackathon registration closes on March 23rd at 9pm EST.
What should I bring on Hackathon day?
Your laptop, charger, and any other electronics you may need for the actual hacking part of the hackathon.
Will there be prizes?
Yes and swag for all!
$10,000 Cash Prize to the winning team and a Ford vehicle to a soon to be named non-profit which will help #MobilizeMiami. The winning team and runner-up teams will also be rewarded with a free month of membership at Wynspace, Wyncode's new coworking space designed for tech professionals.