Description
Join us for a joint lunch meeting of the Extractive Metallurgy Chapter of Denver and the SME Colorado Section on April 18th at 240 Union in Lakewood.
Guest Speaker:
Stanley Dempsey, Sr.
Highways and Byways of Mining History
Stan Dempsey is currently principal at Dempsey & Co. and retired Chairman of the Board of Royal Gold, Inc., a royalty and streaming company, headquartered in Denver, Colorado. Over the years, Stan has been a miner, a geologist, a lawyer, a mining company executive an investment banker, and authored the book, "Mining the Summit".
Mr. Dempsey received degrees in geology and law from the University of Colorado, and completed the Program for Management Development at the Harvard Business School. His many awards include an Honorary Doctor of Engineering degree by the Colorado School of Mines in 2006, the 2007 William Lawrence Saunders Gold Medal Award from the Society for Mining, Metallurgy and Exploration. He was the 33rd Gold Medal Recipient of the Mining and Metallurgical Society of America in 2011 and most recently was inducted into the Mining Hall of Fame and Museum in September of 2016.
His interests outside of his professional life include mountaineering, fly fishing, trains and libraries. He resides in Golden, Colorado.
---
The meeting cost is $35 and includes lunch. The meeting is open to the general public (you don't need to be a member of either organization). Please register early because this is sure to be a popular event and space is limited to 50 people at the restaurant. The lunch menu is below and you may order at the restaurant.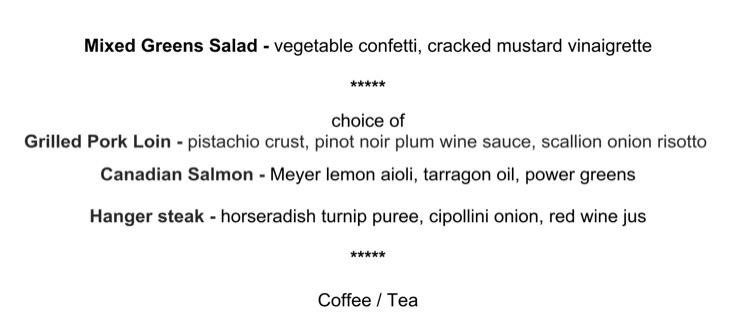 Students: The student rate is $15 and can be paid by cash or check at the door. However, please RSVP to me (sdoyle@mines.edu).
---
We look forward to seeing you there!