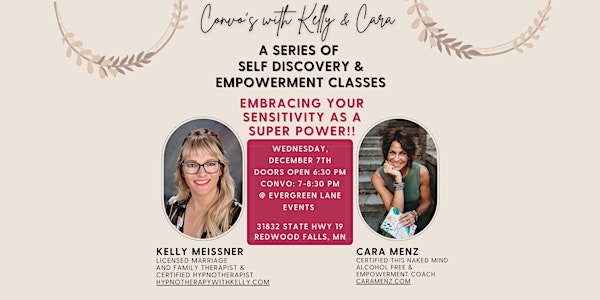 EMBRACING YOUR SENSITIVITY AS A SUPER POWER!
We will help take you from feeling overwhelmed, tired & misunderstood to feeling confident, in control, energized and empowered!
When and where
Location
Evergreen Lane Events 31832 State Highway 19 Redwood Falls, MN 56283
Refund Policy
Contact the organizer to request a refund.
Eventbrite's fee is nonrefundable.
About this event
6:30 pm - 7 pm: Doors Open - HEALTHY HAPPY HOUR
Your ticket gets you one Sweet Haven Tonics Mocktail and a journal
7:00 pm-8:30 pm: Convo's and Connections
8:30 pm - 9 pm: Social
Have you been told you're too sensitive as a child or that you needed to stop showing your emotions? Do you wear your heart on your sleeve?
Do you consider yourself empathetic? Can you feel the vibe amongst people when you walk into a room?
Do bright lights, loud noises and certain smells make you feel out of sorts or cause migraines or your heartbeat to race?
If you said yes to even a few of these, you could have the personality trait called: highly sensitive person or High Sensory Processing. It's a personality trait - NOT a diagnosis! 27% of the world's population is HSP and it's equally in men as it is in women.
It's enlightening to say the least to hear that first of all, you aren't alone! When you hear explanations of WHY you've been feeling like this your whole life - a light bulb will go off! But once you learn about this, what's next? We want to teach you how to hone in on the amazing super powers you have and how you can use them, not bury them.
Many of us have thought these traits of ours were weak and we built up different ways to "deal" with a world that doesn't embrace it. We've lived in a world that applauds shoving our emotions down...until now! We know so much more about this trait since it was discovered in the 90's by Psychologist Dr. Elaine Aron. Now we can start putting the pieces of what we've experienced together and shine a light on them!
We want to help you discover HOW to embrace your SENSITIVITIES as your SUPER POWER!
This will help you feel more aligned and empowered and will help you increase your resilience to our oftentimes not so sensitive world.
We will shed light on the the challenges we as highly sensitive people face in a world that doesn't understand us and offer tools you can use to help strengthen your trait.
We will offer explanations to common questions you probably don't even know you have yet! It will also help you realize you aren't alone! There might be other people in your family and life that have this personality trait and what you learn will be so helpful in helping you form a better understanding of each other.
Take the HIGH SENSITIVE PERSON quiz halfway down the first page of Cara's website to find out if you have this trait! www.caramenz.com
Hope to connect with you in December!
Kelly & Cara
Learn more about Kelly Meissner and her services ---> https://www.hypnotherapywithkelly.com/
Learn more about Cara Menz & her services ---> https://www.caramenz.com/