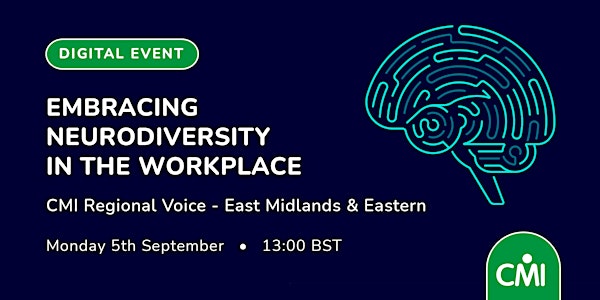 Embracing Neurodiversity in the Workplace
How can managers and workplaces support and embrace neurodiversity?
About this event
In this session, we will consider the legislation that relates to neurodiversity, and discuss the social and medical models of disability.
Our speakers will share findings from research and lived experience on inclusion versus integration approaches to neurodiversity, and how a neurodiverse workforce can bring unique talents and strengths to an organisation.
Our Speakers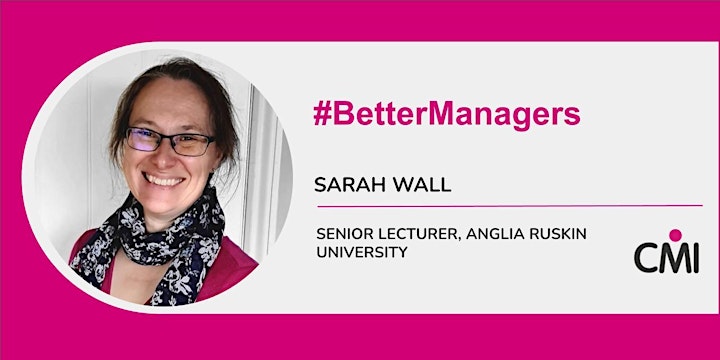 Sarah Wall
Senior Lecturer, Anglia Ruskin University
Sarah is a Senior Lecturer at Anglia Ruskin University. She has also held positions at the University of Northampton (teaching predominantly Special Educational Needs and Inclusion) and at the University of Birmingham on their Social, Emotional and Behavioural Difficulties (SEBD) and Autism (Children's) courses. Sarah's teaching career began in a middle school, and it was as their SENCo that she developed an interest in Equality, Diversity, and Inclusion.
Whilst a Specialist Teacher for both Social, Emotional and Mental Health (SEMH) and Autism Spectrum Conditions (ASC), she supported individuals and their families, but also delivered continuing professional development for school and local authority staff. She has a PG Cert in Working with Individuals (children, young people, and adults) on the Autism Spectrum. Her PhD is in applying attachment theory to the classroom context and, more recently, her work has considered the overlap in presenting behaviours between autism, pathological demand avoidance (PDA) and attachment needs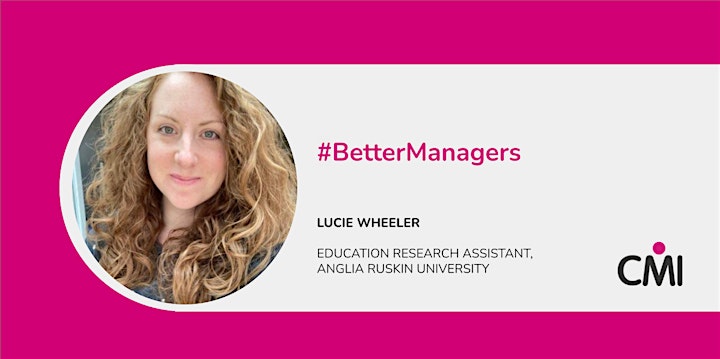 Lucie Wheeler
Education Research Assistant, Anglia Ruskin University
Lucie Wheeler is an Educational Research Assistant and associate lecturer in Education at Anglia Ruskin University in the HEMS faculty. She has taught students on the BA Early Childhood Studies course alongside assisting the Professor in Education and other colleagues with various research projects. After a short period of temporary work at ARU, Lucie was appointed as the full time Education Research Assistant in March 2022.
Lucie has worked in education for 12 years in a range of settings and roles, including SEND provision, mainstream schools and private nurseries. In addition to the projects that she assists on, Lucie is also working on her own project looking at Home Educated applicants to HEI's in England, with a focus on widening the participation for another marginalised group.
Lucie is a member of an International Research Network currently exploring child participation through the pandemic alongside contributing to projects looking at various areas such as widening access for autistic students in higher education, carers in academia, transitions from primary into secondary school and the neuroscience behind learning through play. Interests include alternative education, child voice and wellbeing, widening participation and neuroeducation.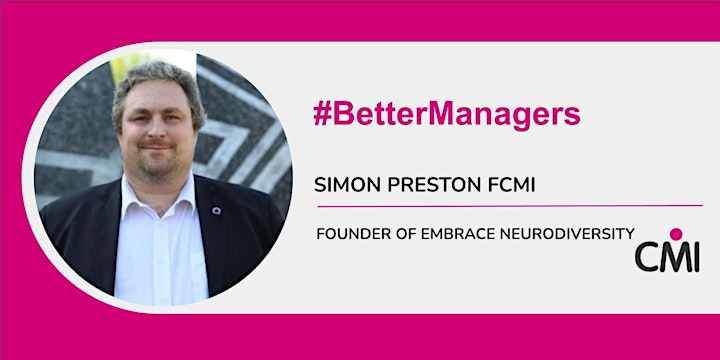 Simon Preston FCMI
Founder of Embrace Neurodiversity
Simon is passionate about neurodiversity and particularly interested in the generation of progression opportunities that will unlock the true potential of neurodivergent employees so that organisations can also see the benefit.
Simon has known himself to be neurodivergent since 2000 (Dyslexia) and in 2019 he was formally diagnosed with ASC. In addition to his neuro-divergent strengths of hyperfocus and perceptual problem-solving, he has discovered his effectiveness in analysing environments, visualising systems, and supporting people in identifying synergies between internal environmental factors and the talents and challenges that ND employees can bring to an organisation.
Using these skills, He adapted a combination of different strategic management and strategy generation tools to create a framework for managers to use in creating a psychologically safe, inclusive team culture.
Our Hosts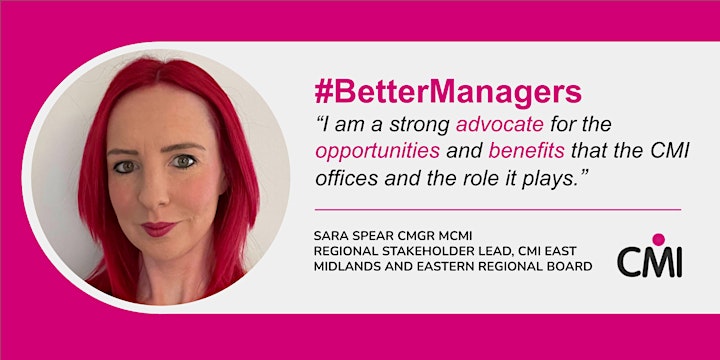 Sara Spear CMgr MCMI
Regional Stakeholder Lead, CMI East Midlands and Eastern Regional Board
As Head of School of Management at Anglia Ruskin University, Sara oversees teaching, research, and business engagement activity across the areas of Marketing, Entrepreneurship, Events, Tourism, Human Resource Management, and Organisational Behaviour. Sara is a Senior Fellow of the Higher Education Academy, and has previously worked at the University of Portsmouth and the University of the West of England. With a PhD in Marketing, Sara leads research projects which focus on using marketing for social good, and improving health and wellbeing, especially within educational settings. Her interest in supporting schools, children, and families has led to her becoming a Governing Member of a Multi Academy Trust, and a Parent Governor at a primary school.
Having worked with the CMI on the professional accreditation of courses, and enhancing student employability, as well as gaining Chartered Manager status herself, Sara is a strong advocate for the opportunities and benefits that the CMI offers its Members, and the role it plays in supporting and developing managers and leaders. Sara is delighted to join the board as Regional Stakeholder Lead, and is keen to continue developing strong links between the CMI, businesses, third sector organisations, and universities.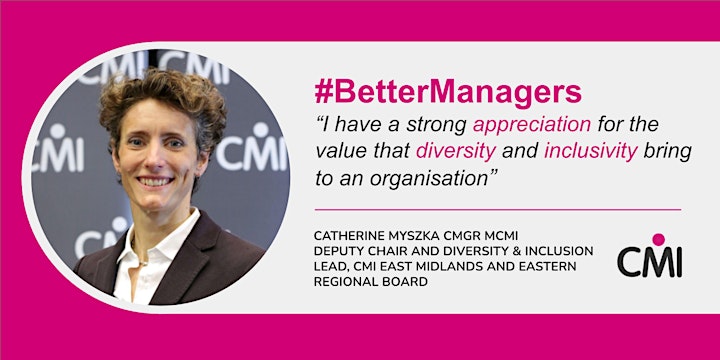 Catherine Myszka CMgr MCMI
Deputy Chair and Diversity & Inclusion Lead, CMI East Midlands and Eastern Regional Board
With an early career as a Chartered Accountant, followed by a variety of finance and transformation roles with global remits, Catherine has spent the last decade as an independent transformation consultant, helping clients to shape their vision and strategy, and then designing transformation initiatives to deliver the desired outcomes.
Focussing on process excellence, efficiency, human-centred design, and delivery at pace, to help clients to unlock the potential in their organisations.
Catherine has a strong appreciation for the value that diversity and inclusivity bring to an organisation; not only in financial performance, but also employee engagement, mental health and wellbeing, and robust, effective, innovative and disruptive design solutions.
Catherine gained Chartered Manager status after completing her MBA with Leicester University. She truly believes in the CMI's values – Professional, Progressive, Passionate, and Practical – and the benefits that membership of the CMI delivers, and is proud to be rejoining the East Midlands and East Board as Diversity and Inclusion Champion, and Vice Chair.
In the meantime...
If you're a member of CMI, or subscribe to our content, you can find thousands of exclusive, practical development resources in ManagementDirect. Log in here and search for a topic to get started!
Not yet subscribed?
From free newsletters packed with the latest trends, insights and tips for managers and leaders, to the full suite of invaluable tools and benefits that come with being a CMI member, we've got something for everyone. Visit our website to find out more.