EMBRACING LOVEHealing From Past Relationships & Moving Into The Love U Want
Actions and Detail Panel
EMBRACING LOVEHealing From Past Relationships & Moving Into The Love U Want
Sat, March 11, 2017, 11:00 AM – 3:00 PM EST
Description
***PLEASE READ CAREFULLY - TICKETS NOW SELLING ARE FOR MARCH 11, 2017 WORKSHOP ONLY!
FEBRUARY 4, 2017 WORKSHOP WAS SOLD OUT 1/21/2017.
Due to popular demand, an additional workshop has been added!
It will be another workshop on Saturday 3/11/2017 from 11 a.m. - 3 pm. With the popularity of this workshop, and the speed with which the other workshop sold out, act fast to get your tickets!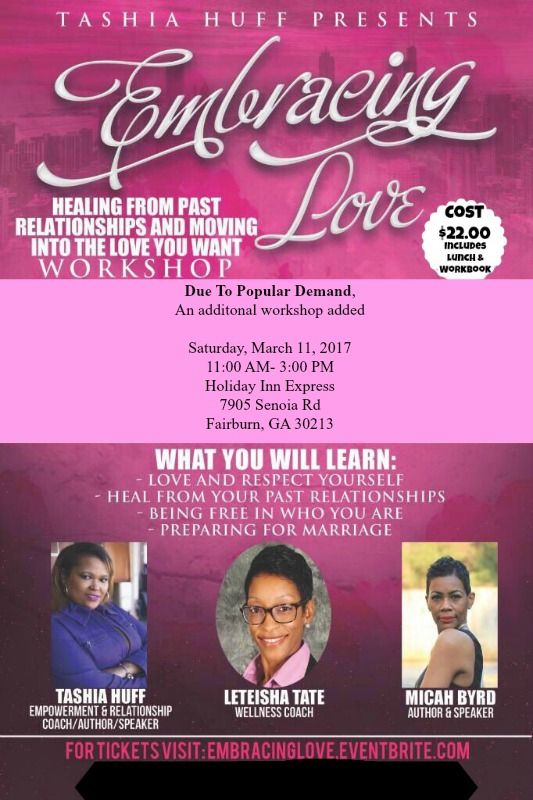 Are you tired of waking up wondering when will you get married?
Do you think you are not good enough to get married?
Are you tired of letting your past keep you from having love?
Are you married and your past hurts and distrust are sabotaging your marriage?
This workshop is about healing, embracing love and being free. You are going to learn how to love and respect yourself and not settle from less. You will learn how to heal the relationship stories you had in the past, so marriage is an option going forward (if that is what you desire). Last, being free in who you are.
You have to deal with and heal the hurt from inside before you can walk in freedom on the outside.
What you will learn:
Love and Respect Yourself
Heal From Your Past Relationships
Being Free in Who You Are
Preparing For Marriage
*Price includes lunch and workbook.
** The guest that brings the most friends will win a COACH purse(Approximate $395.00 value).
www.tashiahuff.com
***We have the following vendors - jewelry, healthy water beverages, books, taxes and interior design.