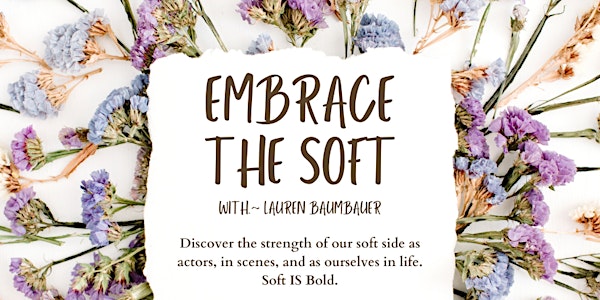 Embrace the Soft ~ Self Study Improv Course
Discover the strength of our SOFT side as actors, improvisors, and as ourselves in life in this Self-Study Online Course. Soft IS Bold.
About this event
A long-awaited, 7-week SELF STUDY course with LIVE Training options covering what SOFT means as an actor on stage, as characters we play, and in our lives as our authentic selves, discovering our true strength from within and developing confidence in our own Voice. If you're interested in the strength of your personal voice, gaining understanding of your body and the stage, having versatility in how you play and show up in life, then join us!
You can still join us! Registration is open all week because this is self study. The links for this can be found on the Facebook event page for this self-study course, including the official registration link via Calendly. If any of the sites don't work, please contact me and I'll set you up personally. A server may be down. https://www.facebook.com/events/1484275475372950
*** Schedule, access, and payment information is at the bottom of the description. Please read thoroughly! This course is 12 weeks total with 7 weeks of material. There is NOT a set start or end day or time each week. There ARE payment options. Details are at the bottom. Actual Registration and the course is informal in order to avoid fees and due to the experimental and vulnerable nature of the course. ***
This is an Experimental Self Study Online Course that will include video training, handouts, and live trainings with coaching. You'll have an extra month to go through materials at your own pace. This course as a whole will involve video content with lectures, solo exercises, body and vocal work, scenario practice, character work, improv play, and discussions (in live training and within the private group for the whole course). We will make space for our vulnerabilities at our comfort levels and provide grace and respect for those working with us. Some of how the course will be run, the materials, and what everyone will do in live trainings will be based on and determined by the group in this current cycle.
The fun part we get to discover? Soft IS bold! Learn tools for: the power of leaning back, how to lean forward, how to not take forceful energies on stage personally, to stop feeling like or being a jerk on stage, having confidence with observation of yourself and how you observe, and how to find and use the actual presence, focus, flow, and strength of softness. And maybe by the end we'll determine that what we thought of as softness is just more variety in our personal toolbox.
This experimental course is for anyone, particularly those who feel they are "too soft" and want to learn skills and practice more confidence and presence on stage and the stage of life, or for those who want to soften their edges, or for anyone who is just very curious.
What are things we'll do???
We will work on being in touch and grounded with our bodies as actors and on stage including through voice, movement, and posture
We will train the power of commanding presence without steamrolling or while in the presence of forceful scene partners and improv styles
We will learn ways to trust ourselves more as actors and on stage while being true to our personal voice and style
We will bring the audience and fellow actor perspectives of us into focus and step into it
We will look at and discuss the influence and use of the male gaze, the female gaze, and the cat gaze
We will investigate and encourage the emerging voice of women or for anyone who can relate to feeling stifled on stage or in ensembles
And we'll find the joy and levels in playing "soft" characters
Improvisation can sometimes involve a lot of old school "boldness" that may lead to poor listening, blocking, steamrolling, stage shyness, caricatures instead of characters, and can lead to disconnection from ourselves and feeling inauthentic when we play in order to take on a "bolder" presence on stage and gain approval of our audience, fellow players, and coach, director, or teacher. We also lose subtlety, trust in our instincts, and the suprises that come from different ways of playing. Common advice we get may lead to being more forceful or bigger on stage in order to be seen or heard, while discounting our instincts, preferences, and personal voice as an actor.
This is not to take away from the hard and bold sides of acting, actors, or using the stage. We're looking to enhance our experience, surprise ourselves about what boldness actually can be, and find strength in our own voice while supporting others by adding to our options and expanding our experiences. We'll play with tools to help you use YOUR voice or add new ways of playing.
DETAILS
The course OPENS on the 3rd of October 2022.
7 weeks total with an extra month of access to materials for self pacing.
There will be new content each week.
Live Training schedule TBD and arranged based on polled availability the best I can do. There will be at least four live sessions to discuss and work material (Timing TBD based on participation and availability). Recordings of live trainings will be avilable if you're unable to attend BUT will be based on the comfort of the attendees, keeping in mind the vulnerable nature of the sessions. Questions/videos can be submitted for coaching or discussion (part of the decision to determine who or what to coach will be based on time availability).
Online (links, materials and additional information given before and during the course)
You will receive a link to a calendar invite that will have additional information for how to sign up. I am doing my best to avoid extra fees for the participants for the time being, so please fully read and follow the instructions. You can contact me directly if you are experiencing any issues.
Open to all levels of improv or acting experience, but an advanced willingness to be open and try are ideal.
General Admission Cost: $230 USD
Bursary/Scholarship: $145 USD
Bursary/Scholarship = This is a reduced rate ticket for artists seeking equity (this may be based on location in the world, need, etc) so please consider your privilege when selecting this ticket option.
After you are confirmed by me, you'll get access to the course group page and receive materials/links before the course opens on the 3rd of October 2022!
There are limited spaces and this page will be updated to reflect that.
To receive emails for more information about this or other classes, please fill out Lauren's contact form: https://forms.gle/bWknRU8gLVm6FZVLA
Lauren Baumbauer has played, directed, and produced various improvised plays, teaches theatrical-based improv, and is a founding company member of Modjeska Unscripted Theater, a member of Synergy Theatre, a member of Murder Cats improvisation, a member of The Unwatchables performing in The Bat, a member of the Global Improv Project, is often found at Impro Theatre, is a member of the Vintage Improv Festival House Team, and plays character and game-based improv with Friday. Lauren is a long time personal trainer focusing on capability, strength, posture, balance, flexibility, breathwork, and injuries who has also taught and participated in martial arts, burlesque, ropes course and team building facilitation, and different avenues of theater and vocal work. She has studied and played in multiple styles of improv with fantastic people from around the world, but keeps narrative improv close to her heart. Cats take up most of the rest of the space.
Image Description: Colourful flowers surround a white space in the center with the words Embrace the Soft with Lauren Baumbauer. Discover the strength of our soft side as actors, in scenes, and as ourselves in life. Soft IS Bold. Online self study course. Starts the week of October 3, 2022, Improv