Sales Have Ended
Ticket sales have ended
Thank you for supporting East Bay Meditation Center.
Sales Have Ended
Ticket sales have ended
Thank you for supporting East Bay Meditation Center.
An Online Retreat for Black, Indigenous and People of Color
About this Event
Saturday, January 16th 2021 10AM - 4:30PM PST
Sunday, January 17th 2021 10AM - 4:30PM PST
Monday, January 18th 2021 10AM - 3:45PM PST
ASL Interpretation & Closed Captioning Provided
with Konda Mason and Noliwe Alexander
If we cultivate the courage to walk the path of peace with loving awareness and fierce compassionate action, we can begin to manifest the dream of our collective liberation.
In these times of uncertainty and social injustice, as our values that we hold dearly are being jeopardized, realizing Dr. Martin Luther King Jr.'s dream of a Beloved Community can seem unreachable. In this 3-day online residential retreat we will call upon Dr. King's wisdom, prophecy and undeniable commitment to justice and humanity. We will include honoring of our ancestral roots, mindfulness practices, silent and movement meditations, along with group dialogues.
Participants are encouraged to bring a journal or writing/drawing pad and to have small Ancestor item as a touch stone throughout the retreat.
Open to Black, Indigenous and People of Color. All levels of meditation practice welcome.
Gift Economics:
As we embark together on this new path to offering online residential retreats at EBMC, we need all those who participate in the retreat to join with us to make it financially viable for EBMC and for our teachers.
In keeping with our Gift Economics approach, the retreat is offered without a set fee, but this does not mean the retreat is free. For Gift Economics to work, our model requires that everyone give at the highest level they can, for the good of all. Though not everyone has a large amount of money to offer, every gift is a valuable one, no matter the size, if given freely and with a spirit of generosity. It is also true that, for our approach to be successful, it is necessary for folks who are in a position to give more to do so for the benefit of the collective. We hope to continue to offer retreats like this one, and in order to do so, we ask that you dig deep and give as generously as you are able.
In the interest of transparency, which is a core value of Gift Economics, we are sharing that the cost of the retreat for EBMC is $8,000.00. The teachers are also giving tremendously of their time, labor and love to offer these teachings to our community, with no guarantee of financial compensation. We will be sure to provide updates as we go about how much we have raised toward our costs, and there will be opportunities for you to give during and after the retreat. We appreciate the part that each of you plays to ensure that we will be able to continue to offer retreats like this one in the future!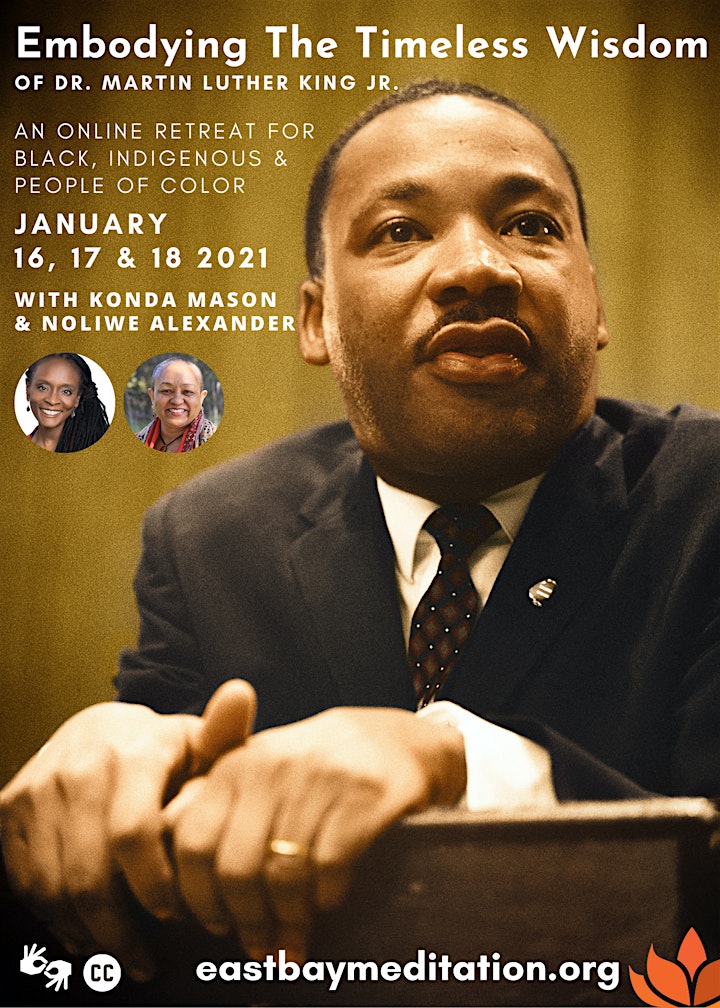 Konda Mason was introduced to Tibetan Buddhism in 1982. Her love for Vipassana began in 1996, working with Jack Kornfield at the Vallecitos Retreat Center. She has been teaching at Spirit Rock since 1997, starting as a yoga teacher. Konda's dharma training includes the East Bay Meditation Center Commit to Dharma program, Spirit Rock Community Dharma Leader and she is a recent graduate of the 2020 Spirit Rock Teacher Training program. Konda has taught daylongs, retreats and workshops.
In addition to her spiritual pursuits, Konda is a social entrepreneur and thought leader working at the intersection of social and financial justice and planetary healing. She is passionate about reversing the harm the extractive economy has had on all living systems. Her work with RUNWAY and the founding of Jubilee Justice, Inc. and Potlikker Capital encapsulates the restorative work she does with Black urban entrepreneurs and Black rural farmers, respectively. She is driven by her desire to witness a world that is environmentally regenerative, spiritually fulfilling, socially just and economically equitable.
She sits on the Boards of Directors of On Being with Krista Tippett, Lion's Roar Publications, One Generation and is a Trustee at Mills College in Oakland, CA.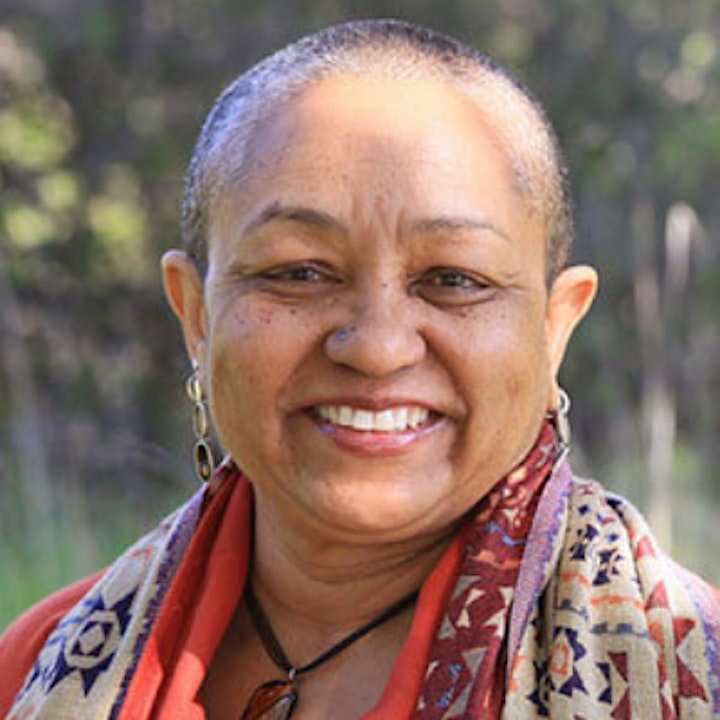 Noliwe Alexander has been a student of Vipassana meditation for over 20 years. Throughout this time of deep devotion to the Dharma, Noliwe has become a dedicated practitioner, meditation teacher of various retreats and sitting groups, day-longs and class series programs. She dedicates her coaching & Dharma practice to the POC, LGBTQIA+, At Risk and Elder communities. She is a graduate of Spirit Rock's CDL4 program, EBMC's Commit 2 Dharma program in 2010 and a graduate of Spirit Rock Teacher Training from 2017-2020. As founder of Peace At Any Pace, Inc, Noliwe offers a Journey to Healing from Intergenerational & Ancestral Trauma retreats, presented exclusively to people from the African Diaspora. Noliwe is a wisdom keeper and humbled by the presence of her ancestor's spirit that lives within and walks beside her.