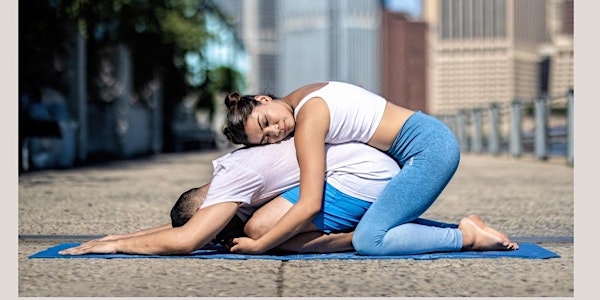 Embodying Pleasure as Resistance
A movement workshop nurturing our inner child through play and collective care.
When and where
Location
Asian American Arts Alliance 20 Jay Street Suite 740 Brooklyn, NY 11201
About this event
Embodying Pleasure as Resistance is a workshop where we will nurture our inner child through play and collective care. Part of this includes bringing curiosity to how the concept of "pleasure" resonates with us.
We will explore this concept with movement and mindfulness practices such as dance and yoga through the framework of kapwa, or shared inner self.
We will meditate, breathe, do partner exercises, learn a dance, create, share, make a new friend, and most importantly laugh, as we learn something new about ourselves and each other.
Our workshop is an invitation to build trust and connection in three dimensions: the self, with each other, and in community.
This is an inclusive movement workshop for all folx, including those with little to no background in yoga or dance. Come as you are and together we will co-create a safe space to let loose and have fun!
We encourage participants to bring a journal, yoga mat, comfy clothes, and a refillable water bottle. Space is limited to a max of 30, so registration is required to secure a spot.
This workshop is donation-based and supported by Asian American Arts Alliance (A4)'s Their What Can We Do? (WCWD?) micro-grant program. More info on A4 below.
The workshop will be facilitated by Melani De Guzman, Paul Jochico, and Noah Wang.
Live music featuring Ba-Rahm Ba-Rahm.
Follow @kapwa.yoga on IG for updates and info on future events.
About Our Team
Melani De Guzman
Melani De Guzman is a Filipinx multi-hyphenate performer who uses storytelling, movement, and sound to explore ancestral wisdom, grief, and healing. A movement educator affirming and centering neurodiverse practices to meet disabled, abled, and folx of all backgrounds and ages. Melani is a teaching artist for Marquis Studios serving 80% of students and families under the poverty level and providing interdisciplinary art forms. Her offerings have been programmed in Fotografiska Mindfulness Wednesdays hosted by Urbanyogafoundation, Healing Retreat of Color, and AAPI communities.
Linktr.ee/MDG
Paul Jochico
Paul is a multi-disciplinary teacher with training in dance, yoga and psychology. He is born and raised in New York (on Lenape Territory) and draws inspiration from the culture of his birth, the culture of his ancestors and his journey of decolonization along the way. In 2020, Paul Jochico created Kapwa Yoga as a platform to build community and remember the Filipinx wisdom of kapwa, or shared inner-self, through movement and mindfulness practice.
https://www.kapwa.yoga/
Noah Wang
Noah is a freelance dancer and performer, trained in the classical and modern dance techniques. He is currently a member of Peridance Contemporary Dance Company (PCDC), based in downtown Manhattan. His goal as a teacher is to bring forth the tools that he has discovered, as a way for others to find freedom, stability, healing, pleasure and connection.
Ba-Rahm Ba-Rahm
바람바람 or (Ba-Rahm Ba-Rahm) is a DJ - Electric Guitarist duo that calls upon the wind to bring the glorious sounds of liberation to the dance floor. Ba-Rahm Ba-Rahm means "wind, wind" in the Korean language. With DJ Bolonik's origins hailing from Georgian electronic music culture, Oogah, a Korean American guitarist from New York City, surfs the waves of their sound with his electric guitar. They are an eclectic duo that will inspire you to move with the spirit of the wind.
https://withkoji.com/@oogah#
ABOUT ASIAN AMERICAN ARTS ALLIANCE
The Asian American Arts Alliance is a nonprofit organization dedicated to ensuring greater representation, equity, and opportunities for Asian American artists and cultural organizations through resource sharing, promotion, and community building.
Their What Can We Do? (WCWD?) micro-grant program offers stipends to artists who use their creative skills to offer community care to Asian American Pacific Islander (AAPI) New Yorkers. The WCWD? program was created in response to the sharp increase in anti-Asian hate and violence during the pandemic that has caused many people to experience grief, anxiety, and fear. WCWD? not only empowers artists who may feel helpless against the swelling tide of anti-Asian sentiment against the AAPI community but also gives them a chance to find their place in the ecosystem of care through their talents and community connections while creating a circle of resilience.
To keep everyone safe and healthy, we ask that you respect the following COVID-19 Guidelines in our space:
RSVPs are required to help us prepare and ensure spaciousness and safety.
We require that attendees are fully vaccinated, and remain masked indoors at all times.
We encourage attendees to take a rapid test before attending our workshop, and to stay home if you are feeling unwell, experiencing symptoms of COVID-19, or have been exposed to anyone who has tested positive within 7 days of the event.