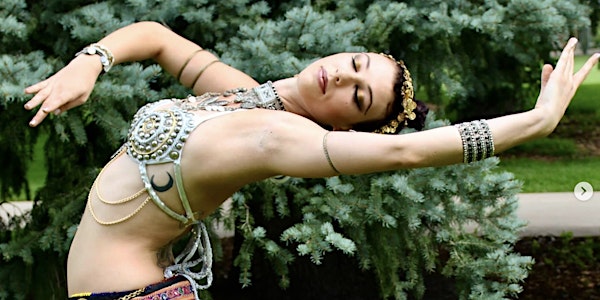 EMBODYING CONFIDENCE: A WEEKEND DANCE INTENSIVE
Join my 6 hour weekend dance intensive and learn how to embody confidence into your dance practice, stage presence, and every day life!
Refund Policy
Contact the organizer to request a refund.
Eventbrite's fee is nonrefundable.
About this event
Join me on August 27 and 28 at 11am to 2pm MST for this online belly dance training!
Link to class will be sent to you via email two hours before the event begins.
This dance intensive is welcome to ALL LEVELS of dancers who want to learn how to connect back into to your body to transform your dance, so that you can move with more fluidity and confidence!
Women have so much on our plates at all times. We are mothers, wives, girlfriends, employees, business owners, etc, forced to keep up with the tough masculine world, and pressured to maintain society's idea of what is "perfect". Many of us have been engrained with insecurities since we were little girls, and taught not to express ourselves truly, without the consequence of shame or guilt.
But what if we could re-wire our beliefs of ourselves, by connecting inward, and learn to express ourselves without judgement? I'm here to tell you we can!! The way I have done this is through my sacred dance practice. There are so many perks to being a woman, and one of them is being able to do these things with grace and poise. We get to embody elegance and offer beauty to the world, and with confidence, we can uplift all the women we encounter on our path and quite literally change the world.
----------------------------
As a classically trained ballet dancer of 18 years, it is no stranger to me to feel insecure about how my body looks while dancing. It was not until I started training in belly dance that I learned to really honor my body for what it is, and actually express MYSELF. I started to feel beautiful, confident and sensual. And now that is how I am embodied every day, through life no matter what I am doing.
In this weekend intensive you'll learn:
On day one, we will dive deep into learning how to take up space as we dance. We will be doing an ecstatic exercise to get out of our heads and into our bodies, as we prepare to tap into our hips and bellies. We will unlock our muscles and drill fun ways to tap into our inner Shakti through belly dance. By day two, we will have learned a fun, sensual combo that embodies confidence.
The results of learning how to take up space and carry yourself with confidence through dance will carry into your every day life and be apparent no matter what you are doing. Learning to embody confidence is not just important for dancers, but also useful for models, business women, wives, mothers, and anyone wanting to channel their inner feminine essence.
RESULTS
Become more connected to yourself and your body
Opening a channel for creative flow
Confidence through dance and in life
Better overall "stage presence" and posture
Dance combo to feel sensual and empowered
ABOUT YOUR INSTRUCTOR
Daize has been a belly dancer performing within the music industry for over 7 years. She has an extensive background in classical ballet training where she started her career as a dancer and previously taught ballet professionally at different studios. She has performed in a modern dance company and found her passion for belly dance at the age of 18. She utilizes her ballet knowledge within her belly dance practice; creating her own unique style. Daize has performed at hundreds of concerts and festivals, including Sonic Bloom, Tribal Massive and Red Rocks Amphitheater. It is Daize's goal to work with women to find their own empowerment through dance as she has.
Daize, and Pure Goddess Arts supports women to tap back into their bodies, learn how to express their inner goddess, and feel safe to embrace their inner sensuality.... so that she can be a part of creating a world where women feel comfortable in their own skin, and know that their power comes from within! She has dedicated her life's work to supporting women in accessing their divine feminine power through dance.
PREPERATION:
As this is an online event, please make sure to clear space in your home or studio so you have room to dance and stretch! If you have blocks and/or a Thera-band feel free to have those handy.
*** If you have any injuries, please let me know beforehand, or modify any movement as necessary.
Tickets include both days of training.
Classes are on 8/27 and 8/28
starting at 11:00 a.m. MST to 2:00 p.m. MST
All sales are final and tickets are nonrefundable.