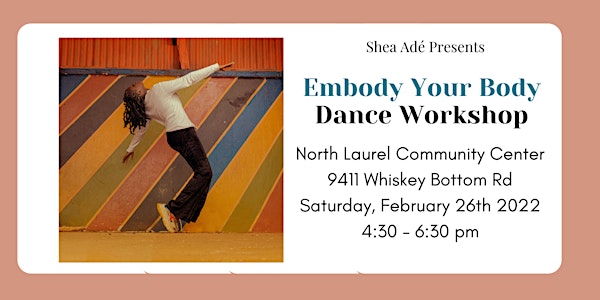 Embody Your Body Dance Workshop
Location
North Laurel Community Center
9411 Whiskey Bottom Road
Laurel, MD 20723
Have you ever felt awkward while dancing? Or you get in your head about moving your body? Well this event is for you!
About this event
Join us for this unique event designed to get you out your head and into your body. In this workshop, we will be knocking down insecurities specifically related to movement and sensuality!
We will start off with a few exercises to identify any internal blocks, then we will be learning a short dance to confidently perform in front of your new peers. Don't be shy, this event will be very small and the whole point is to not overthink your movement. I know you can do this!
Please wear comfortable clothing (workout attire etc.) Proof of vaccination or a negative COVID-19 test result is required upon arrival.
Light refreshments will be served. You don't want to miss this event!
DISCLAIMER:
By taking part in this event you grant the event organizers full rights to use the images resulting from the photography/video filming, and any reproductions or adaptations of the images for fundraising, publicity or other purposes to help achieve the group's aims. This might include (but is not limited to), the right to use them in their printed and online publicity, social media, press releases and funding applications.