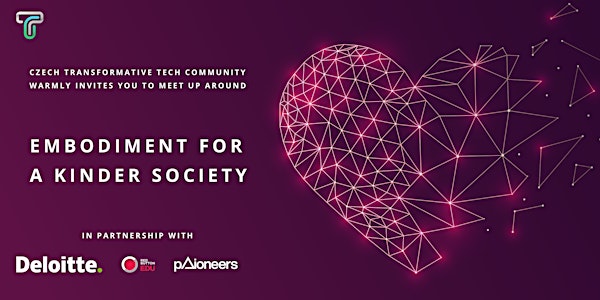 Embodiment For a Kinder Society
The Czech Transformative Tech Community in partnership with Deloitte, RedButton Edu and pAIoneers invites you to the following meetup
By Czech Transformative Tech Chapter
Date and time
Thursday, June 16, 2022 · 2:30 - 6pm CEST
Location
Deloitte Advisory s.r.o. 2581/67 Italská 120 00 Praha 2 Czechia
About this event
Embodiment For a Kinder Society
Amidst the big shifts and increasing separation in our society, kindness has the power to bring us in closer connection to each other and our planet beyond any differences we might have in our opinions, background, or history. Embodiment, when done right, let's you experience the world from someone else's perspective. From the empathy that creates, kindness can become a compassionate choice.
Kindness is a word often abused by influencers and in a lot of contexts has lost meaning and depth. At the same time we see, with a heavy heart, people being tired, burned out, scared, and society shifting at light warp speeds. And tragically, technology, rather than being seen as a helper and a way out, is seen as the reason for the decline of 'kindness' in our everyday lives. We want to explore and experience with you how a very different reality can be constructed.
To dive deeper into this topic from the lens of Transformative Tech, this meetup will bring you not just inspiration from outstanding keynote speakers, but also the opportunity to try out some tech experiences for yourself.
Here is the program for the event:
2:30pm – 3:00pm: Welcome to the Deloitte Studio
3:00pm – 4:00pm: Thought-provoking keynote speakers
4:00pm – 6:00pm: Networking + demo experiences for kindness in Deloitte Xperience Lab
We look forward to seeing you personally this time in the Deloitte Studio,
Hanka & Thomas & Lubos & Sara