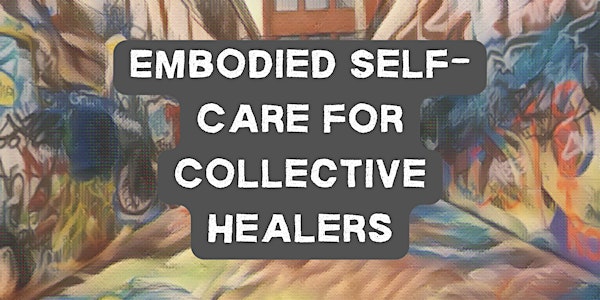 Embodied Self-Care for Collective Healers
A workshop for progressive healers and activists who forget to take care of themselves while tending to collective well-being.
Refund Policy
Contact the organizer to request a refund.
Eventbrite's fee is nonrefundable.
About this event
We can't create collective change when we are burnout, exhausted, and overwhelmed by the problems in the world. Our systems work to maintain the status quo, so it isn't by mistake that those of us working towards progressive change feel burnt out. Resources are not exactly being thrown at you when your work challenges the dominant story of hetero-patriarchy and white supremacy. You are often overworked and made to feel responsible for the inadequacies of our systems of collective care. It can feel overwhelming that things aren't getting better and you blame yourself for not doing enough.
We live in a sick society and often internalize the world's problems as individual deficits. We are reacting to our toxic environment and doing our best to make it habitable to everyone. Self-care is revolutionary for those working hard to create positive change. To be effective, we need to know how to regulate ourselves and our emotions and be connected to our embodied experiences. We can then mindfully use our energy and personal power to generate new solutions, make new connections, and build collective power to create a world that honors everyone's humanity equally.
This workshop is for you if:
You work within the systems as community workers, educators, therapists, law professionals, and healers.
You work to create new systems from the outside through activism, policy and systems change work.
You intellectually understand that self-care is essential, but you barely have the energy to complete your responsibilities.
You continue to go eating, drinking, smoking, having sex, scrolling, and staying busy to cope with the realities of the world.
You slightly cringe when you hear the words mindfulness or somatics even though you know it's important.
In the workshop, we will:
Build self-awareness to identify what is depleting your energy and impacting your emotional state.
Identify small shifts to make in your daily life to build energy and personal power.
Explore mindfulness, breathwork, and meditation practices to integrate into our daily lives to resource ourselves throughout the day instead of waiting until the end of the day to get your self-care in.
Create a personalized self-care practice you can implement immediately.
Build a community with like-minded people, because being in community is self-care too!
About Me:
Hi, I'm Rachel (she/her). I am a deeply flawed human who is working on connecting to embracing my flaws and the flaws of the world around me, while also trying to make a positive impact on myself, others, and the global community. I want to provide spaces for other people to do the same, especially the people who see the humanity in others but often forget to see their own humanity. I believe that systems change people and people change systems. I work with people to resource themselves and honor their authenticity so they can buffer against the impacts of oppression while freeing up energy to put in to create a culture of connection and care.
I am a clinical social worker, yoga therapist, and activist. I worked for many years in community mental health and often felt like the work I did was just putting a bandaid on a giant gaping societal wound. When I opened my private practice, I shifted my energy to doing more activism work to address our problems on a systems level and I realized that when we focus solely on the system we miss the role we play as individuals in upholding these systems. Through this, I realized we need to honor the need to tend to the individual and the collective. I focus my work on bridging the gap between individual healing and collective healing to build a culture that germinates sustainable change.
IG- @interconnectedhealing
Website: www.interconnectedhealing.com